6 Women Share Why They Love Their Curls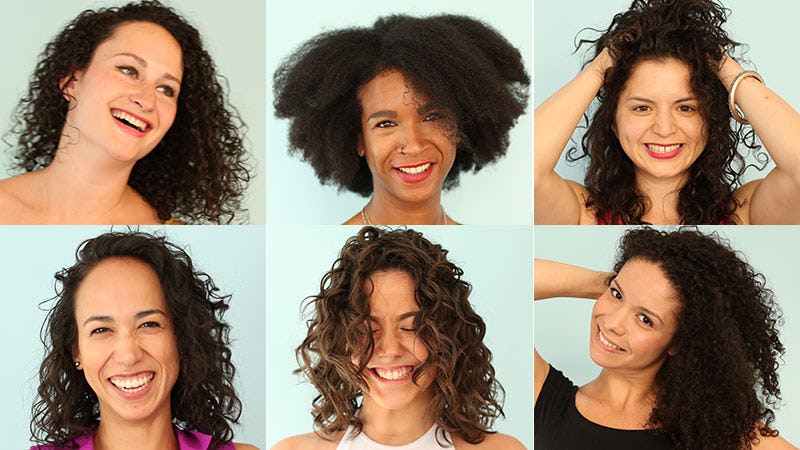 There are two types of curly girls: those who fight their natural texture and those who flaunt it. And those who flaunt it are awesome. If you're curly-haired day in and day out, you're well aware of the bond you've formed with your strands. You've dealt with the knots and the frizz, and you've learned how to tame your hair and style it for every situation. You've even spent hours learning how to wash your curly hair. But most of all, you've learned to love your curls for all that they are.
In the end, the frizz, drying time, and straight-up mayhem are worth it. Why? Because the possibilities are always endless with a head of ringlets. Those fluffy curls that make your crazy side run wild can turn into sleek spirals for an event, a way-too-frizzy day can instantly turn into a topknot that's better than everyone else's, and you'll always be the boldest in every room — no matter what type of hair day you're having.
For the love of curls, we partnered with the experts at DevaCurl. They've just launched a new, versatile styling product called SuperCream, and they're committed to opening up "a new curl conversation to meet the needs of a broader range of curl types," according to DevaCurl's VP of education, Shari Harbinger.
To keep this conversation going, we've tapped six very different curly-haired minds to learn their top styling tricks for their unique curl patterns.
This article is brought to you by DevaCurl . For ultimate versatility in styling, try SuperCream, their latest coconut oil-infused multitasking styler, which gives you total freedom to express yourself with your curls.
Tip #1: When in doubt, just shake 'em out!
Laura (and Bubba's) can't-live-without-it curl trick:
"When I get out of the shower, I just shake my head and my curls start falling into place. The super-gelled wet look is not my thing, so a dab of cream styler is all I need to keep my spirals smooth."
Why she loves her curls:"I feel like I can channel different eras through my hair, which is one of the reasons I'm loving the '70s trend right now. Plus, my curls are untamable and wild — just like me."
Tip #2: Conditioner is key.
Lori's can't-live-without-it curl trick:
"I apply conditioner through my strands and never rinse it out. Then I wrap my hair in a tight bun, which stretches my roots and leaves frizz behind!"
Why she loves her curls:
"I make costumes out of my hair: I've dressed as a lion, a volcano, Diana Ross, and Michael Jackson, and I really wanted to dress as broccoli for Halloween one year. And no one ever messes with me when my hair is wild."
Tip #3: Twist and scrunch!
Jackie's can't-live-without-it curl trick:"I actually remember the first time my hairdresser showed me how to twist my hair in addition to scrunching it, which was a total game-changer! Up to that point, I was rocking a frizzy, crunchy, undefined hair blob, thanks to my penchant for scrunching with mega-hold gel. She introduced me to super-moisturizing styling cream, which did wonders for the texture and health of my hair."
Why she loves her curls:
"They have a mind of their own! They announce my presence in a room. I like to think that they're friendly. You will rarely see me with straight hair — I am not that skilled, and I cannot get blowouts on the regular. Furthermore, as my mom likes to point out, 'People pay a lot of money for your hair!' (She was the victim of many perms.)"
Tip #4: No matter what, never miss a spot.
Sara's can't-live-without-it curl trick:
"It's a must that I make sure my entire head is coated with product, otherwise I'll have a wonky patch! And I always take the extra 5 minutes to diffuse in the morning, which totally insures that all of my curls dry even."
Why she loves her curls:"They have their own body and mind, so I can make my hair versatile. They basically mirror my personality: big, loud, soft, and sensitive."
Tip #5: Detangle, detangle, detangle!
Kristin's can't-live-without-it curl trick:
"I use my fingers and a comb to untangle while I deep condition once a week, and protect my hair while I sleep with satin pillowcases, crown braids, and head wraps."
Why she loves her curls:"They will not conform. My curls do what they they want, when they want — just like me. And the fact that there is no such thing as a bad hair day is definitely awesome."
Tip #6: It's all in the cut.
Adrianna's can't-live-without-it curl trick:"My haircut is what makes my curls the best they can be! I try to stick to a shorter length with minimal layers, which really seems to highlight my curl pattern."
Why she loves her curls:
"I can have super full and flowy curls or tight ringlets depending on how much product I use. I let them be and embrace their craziness even if on some days they're a little out of control."
For more information about DevaCurl or Devachan, visit devacurl.com
Images: Bianca Consunji / Bustle (7)
This post is sponsored by DevaCurl .