Sarah Silverman Is Returning To Television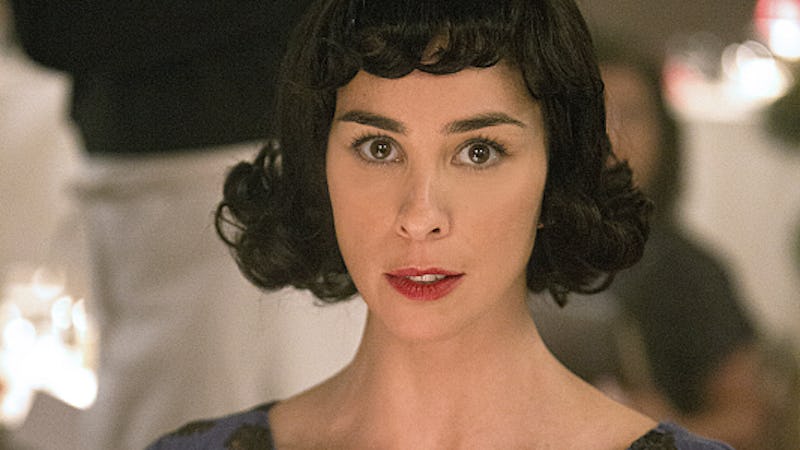 Good news for anyone who loves sex and Sarah Silverman: the boundary pushing comedian has just signed on to return to Masters of Sex for Season 3, the Showtime original series about two sex experts whose research claims to teach America how to love. Or...at least, how to do it. Silverman is returning as Helen, the once rejected lover of Betty (played by Annaleigh Ashford) — and it looks like things have really taken a turn in her love life since then: According to Variety, Season 3 finds the reunited couple "trying to have a baby — something that proves quite a challenge for a lesbian couple in 1966." Already sounds like a plot I am going to love!
The character is one of the many dramatic roles Silverman taken on as of late: Though she's known as a comedian, Silverman playing serious is definitely get excited for. Girl is seriously talented — just look at her role in Take This Waltz ! And, in Masters of Sex, Silverman is just as good, if not better.
But, that's not the only reason to get excited about Silverman's return to the show — her incredible talent is just the icing on the cake. It's all the other things that will come from her return that have me excited. Like what, you ask? Well, for example...
All Of The Awesome Period Costumes
Because if there's anyone who can rock an A-line dress and a pin curl, it's her.
All Of The Sex Jokes
For a show mainly about the sex, I can't think of a better actress to cast than one who regularly talks about her vagina in a way that makes most people squirm. If anyone's perfect for this show, it's totally her.
To See Her On Screen With Michael Sheen
The two are an adorable couple these days, so how awesome would it be to see them on screen together? Answer: VERY.
To See How Far We've Come
Like Betty Draper driving her kids around with no car seats on Mad Men, I'm sure there will be PLENTY of cringe-worthy moments in the upcoming Masters Of Sex season — especially as we watch Silverman and Ashford's characters tackle the struggles of being a lesbian couple in the '60s. We still have a long way to go when it comes to equality, but we've also come a long way since the '60s.
The new season of Masters of Sex starts July 12th, so get excited for another season of sex, swinging, and the '60s.
Image: Michael Desmond/SHOWTIME ;Getty Images; Giphy (3)