I Ate Only Foods From Books For Dinner For A Week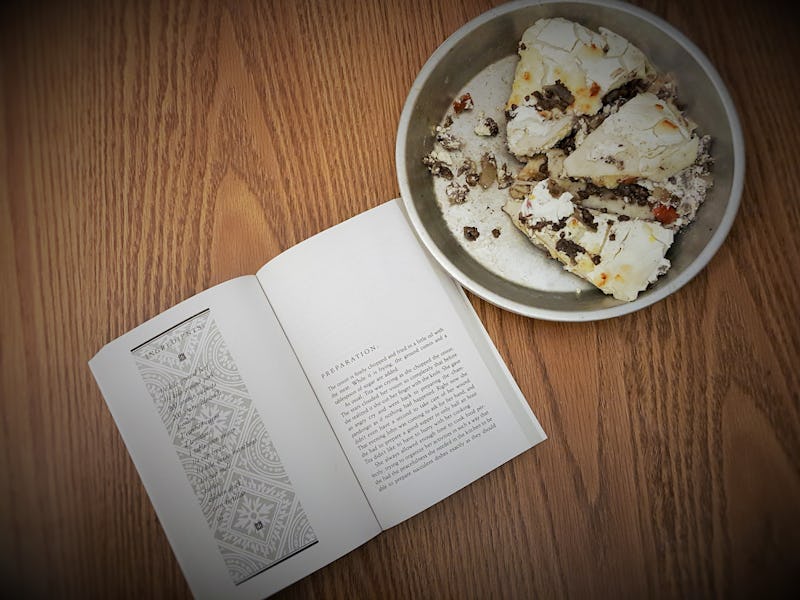 Aside from the pure joy and happiness that comes from reading, I get a lot out of books — an increased vocabulary, reduced stress levels, endless amounts of knowledge, you name it — but one thing I didn't realize books were so good for is food ideas. Until, that is, I ate famous meals from literature for a week, and I realized that the written word is not only good for the mind and soul, but for the taste buds, too.
From the Christmas feast at the Cratchit's house to Holden Caulfield's Swiss cheese sandwich and malted milk, food plays an important part in so many of literature's greatest works. It would be hard to think about Alice's Adventures in Wonderland without reminiscing on tea time, and it's impossible to revisit Moby-Dick without imagining the smell of thick, warm clam chowder. Eat, Pray, Love was basically a culinary (and emotional) tour of three countries. Whether it be a plot device, a means of revealing something about a character, or a way to express a culture, time period, or tradition, meals can be a handy tool for an author, and a delightful experience for a reader.
Since the pages of literature are bursting with so much flavor, I decided it was time to find out just how good the meals from books actually are.
The Experiment
For seven days, I set out to eat famous meals from books for dinner each night. My goal was to recreate the meal as authentically as possible, and eat it in the same way it is described in the book. Before cooking, I reread the chapter the food was featured in from each book, and read the passage describing the meal out loud before eating. As you can already tell, my dinner guests loved it.
Day 1
Fried Green Tomatoes at the Whistle Stop Cafe by Fanny Flagg
"For lunch and supper you can have: fried chicken, pork chops and gravy; catfish, chicken and dumplings; or a barbecue plate; and your choice of three vegetables, biscuits or cornbread, and your drink and dessert — for 35¢."
The Meal
From page one, Fried Green Tomatoes at the Whistle Stop Cafe is hurtling plates of food at the reader, so I decided to start at the beginning. For my meal — which costs way more than 35¢ nowadays, I might add — I went with the catfish plate with cornbread and corn on the cob, greens, and asparagus as my vegetable choices. Though not included on the menus meal price, I had to eat the titular food, fried green tomatoes, on the side. I learned two things from this meal: I need to eat more vegetables, because having three options on my plate was a healthy and satisfying alternative to pasta or rice, and fried green tomatoes are so delicious, it's no wonder they have a book named after them.
Day 2
The Great Gatsby by F. Scott Fitzgerald
"Daisy and Tom were sitting opposite each other at the kitchen table with a plate of cold fried chicken between them and two bottles of ale. He was talking intently across the table at her and in his earnestness his hand had fallen upon and covered her own. Once in a while she looked up and nodded at him in agreement."
The Meal
Despite all of the lavish parties in The Great Gatsby, the most memorable meal in the novel is this simple yet intimate one shared in the moonlight. To recreate it, I bought some fried chicken from the store — let's be real, it's not like Daisy was standing over the stove to make a late night dinner for herself and Tom — and put it in the fridge for a few hours. After midnight, and a few drinks, I got my boyfriend to sit down with the plate of chicken between us and two bottles of beer, just like Tom and Daisy only without the whole lying, cheating, and murdering thing. Closer to my normal eating style and schedule than some of the more grandiose meals in this experiment, there was just something about the cold chicken and the even colder beer that made this one of my favorite recreations. (Who am I kidding, it was totally the beer that did it.)
Day 3
The Secret Life of Bees by Sue Monk Kidd
"We had green beans, turnips, macaroni and cheese, caramel cake — all kinds of funeral food. We ate standing in the kitchen holding paper plates, saying how much May would have liked everything."
The Meal
The meals from this food-heavy book were all to good to choose from, so I pulled a few dishes from throughout the novel to make one spectacular feast. Though I stuck mostly to the food served at May's funeral — green beans, turnips, macaroni and cheese — I swapped out the caramel cake for honey cake that is eaten later in the book (it was food from a book with the word "bee" in the title, so honey was a must). I also made sure to wash everything down with sweet tea, a Southern staple, which is sipped throughout the novel. Everything was filling and comforting, the kind of food you crave when it's been raining all day or you're homesick. Of course, I made everything from scratch, because would the women in this novel have it any other way? After a few hours in the kitchen, the warm plate of homemade soul food was just what I needed.
Day 4
The Rum Diary by Hunter S. Thompson
"It was hamburger with eggs. When I came to San Juan Al's menu consisted of beer, rum, and hamburgers. It was a pretty volatile breakfast, and several times I was drunk by the time I got to work. One day I asked him to get some eggs and coffee. At first he refused, but when I asked him again he said he would. Now, for breakfast, you could have an egg on your burger, and coffee instead of rum."
The Meal
Whenever I think of Hunter S. Thompson, I think of Al's restaurant — and maybe some other stuff that's not on the menu if you catch my drift, but that's not the point. At Al's, simple menu destined to get you drunk is all you need when you live in a place like San Juan. When recreating this meal, I opted for the added egg on my hamburger (which I ate without cheese, vegetables, or condiments of any kind), but stuck with the rum instead of coffee. I mean, how could I eat from the pages of The Rum Diary without throwing one or two glasses of the sticky, sweet alcohol back? After a few warm rums, I was hungry for burger number two, and ate it guilt free — just how Thompson would like it to be done.
Day 5
Emma by Jane Austen
"They had a very fine day for Box Hill … Nothing was wanting but to be happy when they got there. Seven miles were travelled in expectation of enjoyment, and every body had a burst of admiration on first arriving."
The Box Hill picnic is a central scene in Emma, and while the exact meal wasn't described, it can be assumed that Emma served her guests the typical picnic spread for the time.
The Meal
Picnics were growing more and more popular in Austen's time, and a typical menu for one back then would have consisted of cucumber tea, sandwiches, cheeses, jams, breads, fruits, and cold meat such as ham. Unlike Emma, who had the help of house servants, cooks, and drivers, I had to prepare, carry, and set up the picnic on my own. Making the food was easy, but lugging it up a hill and laying it out for my guests was a bit of a challenge. How does one bring a tea set along without breaking it? (That is something I still haven't figured out, much to my teacups' dismay.) Aside from the logistics and organization of the picnic, this Emma-inspired meal was as delightful as the book's heroine herself. The food was simple yet elegant, the perfect bites between lawn games and friendly conversation, and the tea gave the whole affair and air of high class. I'll will certainly be having another picnic party, but in the future, I'm bringing plasticware.
Day 6
"When the meat starts to brown, the chopped tomato is added, along with citron, the walnuts, and the almonds, cut into small pieces. The steam rising from the pan mindled with the heat given off by Tia's body. The anger she felt within her ached like yeast on bread dough. She felt its rapid rising, flowing into every last recess of her body; like yeast in a small bowl, it spilled over to the outside, escaping in the form of steam though her ears, nose, and all her pores."
The Meal
Champandongo, a layered dish of meat, vegetables, nuts and mole, is one of the many meals in Laura Esquivel's novel told in monthly recipes. Following the recipe from within the book to the best of my ability, I recreated the traditional Mexican dish and was wowed by its flavors and complexity. I love Mexican food, but I will confess I'm much more familiar with the American idea of it (tacos, enchiladas — you know, the basic menu at Chipotle), but this journey to authentic Mexican cooking has given me an even deeper appreciation for the cuisine. Though I didn't let my anger seep into the dish and create madness at the dinner table, I did try to take as much care into preparing it as Tia does. If you recreate one dish on this list, I suggest this one, not only for its deliciousness, but for its ability to connect you to the book and its characters on a deeper level.
Day 7
A Game of Thrones by George R. R. Martin
"All the while the courses came and went. A thick soup of barley and venison. Salads of sweet grass and spinach and plums, sprinkled with crushed nuts. Snails in honey and garlic. Sansa had never eaten snails before; Joffrey showed her how to get the snail out of the shell, and fed her the first sweet morsel himself. Then came the trout fresh from the river, baked in clay; her prince helped her crack open the hard casing to expose the flaky white flesh within."
The Meal
With so many books and so many feasts, how could I not include George R. R. Martin's culinary genius on the list? I was giddy for the chance to eat a multi-course meal, and although I couldn't find snails anywhere (and I would have tried them, honest!) I was able to create a feast fit for a king (three of the five courses pictures above).I added in some "ribs, roasted in a crust of garlic and herbs" that Arya described in an early chapter of the book because they sounded too good to be true. Again, I don't have a cooking staff, so I prepared all of the food myself, which made it a half-day affair. I served and ate bowls of hot soup, plates of fresh salad, and dishes of flavorful meat in courses around a big table with some lovely guests, and aside from the fact that everyone made it out alive, I felt like I was living in the Seven Kingdoms.
The Conclusion
So. Much. Food. I love to cook, and frequently write about it, but never have I cooked such elaborate meals and eaten so many courses within one week than I did with this experiment. From the Southern cooking to the fancy feasts, I got to try foods, both familiar and foreign, in new and exciting ways. Not only did my taste buds get spoiled, but I got to live within the pages of some of my favorite books, sharing a meal with my favorite characters. I got to taste what they tasted, cook what they cooked, and serve it like they served it. Acting out these moments brought me a little closer to each title, and I certainly won't be able to pick up a copy of any of them again without getting hunger pains.
The next time I can't decide what I want for dinner, I just might turn to my bookshelf — my fiction bookshelf — instead of my cookbooks.
Images: Sadie Trombetta (8)