14 Things New College Grads Can Take From Hermione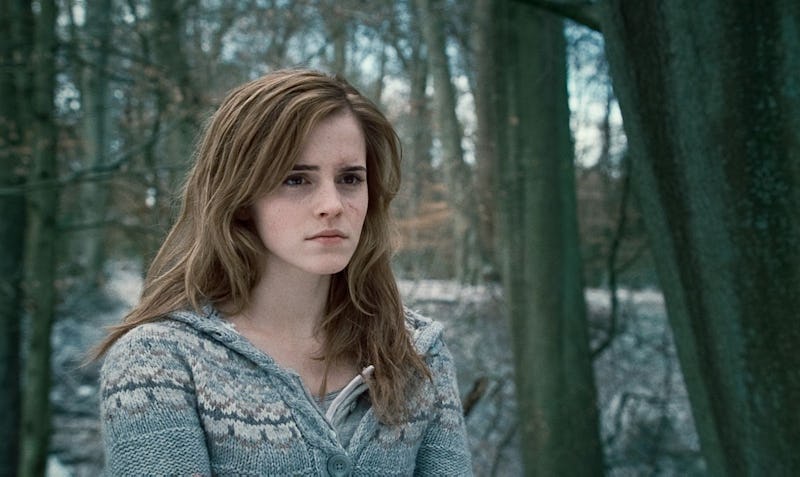 There may not be classes offered in Transfiguration or Defense Against the Dark Arts, and no one's sending letters by owl post, but college is magical in its own way. You get to live in a dorm with all your friends, join a bunch of clubs, cheer for your team like crazy at sporting events, arrange your schedule exactly how you want it, and spend every day reading and learning. Needless to say, when the day finally comes to put on a cap and gown and walk across the stage to get your diploma, you know you'll miss your school as much as Hermione Granger missed Hogwarts.
But as much as you probably wish you could use a time turner to go back and do it all again, unfortunately all the time turners at the Ministry were destroyed, so you find that you have to keep your head up as you walk across the stage and into the "real world."
Luckily, though, you don't have to face it alone, because as J.K. Rowling herself stated, "Hogwarts will always be there to welcome you home." There are plenty of tips in the pages of the Harry Potter books for new college graduates, and Hermione Granger herself demonstrates countless ways to help you succeed.
You Can Find New Friends In Unexpected Places
It's so hard to leave behind all your amazing friends from college. Once upon a time you all lived in the same dorm and could hang out around the clock, and now you're all scattered in different cities and different time zones and different lives. But you don't have to resign to a solitary existence — Hermione Granger didn't have any besties at Hogwarts until she, Harry, and Ron defeated a troll in the girls' bathroom. New friends can come from unexpected places, and you just have to be open to new experiences in order to find them.
Keep In Touch With Old Friends
New friends are great, but don't forget your old friends. Despite the fact that Hermione spent many summers away from Harry and Ron, she made sure to keep in contact through letter-writing. And even if you don't have a quill, parchment, and an owl to deliver your letter, a simple e-mail or even a Skype session goes a long way.
Sometimes You Have To Be Creative When Problem Solving
Though Hermione Granger starts the series as a rule-follower, by the end she's a total rebel. She recognizes that sometimes it pays to be creative when solving problems, such as when she stirs up a polyjuice potion to spy on Draco Malfoy. Post-grad, the answer to a problem may not be simple — sometimes it can take an extra dose of resourcefulness to score that job interview, make a new connection at work, or make a grad school application stand out — and Hermione proves that intelligence + creativity = success.
Networking Is Important
Even witches network: Hermione attended Slug Club meetings with Professor Horace Slughorn, and made connections with a lot of other professors, too. New grads can learn a lot from Hermione's careful career moves: she trusted in her intellect, and strived to learn as much as she could from those in leadership positions.
Persistence And Patience Are Key
Post-grad, things don't always turn out how you planned. Maybe you're working somewhere you didn't think you'd be working, or you haven't found a job yet, or maybe you scored your dream position and it wasn't what you expected. The important thing to remember is that persistence and patience pay off. In Harry Potter and the Sorcerer's Stone , Hermione searches through book after book trying to find information on the mysterious Nicolas Flamel. Though it takes a long time, she refuses to give up on her goal. This is a trait she carries throughout the series, demonstrating that perfection doesn't happen overnight — you have to stay persistent and remain patient.
You Don't Need Magic... Just Logic
Hermione is a consistent proponent of logic. For example, in Sorcerer's Stone, she solves a tricky puzzle, helping Harry eventually retrieve the stone from Quirrell. She doesn't need magic to solve the puzzle — just a good dose of logic. You'll probably have your share of bumps in the road as a new grad, but a little bit of logic can go a long way in solving problems.
Research, Research, Research
Whether you're prepping for a job interview, deciding between graduate schools, or even giving a presentation at work, it's important to do your research. Hermione proved that research can save your life — in Harry Potter and the Chamber of Secrets , she learned everything there was to know about basilisks, and her findings saved her own life in addition to many others. So while you're (hopefully) not facing a giant snake, it's still important to study up on background info for whatever situation you might be facing, so when the time comes to talk about it, you won't be petrified.
Time Is Precious
Even with a time turner, Hermione can't seem to balance everything she wants to do in Harry Potter and the Prisoner of Azkaban. Ultimately, she decides to drop the classes that aren't a good fit for her, and she learns to manage her time wisely. New college grads can definitely learn from her time management skills, because time is precious — with or without a time turner, you've got to figure out what's worth spending the day on, and what isn't.
You Deserve To Be Treated With Respect
Hermione doesn't take any crap from anyone. She silences reporter Rita Skeeter, rebels against Umbridge, and even shuts down Draco Malfoy. She demands respect — even from her friends. When Ron takes her for granted at the Yule Ball, Hermione leaves him reconsidering his actions as she dances with the respectful Viktor Krum, who appreciates her intellect. And in addition to demanding respect, she gives it back: Hermione tries to treat everyone equally, down to the smallest house-elf. It's a good note to remember in the "real world."
Trust Your Instincts
Not only is she book-smart, Hermione is pretty perceptive about people, too. In Harry Potter and the Order of the Phoenix , Hermione guesses that Voldemort is trying to lure Harry into a trap by preying on his need to "play the hero." Sometimes, when an answer isn't readily available, the best thing to do is to trust your instincts. After all, as a new grad, your life is just beginning, and it could go a thousand different directions — sometimes you've just got to go with your gut when deciding your path.
Shortcuts Don't Beat Hard Work
In Harry Potter and the Half-Blood Prince , Harry uses the half-blood prince's potions textbook to become a prodigy in class. However, Hermione refuses to take the shortcut, and plods through the work on her own. Though it seems that Harry gains success faster than she does, Hermione knows that shortcuts don't beat hard work. She learns more from going through the exercise without help. It can be tempting as a new grad to take the easiest route, but sometimes you can gain a lot more from blazing down a harder path.
Stand Up For The Underdog
Though Hermione was great at pretty much every subject at Hogwarts, her true passion was S.P.E.W., her club promoting equal rights for house elves. She was determined to stand up for the underdog, which is a great life lesson, especially for new college graduates. It's tempting to put your needs first at all times, particularly at the start of your career, but don't lose your passion — you could change someone's life for the better, even with the smallest gesture of kindness.
Be Yourself
Hermione Granger never tries to conform in order to fit in. Throughout the series, she's true to herself 100 percent of the time. She loves books, she's constantly logical, and she's a total nerd — and proud of it. New college grads should take note.
Never Stop Learning
Hermione uses The Tales of Beedle the Bard to learn about the deathly hallows, which ultimately contribute to Voldemort's defeat. She doesn't discount the importance of stories, even ones for children. After all, Hermione loves books, and so should new grads. Stories, from the ones you read as a child to classics to the newest bestsellers, can widen your perspective and help you become a better person. So just because you don't have reading assignments for class doesn't mean you can't continue reading and learning every day. It just means that now, you get to choose the book.
Images: Warner Bros.; Giphy (14)