How To DIY Your Own Rad Gay Pride Tee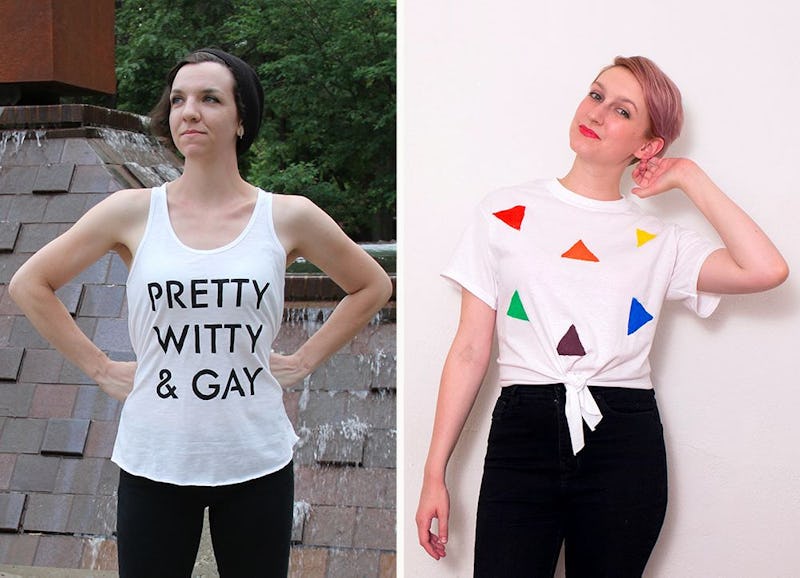 Gay pride month is upon us, which also means tons of parades, parties, and general festivities are on the horizon, raising the most crucial question of all: What are you going to wear? Luckily, bloggers Emily Geraghty of That Cheap Bitch and m.e. of We Can Make Anything have put together some easy gay pride DIY shirts that even the most arts and crafts inept among us should be able to pull off without a problem.
Both gay pride tops are super easy and affordable options that will keep you looking cute and cool no matter where this pride month may take you or what sartorial challenges it throws your way. If you're a crafting novice, you might have better luck with That Cheap Bitch's shirt, which uses a plain white tee and triangle cardboard cutouts to create a rainbow-hued stencil top that's given a feminine touch with a tied up bottom. If you're a little more of a seasoned DIY pro, We Can Make Anything's shirt might be for you. She takes things to the next level of pride professionalism with a super exact mylar stencil that looks just as good as any screen-printed top you could find at Forever 21. While WCMA's top takes a little more precision, both tops are still surprisingly simple to make and will have you styling through all of your pride festivities. Take a look a the step-by-step how-tos for the two tops below, and go ahead and get your craft on!
The Cheap Bitch's "DIY Pride Tee That Doesn't Look Like A Unicorn Vomited On Your Clothes"
Get your materials together:
Cut some triangle stencils out of cardboard:
Paint them whatever color you like, wherever you like:
Put on your new top, tie it up, and look freaking adorable all pride month long:
We Can Make Anything's "Pretty, Witty, & Gay Tee"
Print out your stencil onto mylar paper:
Cut out the letters with an x-acto knife:
Put it over your tee and start painting:
Wear your new tee with pride:
Head on over to That Cheap Bitch and We Can Make Anything for extra tips on making your tees come out perfect, plus plenty of other awesome DIYs!
Images: Courtesy of That Cheap Bitch (4); Courtesy of We Can Make Anything (4)