7 Stunning Stretch Mark Photos To #Loveyourlines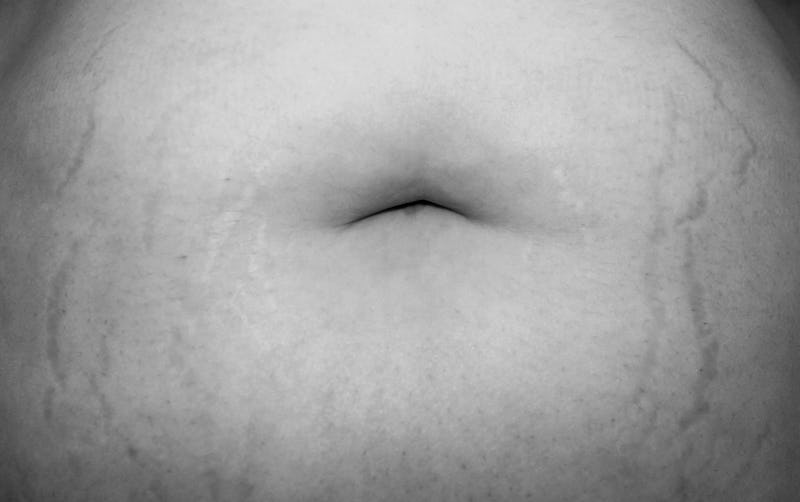 Chances are, if you have skin, you have stretch marks. One scroll through #stretchmarks on Instagram show almost 300,000 photos of stretch marks — many of them hawking snake oil treatments involving some magical cream, questionable pills, and saran wrap. But there are plenty of others who are announcing their adoration and posting pictures of hips, stomachs, butts, shoulders, and more, all decorated with a sprinkling of stretchies.
Stretch marks are a road map of our lives. They can mark the creation of a new life, teenage growth spurts, weight gain, and weight loss — I developed them on my stomach after I had laproscopic surgery to diagnose and treat endometriosis, my best friend has them on the insides of her knees because she was lucky enough to be blessed with long legs, my husband has them radiating from the fronts of his shoulders because he lifted weights in high school — so if we all have them, why is there so much shame aimed at these little lines?
Regardless of whether you love your lines or hate them, they are part of your story. In my book of life, I've worn a fatkini on two national TV shows, posted photos in my bra to show the difference between good and bad fit, and frequently wear things that get plus size women described as "brave," but until today I've never shown my stretch marks to anyone besides my husband. Well, that's my marked up stomach in the main photo, so no more hiding for me; and the following badass babes have done the same across their IG pages. How did you #makeyourmarks?
1. Ooh La Lines
This fabulous Frenchie decorates her lines with some lovely lacies.
2. <3 Your Lines
Love every part of you.
3. Feels Like Home
Every stripe a memory earned.
4. Model Marks
Chrissy Teigen knows how to keep it real.
5. Belfie Best
This bottom is the tops.
6. Hot Shoulder
Show off your stripes
7. Stretch Those Marks
Put yo hands in the air if you got lightning lines!
Images: Liz Black (1), Llaur2ie, loveyourlines, Blondiie113, Chrissyteigen, Ms.Chievous, Eclecticz, Yarina.iresa/Instagram