13 Pants To Wear Instead Of Skinny Jeans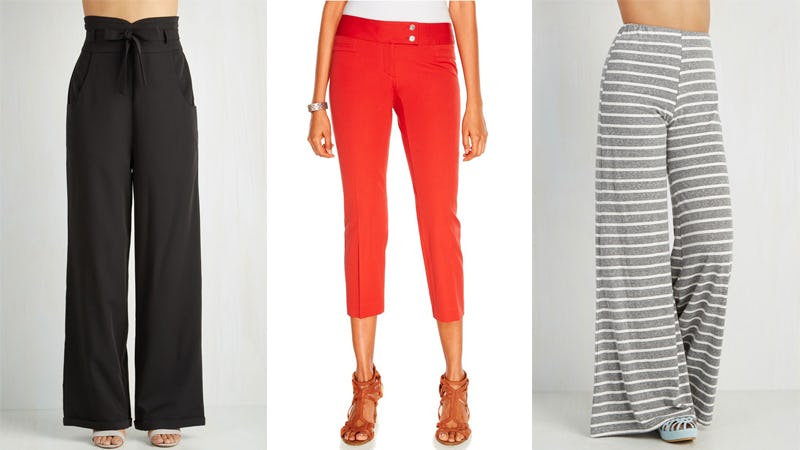 If you're a human with an Internet connection, the chances that you've heard about the woman hospitalized because of skinny jeans that left her unable to move are high. But just in case you haven't, a 35-year-old Australian woman fell while wearing skinny jeans and was unable to move or get up. Paramedics had to cut the jeans off of her body and because of her nerve damage, she was put in the hospital for four days. It's now believed that she was suffering from compartment syndrome, which is when pressure builds in the legs to a dangerously high point, causing the person to become almost paralyzed. Many cases can be extremely serious, like that of the Australian woman, and surgery can be required to prevent permanent damage.
In terms of whether or not you should give up wearing skinny jeans for good, experts say that cases like this are very rare; but if you're wearing rather constricting pants (like skinny jeans), you should make sure you stay active throughout the day.
Personally, I find skinny jeans to be incredibly uncomfortable and would much rather slip into a pair of leggings that are both tight fitting and extremely breathable. If you agree (or if you've been scared straight by the above story and want to throw away any form of denim hanging in your closet), here are 13 fun, non-denim pants that you can rock without fear of hospitalization.
Women's Plus Super-Soft Cuffed Pants, $20, Old Navy
If you want to feel like you're wearing sweat pants but want to look like you're rocking sportswear chic, you'll love these capris from Old Navy. I can see these pants working with so many different outfits and if you dressed them up with a blazer and heels, they could even be worn to the office. These military inspired capris will definitely make a great addition to your wardrobe.
Leaf-Print Drapey Pant, $60, Banana Republic
These pants have a unique leaf print that adds a nice but classic quirk to any outfit. Because these pants are printed yet neutral, they can really work with any outfit.
Juicy Couture Velour Jogging Pants, $36, Kohls
Remember the days when everyone who was anyone wanted to own a velour Juicy sweatsuit? Well, you can wear the ultimate '90s throwback in a totally modern way with these Juicy Couture pants. They're designed to look a lot sleeker than the old Juicy sweats, but still carry that signature Juicy look you've come to (actually) adore.
Mineral Wash Jeggings, $19, Forever 21
If you want the look of skinny jeans but not the discomfort that comes with them, these jeggings are the perfect solution. This pair comes in a gorgeous mineral wash that gives them a vintage feel and also makes you look like you're wearing actual jeans instead of leggings.
Printed Culottes, $22, Belk
I've been hearing about how culottes are back on trend and what better way to celebrate not wearing denim than rocking a pair of these flouncy bottoms? I love how these pants look so comfortable, but are also very chic. This fun print will also brighten up any neutral piece you want to add some flair to.
AEO Palazzo Pant, $39, American Eagle
These palazzo pants give major '70s vibes and if you're a hippie at heart like me, you've probably already fallen in love with them. The bonus that comes with these pants is that they're in the neutral category and can be paired with other prints, bright colors, or similar neutrals.
Jasmine Velour Harem Pants, $79, Nordstrom
If you loved the Juicy Couture velour pants earlier in this post, you'll die for this harem version! I love how these look like they're straight out of a '90s hip-hop music video and like they're the chicest article of clothing in the world.
Women's Satin Ankle Length Pants, $39, Uniqlo
These pants can make any outfit look professional but the real secret is that they are made of satin, so they feel just like pajamas. The fancy yet extremely comfortable combination is hard to find in pants, so take advantage of this pair.
Printed Woven Palazzo Pant, $19, Target
These palazzo pants are cinched at the waist, making them perfect for those who like the high waisted look. I also think this print is graphic yet subtle, so the trousers can really work for almost any occasion. Plus, don't they look super comfy?
Alfani Cropped Straight Legged Pants, $39, Macys
These bright pants will steal the show and bring all eyes on you — the perfect pop of color! They'll also provide you with a lot more comfort than denim, thanks to the lack of a zipper fly, and the slim fit that stops after the thighs.
Adidas Outdoor Edo 3/4 Pants, $50, Zappos
These pants are just amazing in more ways than I can even describe. You can — of course — work out in them, but they can also be worn with your highest pair of heels if you want to show people how cool you are without having to say anything.
The Soft-Wear Update Pants, $34, Modcloth
You guys, look at these pants! They seriously look like the most comfortable trousers to ever exist. Plus, don't they look super chic because of their casual coolness? I'm in love.
Pensive and Paper Pants, $69, Modcloth
When I first saw these pants, all I could think about is how they reminded me of The Devil Wears Prada in the best way possible. If you want to be the coolest person in the room on your first day of school or at your new job, buy these pants and watch the compliments roll in.
Images: Courtesy Brands