What Obama & Biden Are (Probably) Doing Right Now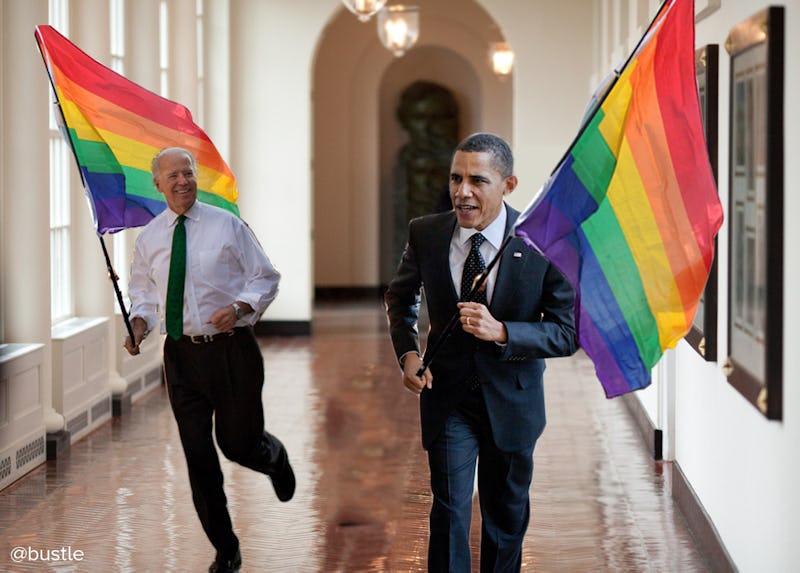 Plenty of people are losing their minds with glee today as they celebrate the Supreme Court's decision to legalize same-sex marriage in all 50 states. News feeds are stacked with updates about the decision, and opening any social media platform right now will reveal to you a veritable cornucopia of happy memes, photos, exclamations, and videos. And rightfully so! We have been waiting a long time for this. It's a historic day, and I hope the celebrations rage on for days to come. Most of all, it would be exciting to see some uber-enthusiasm from our nation's leaders, especially the ones who were invested in supporting marriage equality. We already know that President Obama made a congratulatory phone call to lead plaintiff in this Supreme Court case, Jim Obergefell. But what is his right-hand man, Vice President Biden, doing to celebrate the fabulous news?
Per usual, all thanks go to Twitter for asking these important questions and posing the best possible sorts of answers. The hilarious Dr. Jill Biden (the Vice President's wife) parody Twitter account gave us anyone's best guess as to what is going on between the President and Veep in the west wing right now:
Several Twitter users asked fake-Jill for photos. And that's where we come in. Behold:
Happy marriage equality day, America!
Images: Caroline Wurtzel