7 Lazy Girl Hacks For Work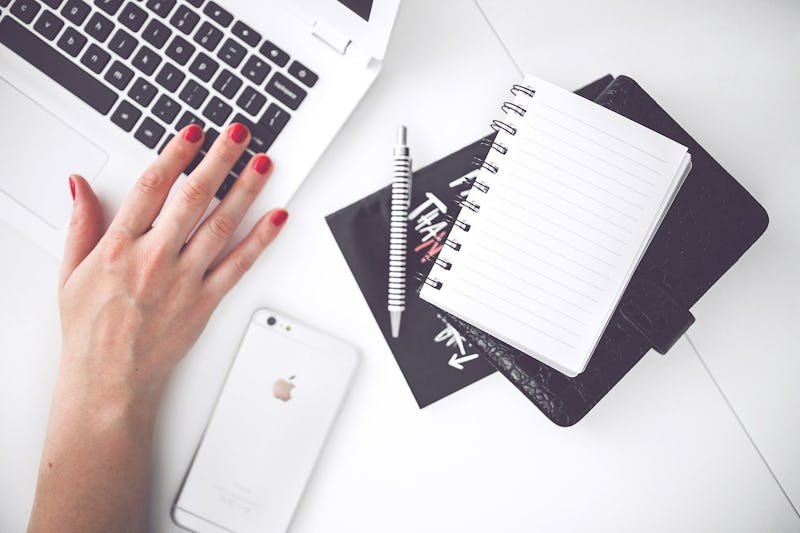 Corporate life, agency life, freelance life...it's all hard. You have countless meetings, endless emails, and not enough hours in the day, and the last thing you want to think about is applying lipstick. Still, you need to be ready for every situation, which is why I rounded up seven lazy girl hacks for work so you can look professional and polished no matter the situation.
Millennials are going to make up 50 percent of the workforce in five years, according to the U.S. Bureau of Labor Statistics. What's more, we have different expectations from work in comparison to previous generations, like work/life balance. While some of our colleagues and bosses from previous generations may see us as entitled or lazy, the truth is that millennials are digital natives that are going to change the way people live and work, and how much we all do of both. To top it off, we're great multi-taskers, which means we're ready for anything, and we'll look good while we do it.
Like they say, the best thing you can do is prepare. Whether its surviving the workday after a rowdy happy hour or facing a huge, important meeting, you want to be ready, polished, and professional.
1. Keep A Backup Pair Of Heels
Keep a pair of heels at work or in your car, so you're prepared for every situation. You never know when the coworkers will invite you out for after-work drinks and you'll want to up the level of your outfit. Also, heels come in handy when a client, CEO, or VP suddenly shows up on site and you need to meet or present with your best foot forward.
2. Keep An Emergency Hangover Kit
We've had those days: you went HAM at happy hour and you can't call in sick for work the next morning because there is a presentation/deadline/client you have to absolutely show up for. Your emergency hangover kit should include necessities for pulling yourself together, like tinted moisturizer, eye drops, gum, bobby pins, and a portable version of your favorite perfume so you can smell and look fresh for the day, no matter how many shots you took last night. (Rohto Cooling Eye Drops, $5.99, rohtoeyedrops.com)
3. Deodorant At Your Desk
Whether you're sweating out last night's alcohol or really losing your shit over a big presentation, being sweaty at work is no fun. Keep a small deodorant at your desk so you can keep the pit stains at bay and feel confident in whatever high stress situation. (Clinique Antiperspirant-Deodorant Roll-On, $12.50, ulta.com)
4. Go For Cream Products
Cream products are great when you're crunched for time because they're almost impossible to mess up in the application process. In the morning, swipe on cream shadow and blush for an under five minute beauty routine that still looks professional. (Eye Studio Color Tattoo 24hr Cream Gel Shadow, $6.99, maybelline.com)
5. On-The-Go Flats
Breaking in new shoes at work is usually a bad idea. For those days where you just can't make it in your current kicks, switch it out for plain and simple flats. These fold up easily in your purse so you can take them anywhere. (Black Footrollupz Rollable Flats, $25.00, footzyfold.com)
6. Refresh Your Face
When you're feeling stressed or maybe like your face is about to melt off, spray Evian Mineral Water Spray to revive your makeup and hydrate your skin. (Evian Mineral Water Spray, $12.50, sephora.com)
7. Go For A Bun
When in doubt, a high or low bun can help pull your look together without much effort. Dry shampoo will keep things fresh and health between washes. (Batiste Travel Size Dry Shampoo Travel Size, $3.99, ulta.com)
Images: Courtesy of Brands; Kaboompics_com/Pixabay