These Cities Know How To Celebrate July 4th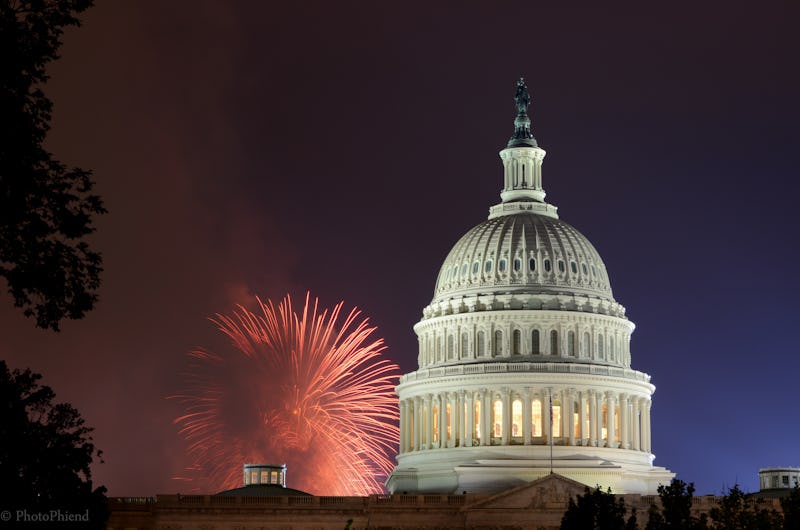 The Fourth of July is right around the corner, and with it falling on a Saturday this year, there's really no reason not to make your way to an ultra-patriotic city to celebrate. Trying to figure out your first stop? Provided below is a list of the best cities to visit on the Fourth of July, from major metropolises to smaller, lesser known towns. Whether you prefer to head to one of America's most prideful headquarters or visit somewhere a little more low-key, the celebration is bound to be big at any one of these hotspots.
Parades, reenactments, and of course, fireworks are all essential parts of celebrating the Fourth — and these cities realize that. From patriotic pet parades to exploding firework shows in football stadiums, there's no better way to celebrate America's independence during these warm summer days and nights. I mean, is there really anything more magical than sparkling colors filling the dark skies and a belly filled with barbecued goodies? I think not.
Pick a city, make a travel plan, and enjoy your July 4th weekend exploring one of these seven destinations. Summer has officially arrived, so there's really no excuse not to be on vacation every single weekend — particularly one that observes America's freedom.
1. Boston, Massachusetts
Considering Boston is so rooted in America's colonial days, it really should come as no surprise that it leads this list of cities to visit on the Fourth. The Boston Harborfest, a six day festival that celebrates the Fourth with an assortment of fireworks shows, musical performances, and reenactments, is definitely worth checking out. Make sure you arrive by July 1st to catch the opening ceremony. And heck, while you're there, don't forget to take a stroll along the Freedom Trail to get a perfect walking tour of the city.
2. Boulder, Colorado
If you want to see fireworks — and I mean, really see fireworks — then Boulder, Colorado is your ideal destination on the Fourth. Watch Ralphie's Independence Day Blast light up the sky from Colorado University's football stadium while taking in the lively downtown atmosphere during the days. From bike rodeos to beer gardens, the festivities hold their own in this mountain town.
3. Philadelphia, Pennsylvania
Philly also shouldn't come as a shocker when it comes to celebrating the Fourth of July — after all, it is America's birthplace. Party on the Parkway (a large concert on the Parkway), parades, and a gigantic firework display take over the city on this day of all things American. If you have the time, it's also great to spend some of the day checking out the national landmarks that fill the city, including Independence Hall and the Liberty Bell.
4. Washington D.C.
Hey, if it's good enough for the President, it's good enough for you. The country's capital starts the Fourth off with the National Independence Day Parade that makes most other parades look like a joke. Fireworks are cast off from the Lincoln Memorial Reflecting Pool at night, making for a scenic and memorable evening.
5. New Hope, Pennsylvania
If you're looking for a little bit of quirkiness this Fourth of July, then venture out to New Hope, Pennsylvania, a small town filled with antique shopping, cafe spots, and holiday festivities galore. George Washington is actually reported to have passed through New Hope four separate times during the Revolutionary War, which adds in some much welcome history. The Revolutionary Run takes place in the area, while American pride beams out of every seam in the city.
6. Bend, Oregon
About a three-hour drive south of Portland, a trip to Bend is well worth the travel time. Be sure to make your way to Drake Park to experience an all-day Old Fashioned July 4th Festival. The festival's most beloved portion belongs to its July 4th Pet Parade, which actually has a history dating all the way back to the 1930s. That's right, get out those American flag bandanas, and start decking out your dog.
7. New York City, New York
Well, if we're being honest, New York City basically makes every list for everything ever... because, hey, it's NYC. Explosive firework shows take place every year, with Macy's Fourth of July Fireworks cascading over the East River for 2015. Also happening on the Fourth is Nathan's Hot Dog Eating Contest, which takes place in Coney Island and has become one of the most iconic NYC events in the past decade.
Images: Photo Phiend, Official U.S. Navy Page, Alexander Sollie, Thomas, Bart Heird, acoolerclimate, Andy Melton, Douglas Palmer/Flickr