7 Books To Give Your Best Friend On Her Big Day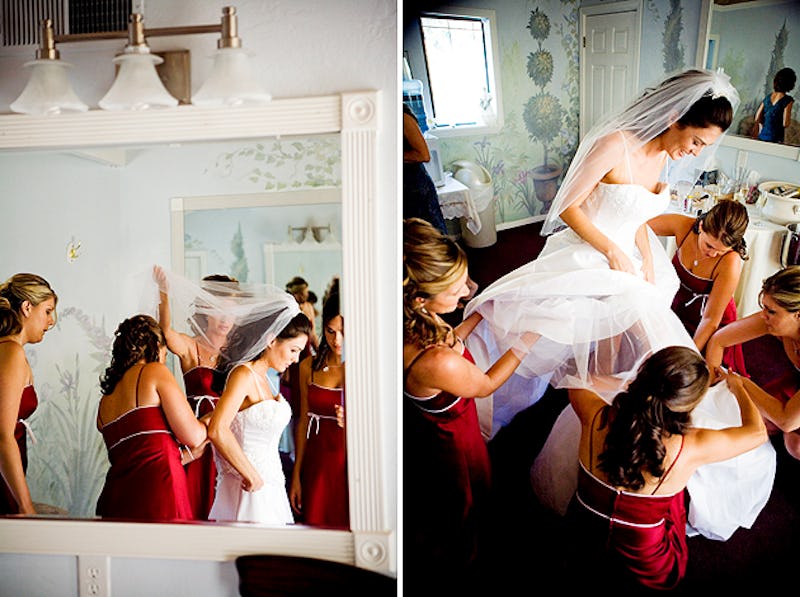 The very first wedding I can remember attending took place mid-summer, at the odious, sticky heart of my awkward tween years. I have vague recollections of wearing a flowery printed dress and being teased for carrying a hairbrush around with me wherever I went. I have somewhat clearer memories of getting my tiny heel stuck in the moist earth and tripping in the aisle during the ceremony itself ... after that I think I blocked out most of the rest of the weekend. Luckily, the bride never held it against me, and I like to think she still looks back on her wedding fondly.
These days, when I'm called upon to shake my groove thang at a raucous celebration or walk down the aisle with a dear friend, I try to make the occasion memorable in a more intentional manner. My skills as a hairdresser are shamefully out of date (basically all I've got is the fishtail braid), and I have a terrible habit of sharing the worst sort of personal stories when called upon for a toast, so after several seasons of exploration (and a few traumatic lingerie incidents) I've found that the very best way to toast a bride on her wedding day is with the perfect book to celebrate her new marriage. So, with wedding season in full swing, I humbly offer seven suggestions for books that will send a bride off down the aisle with all the love, humor, friendship, and grace only literature can offer.
As beautiful as they may be, new beginnings always signal endings of one sort or another — and once marriage enters the equation, friendship inevitably endures a certain amount of upheaval. Remind the bride that you will always be there for her, and that your friendship will only grow stronger after that long walk down the aisle with Elena Ferrante's ode to the unbreakable bonds that form between women. Her book shows how the love of a friend can make all the difference in the world, making My Brilliant Friend the perfect gift for a bride on her big day.
I've heard it a thousand times, and I've taken comfort in the maxim on every single occasion: relationships are complicated. Looking back on the advice my own mother gave me throughout years of pretty stellar parenting, I am most grateful for her constant and enduring reminder that any marriage takes hard work. Although it may seem like a bit of a downer to relay that message on her big day, the knowledge that love doesn't conquer all and sometimes simply requires hard work, might also quell wedding day fears of not doing everything perfectly.
Wallace Stegner's complex tale of true love and tough times offers just the right blend of optimism and realism that tells any bride you believe in her love, and you're not afraid to offer guidance through the tough times.
Why not honor her special day with a defiantly romantic tale of devotion and passion across time and space? The perfect inscription and a tidy bow will make this gift a timeless reminder of the promise that you will always be there for your bride — no matter what the years bring.
Everyone hopes for a love that will last a lifetime. Gabriel García Márquez's epic saga of life, death, and the love that endures is the perfect way to impart your best wishes for a marriage that will stand strong through the tests of time and the trials of fate. Plus, this particular classic makes a hell of a beach book for that upcoming honeymoon.
Love and marriage come in many forms, and it takes a while to decipher just what sort of life you'll have once you've taken your vows. Raymond Carver's lush, intimate stories of companionship and commitment certainly don't pretend to offer a roadmap, but they may just hint at what's to come. What better way to commemorate a bride's big day than with a wide-open look at the many future possibilities that lie ahead in love and in life?
We all know the look of love when we see it, and when we hear it, the language of love is perhaps expressed most perfectly in poetry. If you cannot express your hopes and dreams for a long life of happiness to come, trust your heart to the talents of Pablo Neruda, whose poems convey the truth of love more artfully and more intimately than any I have ever encountered.
It might seem silly to give her a child's book, but this one is all about friendship. Sometimes, the wedding day itself can feel overwhelming (especially after months of planning and hours of getting glammed up), but when you reduce it all to Frog and Toad terms, suddenly, everything becomes so simple. Arnold Lobel's charming stories of friendship are the perfect reminder for any bride that the walk down the aisle is really just one more opportunity to hold the hand of a true friend and commit to a lifetime of walks together.
Image: Deann Barrera / Flickr