Rihanna Looked Golden At The BET Awards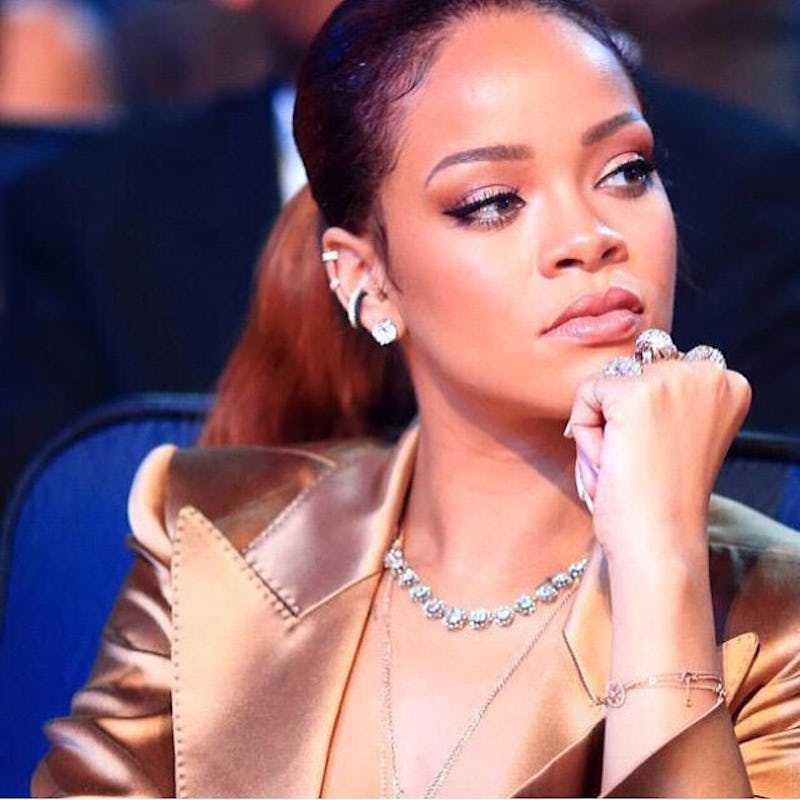 In terms of fashion, you can never know what to expect from Rihanna because she is always game for switching up her style. We all know she nearly broke the internet with her super regal cape at the Met Gala this year, but at the BET Awards last night, Rihanna looked absolutely golden in her shimmery, Armani two-piece suit. I felt like her outfit wasn't nearly as attention-drawing as some of her other usual outfits, but she definitely pulled off her silky, golden professional look last night.
I loved how RiRi bravely mixed metals as she wore silver accessories, which you would think would clash with her gold suit, but the verdict is in: mixing metals and textures looks gorgeous! And as cute and professional as her outfit may have been, you had to expect at least a little touch of the bad chick RiRi style.
The BBHMM star wore her blazer with just a single button without anything underneath — we're guessing some major double-faced tape was used in there! Her skirt was short, showcasing those long legs and her heels were dainty and minimalistic. And pulling together her look of black and gold, she wore a small, black shoulder purse with a gold chain. Going along with the whole professional look, her hair was tied into a ponytail to really let her shimmery eye look pop.
I'm not used to seeing Rihanna wear suits, but I must say, she should definitely do it more often!
Images: badgalriri/Instagram (2)