This Couple's Wedding Story Will Make You Tear Up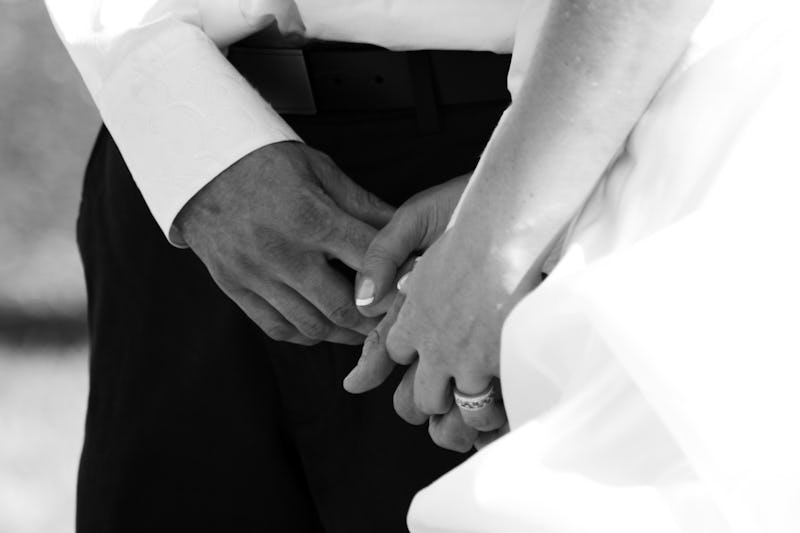 Husband and wife Justice and Jeremy Stamper already had their dream wedding, but they're about to get another one. The married couple is planning a second wedding after the bride lost her memory in a serious car accident — and she can't recall her first nuptials that took place in August of last year.
Per People, Justice got into an accident just a few weeks after her wedding last summer. She began the slow process of recovery, but it wasn't long before she realized that some of her memories — including those of her special day and the months leading up to it — were completely gone. Though she tried looking at her wedding photos and watching the video multiple times, nothing ever came back to her.
"She said to me, 'I don't want you to be mad, but I do not remember the wedding,'" Jeremy told People. "I, of course, was very upset, but I told her right then and there, 'We will do it again.'" So that's exactly what they're doing.
Justice has been unable to return to work, as she's still struggling with PTSD and speech and short-term memory issues. So Jeremy has started a GoFundMe page asking people to donate funds for their second wedding, which they hope to make even bigger and better. As Jeremy said, "[Justice] really deserves it."
Everyone deserves to remember their wedding day, and I can't imagine what it's like to lose the memory of one of the most special days of your life. I'm just glad that Justice will get a chance to relive it. Since the two are clearly more thankful than ever to have each other after the accident, there's no doubt that the wedding will be even more special the second time around.
Image: Quinn Dombrowski/Flickr