This Japanese Decorating Trend Is Addicting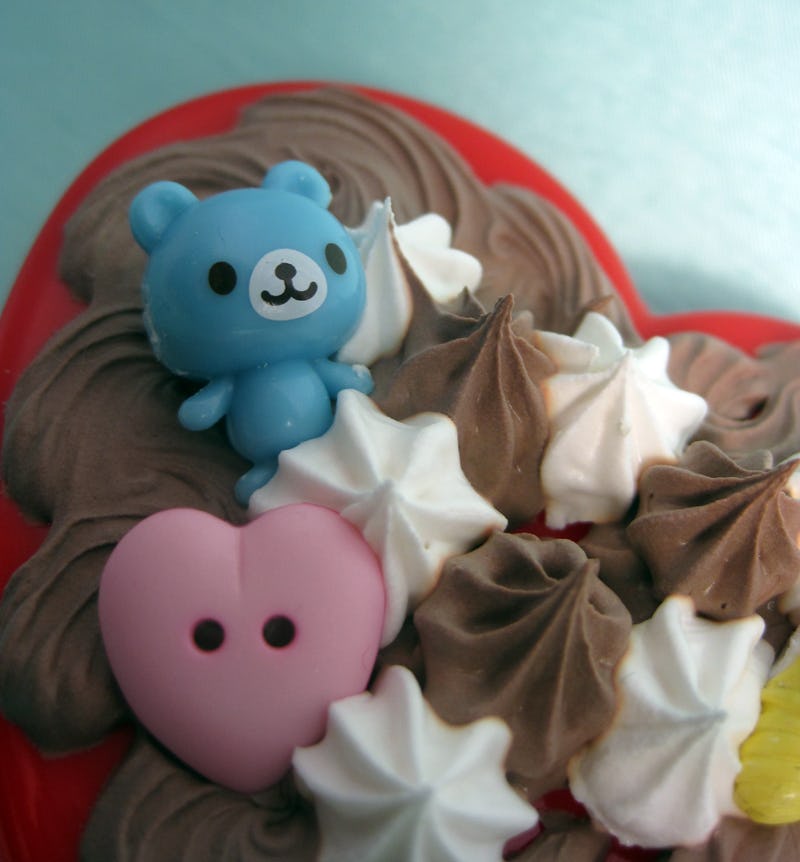 Now I may be a little late to the kitsch embellishment party, but the Japanese decorate trend Decoden in all its fun, tacky, quirky, transformatively decorative ways is a fad that I have always been intrigued by. Originally termed "keitai art" and originating from Japan; the Decoden trend includes decorating items DIY-style in a whimsical 3D collage design, using pretty plastic pieces, buttercream icing-like glue and oven-baked clay figurines. The trend is specifically designed to create a quirkily cute, extravagant, over the top layered look, and is a perfect creative outlet for anyone remotely willing to self-identify as a glitter and tacky-trinket magpie. However, thanks to its word origins ("deco," short for "decoration" and "denwa," Japanese for phone), I'd always assumed the cut-and-stick craft was firmly for phone cases only, and required a degree of attention to detail and artistic talent which I sadly just don't possess.
That is, until I stumbled across blogger Eat Your Kimchi's latest post. Having nurtured a slow-burning passion for all things Korean for a while, Eat Your Kimchi plugs a shamefully sizeable gap in my colloquial knowledge of Korean cuisine, pop culture, and most importantly, beauty products. So Martina Stawski's review of Etude House's new Precious Mineral Magic Any Cushion make-up already had me hooked from the word go. And then I noticed the glorious, child's-art-project-like-potential of the Any Cushion Decoden Kit (tragically, a limited edition Etude House freebie). As a girl who proudly covets plastic-fantastic and food-based jewelry in all forms, I was enthralled by the tiny clay macaroons, doughnuts and ducks, and most of all, Martina's ability to transform an object that wasn't a phone case into a birthday cake-like dream.
Which got me thinking: What could I potentially transform that wasn't a phone case, and how would I go about it? I set about trawling the net for Decoden inspiration, and uncovered a treasure chest of Youtube tutorials, blogs and crafting stores perfectly poised to teach every Decoden novice the tricks of the trade- from traditional phone cover decoration, to giving your jewellery, nails and storage boxes the kitsch 3D collage-style makeover. So, here are five Internet locations to take you from Keitai-art-confused to Decoden devotee:
1. Youtuber Frainy XO
Boasting over 25,000 subscribers, Frainy should be your go-to girl for all of the Decoden sourcing and sticking tutorials you could ever need. From the cutesiest clay figurine or "cabochon" stockists, to Halloween and Gingerbread House Decoden, and how to seal paper to create your own resin Decoden trinkets, Frainy encourages aficionados to enjoy their own personal Decoden-decorating journey, not just the finished product itself. To find out more, simply view her Decoden FAQs video above, or visit her website at milkchocolatedream.com
2. Decoden Tips
Manned by expert Decoden queen Sara who acts as a well-rounded Decoden guru for both complete trinket-decorating novices and more experienced Decoden fans, this helpful Tumblr blog is chock-a-block full of Decoden inspiration, glossary guides on confusing terms and FAQs on best Decoden practise. Can't find the answer you're looking for? Simply visit the Tumblr's "Ask" section and ask Sara for yourself!
3. Cabochon || Decoden || Minatures
Sara Eversol's cabochon confectionery-dedicated Pinterest board is a cornucopia of tea time-themed trinkets and silicone sweet treats which look good enough to make your mouth water. Whether you're making your first foray into creating Decoden jewelry or Decodening (decorating) the jewelry box itself, this hoard of cake-based delights makes your perfect inspirational starting point.
4. Sophie And Toffee
Boasting dedicated Japanese business partners, Sophieandtoffee.com is the perfect beginners one-stop-shop for all of your Decoden-style jewelry, nail art and general decorating supplies. From polymer clay charms for necklaces to bail beads for bag charms and a plethora of fake frostings, molds and chunky acrylic chains, visiting Sophie and Toffee makes you feel like a kid in a sweetshop (except all of the sweets are made of clay).
5. The Non-Dairy Confectionery
Time-strapped, lack creative intuition, or simply just too darn lazy to Decoden-It-Yourself? Then let The Non Dairy Confectionery fuel all of your darkest Decoden desires. Striving "to make cute, affordable accessories for the kid in all of us," this independent Etsy store stocks a comprehensive range of kitsch jewellery items to give your outfits that pizazzy personal touch. After something special? They take custom orders, too — just drop them a message to make a request!
Images: lumesire/Flickr (2); MiniatureSweet/Etsy; SophieandToffee.com; NDConfectionery/Etsy