This Is Every Woman's 'Magic Mike XXL' Group Text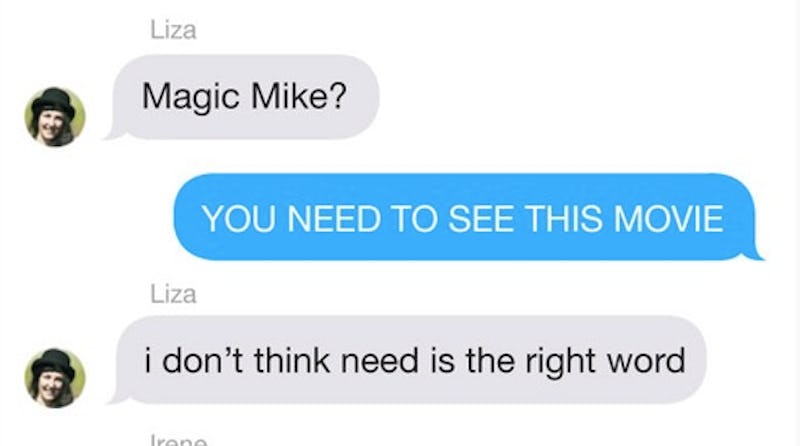 Here's the thing. There aren't really words to describe how excited I am for the premiere of Magic Mike XXL. It's like the excitement for the first Magic Mike, except, you know, extra large. Between the saucy promos that have us fanning ourselves with anticipation to the amazing posters that make it clear that I don't think we're ready for this jelly, it seems like the Channing Tatum film is truly aspiring to kill half its audience base from the hot before the movie even comes out. And I'm OK with that, because I don't think I could handle seeing Tatum, Donald Glover, and Joe Manganiello take it all off one right after another, let alone simultaneously. If you think I'm exaggerating, then you clearly haven't heard all the buzz about Magic Mike XXL. Or you're just a hater. Whichever.
But what if you're excited for the film and you have a hater in your midst? One of those people who, like myself, hear about all the hype surrounding a film and decide, then and there, to ignore it until they don't have to hear about it anymore? Everybody knows one, or is one, and it can be difficult to convince these people that their place in the world is in a seat in the movie theater on opening night. Or, well, actually, it might not be that difficult to convince them at all considering everything that Magic Mike XXL has going for it besides a lot of hype.
If you're trying to figure out how to convince your hater friend to check out the movie, or need a compelling argument to convince you to make your way there, check out the conversation below. I'm 99 percent sure that it's an exact transcript of just about half the conversations that will be happening in group chats across the country on July 1, 2015. Happy movie watching!
Image: Dawn Foster/Bustle