8 Key Ways Hillary And Bernie Differ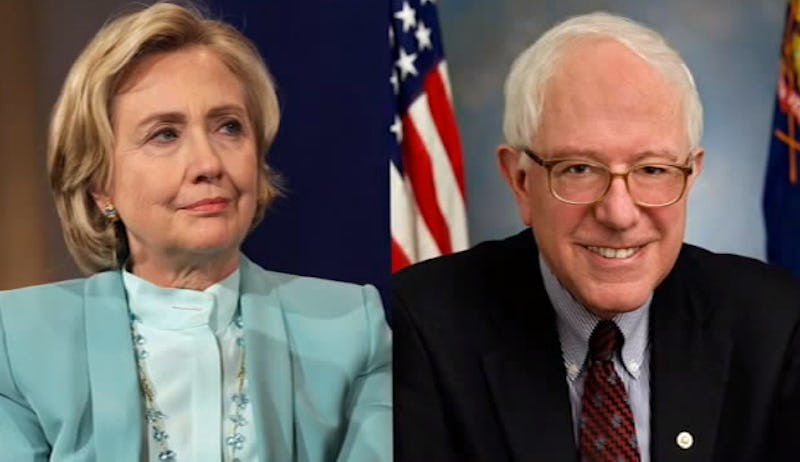 With so many candidates in the 2016 presidential race, it can be hard to keep track of who stands for what issues. Political parties help determine which politicians most align with our own views, but there are a lot of intricacies of issues that can make it difficult to choose a favorite for the primaries. According to a recent New Hampshire poll, Democrats Hillary Clinton and Bernie Sanders are almost neck-and-neck. Often, it's tempting to select a favorite on campaign branding, image, and gut reaction, but it's a good idea to take a hard look at the issues and decide which ones are important to you before making your choice.
According to the CNN/WMUR New Hampshire Primary Poll, conducted by the University of New Hampshire Survey Center, Clinton and Sanders are in a statistical tie and possess a nearly identical favorability rating. A mix of 1,010 Republican and Democratic voters in New Hampshire were surveyed by phone between between June 18 and June 24. The results showed that Clinton has the favor of 43 percent of likely Democratic primary voters compared to 35 percent for Sanders, but the margin of error was plus or minus five percentage points, making the race a mathematical tie.
These frontrunners have a lot in common, but differ in a few ways that might be the deciding factors for many primary voters. Choosing one of them — or the other Democratic nominees Martin O'Malley and Lincoln Chafee — isn't easy, not to mention if you are a Republican with 13 names to choose from right now. To make it a little easier, here are eight ways Clinton and Sanders differ int their voting records and statements:
ISIS
As far as U.S. involvement in ISIS is concerned, Sanders has said that the fight should be undertaken by neighboring nations such as Saudi Arabia, Kuwait, and Qatar, according to CNN.
Clinton said, according to The Atlantic:
The failure to help build up a credible fighting force of the people who were the originators of the protests against Assad — there were Islamists, there were secularists, there was everything in the middle — the failure to do that left a big vacuum, which the jihadists have now filled.
Capital Punishment
Capital punishment is a controversial issue that has divided parties. Clinton is an advocate of the death penalty with restrictions, according to The San Francisco Chronicle.
In 1994, Sanders voted to replace the death penalty with life in imprisonment, according to the House of Representatives.
Flag Burning
In 2005, Clinton co-sponsored a bill that would criminalize burning the American flag, according to The New York Times.
In 2003, Sanders voted against a bill that would prohibit desecration to the flag.
Cap-And-Trade
Both candidates support fighting climate change, but the way to do it is debatable. Clinton supports cap-and-trade techniques, which allow corporations to trade credits to reduce carbon emissions, according to The New York Times. According to the Senate, Sanders voted against requiring full Senate debate and vote on cap-and-trade.
Trans-Pacific Partnership
Clinton supported Obama's Trans-Pacific Partnership with Asia in 2014 but later said the president should listen to Nancy Pelosi instead, according to The Washington Post. Sanders definitely opposes the plan. He said of Clinton's past support of it, according to CNN:
She's going to have to be clear. It's not a question of watching this. You're going to have determine which side are you on? Are you on the side of working people who would suffer as a result of this disastrous trade agreement, and seeing their jobs go to China or Mexico, or are you on the side of corporate America? It's not a very difficult choice.
Gun Control
Clinton supports tight gun control. According to Politico, she said:
We have to rein in what has become [an] almost article of faith, that anybody can own a gun anywhere, anytime. And I don't believe that.
Sanders is more lenient. He voted in favor of a law that prevents victims of gun violence from suing manufacturers of weapons, according to the House of Representatives.
Bank Breakups
Sanders has vehemently attacked big banks and wants to break them up, according to The Huffington Post. Clinton has declined to take an opinion, but The Washington Post reports that she is unlikely to support this.
Social Security
Sanders has proposed legislation that would strengthen and preserve social security, according to The Huffington Post. Clinton also supports preserving social security but has said that she would support improving social security's finances through finances increased taxes and reduced benefits, according to The Washington Post.
None of the issues that divide the Democratic Party are straightforward. If you'll be voting Democratic in the primaries, hopefully, you can closely decipher how these two liberals differ on some of the country's most hot-button issues.
Images: YouTube/PJ Media; Getty Images (8)