Ancient Sandals That Put 2015 Gladiators To Shame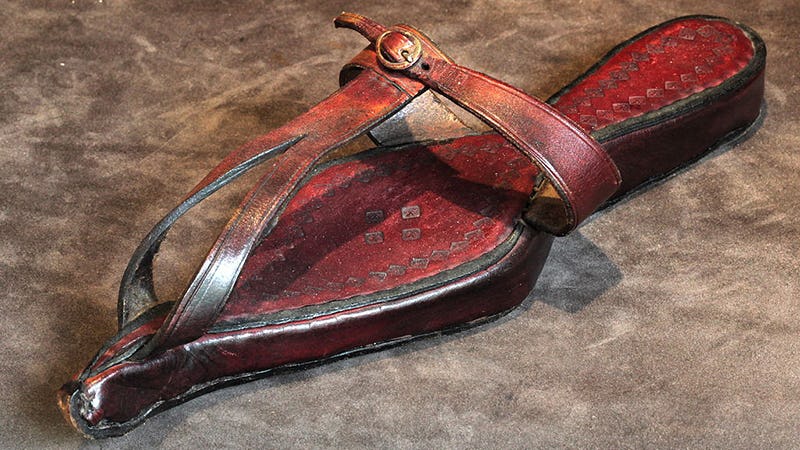 It's an undeniable fact that the human species loves shoes. We've loved fashionable shoes throughout history. However, it seems that we have hit a wall when it comes rocking historical trends. For instance, why is it that gladiators are one of the only ancient sandal styles that we still wear today? What about other cultures' historical footwear? Think of all the great shoes we could be missing out on!
Don't get me wrong — modern day gladiator sandals are totally cool. But I think there is more to explore in terms of shoes. From woven sandals to wooden clogs, there are plenty of trendy bygone styles worth exploring. There is a lot that we can learn from history here, whether it's about proper elevation, long-lasting materials, or just plain awesome styles. Imagine all the ways that the 2015 world of fashion could innovate on accessories from back in the medieval days! Talk about a legit #TBT, amirite? I say it's time to bring ancient footwear into the modern world. Here are a few historical footwear options that put the modern gladiator shoe to shame.
1. Roman Chic
How can you not be impressed by these awesome Roman sandals? They are featured on a statue of the Roman goddess Artemis in the Louvre in Paris. They even have a lion's face sculpted into the shoe. Where can I get a pair?
2. Golden Sandals
Talk about stylish children! Golden sandals are the only way to go. Even though this painting is from 1702, these would still look chic in 2015.
3. Japanese Wedges
These ancient sandals are known as Getas. Somewhere between a flip flop and a clog, these wooden sandals are a perfect old-school style. These shoes were the preferred style of Geisha and Japanese royalty. I can see why!
4. Walk Like An Egyptian
Now, these sandals are a definite #TBT. These papyrus sandals from the Rosicrucian Egyptian Museum are a perfect representation of what Egyptian children wore back in 1543 BC. While they might not be as comfortable as your Birkenstocks, their woven pattern is kind of awesome.
5. Dutch Apparel
Is it just me, or could you totally see these shoes walking down the runway? While there is no way that I could fit my feet into these 15th-Century Dutch shoes, I can always appreciate high fashion.
6. Nalin Bathing Sandals
Popular for bathing ceremonies in the Ottoman Empire, these Nalin bathing sandals are crazy interesting. While usually made of wood, they almost look like stained glass. Could you imagine bathing in such luxurious shoes?
7. Shoes Fit For A Queen
Nothing like gold toe coverings to make you feel like royalty. These sandals were originally worn by minor wives of Thutmose III around 1479 BC. Excruciatingly chic, and you'd never have to worry about a pedicure.
Images: Wikimedia Commons