9 Fashion Movies To Inspire Your Designer Dreams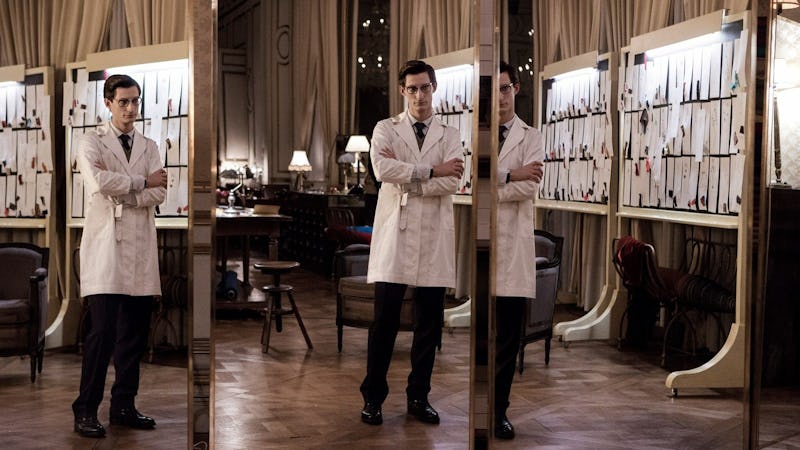 If we went to middle school together, you probably knew about my sketchbooks — and my love of movies about fashion. Granted, my eighth grade class contained 65 kids max, but I'd put money on the fact that every one of those tweens saw my designs. After all, I'd requested expensive (and now extinct) Design Spectracolor colored pencils and a subscription to Harper's Bazaar for my tenth birthday. I was going to be a fashion designer, obvi. My "house" would be called JAHN.
My dreams of helming a haute couture empire gave way to writing the great American novel, but my love of fashion was too resilient to disappear. Because that love grew out of young-me spending hours hunched over a blank piece of paper, I usually have to get my clothing fix solo. I'm not one of those girls who goes boutique-hopping with her friends. I like to shop alone.
I also like to watch fashion movies alone. Maybe it's because they remind me of an earlier time, but a good clothes-heavy feature will motivate me to dream big and, well, not give up. Even though design isn't my au courant dream, hard work is a skill all artists have to hone.
Whether you live for seeing dreams come to life on the big screen, if you had a nice set of colored pencils, or if you're living the life and sitting front row at fashion week, these nine movies will totally fit the bill.
1. Yves Saint Laurent (2014)
This lush biopic focuses on Yves Saint Laurent's life during the '70s, more than a decade after he'd taken over the House of Dior and risen to international fashion world stardom. Heady and steeped in symbolism, this movie captures the decadence and hedonism of Saint Laurent's lifestyle while also schooling viewers in his aesthetic. Gaspard Ulliel's portrayal of YSL is reserved yet vulnerable, capturing the man who said, "We must never confuse elegance with snobbery."
2. Unzipped (1995)
Two words: fun fur. This raucous documentary is chock full of outrageous '90s eye candy as Isaac Mizrahi frets his way to a killer 1994 fall show. Don't try to count how many time Mizrahi clutches his head in exasperation: You'll lose count faster than you can say Kate Moss.
3. The September Issue (2009)
Though some could argue this documentary is about Vogue, really its a study in Anna Wintour, whose work ethic (and only her work ethic) makes her the Rocky of the fashion world.
4. Valentino: The Last Emperor (2008)
An elegiac documentary, this film captures the man who many consider the last couturier. The movie is sweeping and reverent, and filled with occasions to drool at the detail work on Valentino's gowns.
5. Funny Face (1957)
I'm sure this film inspired budding fashionistas back-in-the-day, the same way it inspired young-me back in the '90s. The all-pink offices of Quality magazine are pure confectionary (and will have you shaking your head when you think of what you've seen in, oh, say film #3 on this list), but set those aside: really, you're watching this movie for Audrey Hepburn, whose attempt to look dowdy or frumpy or mousy is just... well, fail.
6. Coco Before Chanel (2009)
Audrey Tautou is terrifically dimensional — in other words, not always likable — in director Anne Fontaine's contained drama about the early life of the orphan Gabrielle, the girl who would grow-up to become Coco Chanel. I love this movie for its theme: We aren't born the people we become, we invent ourselves through our choices, loves, our work, and our art.
7. Prêt-à-Porter [a.k.a Ready To Wear] (1994)
Robert Altman's ensemble cast collects acting legends like Sophia Loren and puts them in a harried whirlwind of Paris Fashion Week preparations. A little raucous, a little raffish, this film is light on fashion, but worth that for the work of an incredible director.
8. Bill Cunningham New York (2010)
If you live in NYC, maybe you've seen Bill Cunningham pedaling around town; maybe you've even caught yourself being the subject of his snap. Regardless, his long life as a photographer with the New York Times while inspire you to keep doing what you love and looking for beauty in the everyday.
9. Scatter My Ashes at Bergdorf's (2013)
"It's just one of those things that you fantasize about," says Diane von Fürstenberg, of having your clothes sold at Bergdorf Goodman's. But the designer's statement also applies to those fashion-lovers who flock to the Fifth Avenue mecca to merely behold la creme de la creme.
Images: Wy Productions; Hachette Filipacchi Films; Acolyte Films; Haut et Court/Warner Bros; Etalon Film/Miramax; Berney Films/Quixotic Endeavors; Giphy (3)