17 Gowns To Prove We Need Plus Size Bachelorettes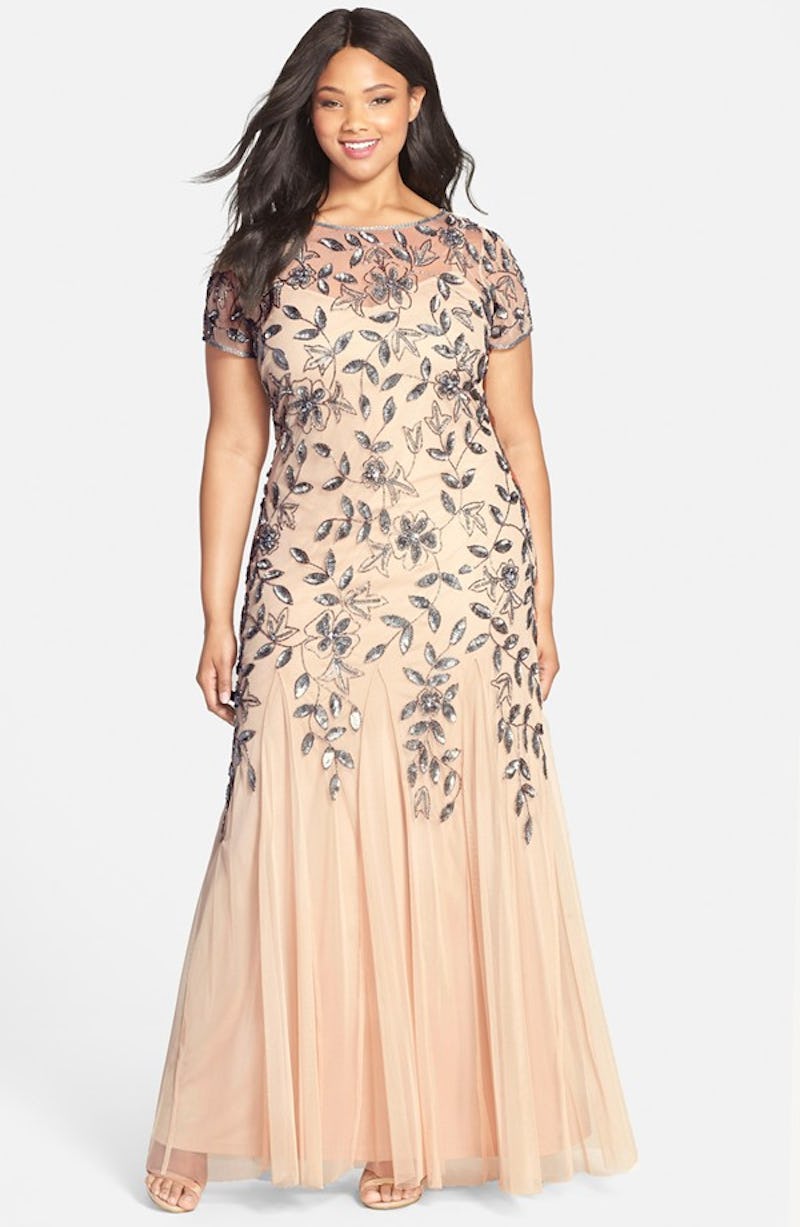 What would you wear if you were on The Bachelor or The Bachelorette? Week after week, watching the parade of Kaitlyn Bristowe's dresses is almost as important to my viewing of the show as her falling in love — the idea of picking out (and packing) that many Bachelor rose ceremony gowns seems both exciting and also a little daunting. But, I mean, who doesn't love a little shopping? Plus, choosing a Bachelorette wardrobe would be so much fun!
Although being in a committed, long-term relationship puts me out of the running to be a contestant on the show in the first place, I'd likely never get to pick out my dream Bach wardrobe anyways. Why? Because there has never been a plus size contestant on the show — neither a man nor a woman! Sure, the extremely rad "curve model" and nationally-ranked surfer Bo graced us for one whole episode of Chris' season; but the body types on the programs are just as non-diverse as the race of Bachelor contestants. Uh, never mind the fact that in 29 seasons there has never been a queer Bach contestant.
I understand that society has some pretty standard beauty ideals and the contestants mirror that, but am I the only one who thinks that even the hottest, most conventionally gorgeous person doesn't find all types of people beautiful? Not just thin/jacked white people fall in love!
We need more diverse casting on The Bachelorette in lots of ways, for sure, and I already have 17 plus size rose ceremony-worthy gowns picked out:
1. Limo Arrivals Dress
This show-stopping, shimmery gown is just the type of thing that our plus size Bachelorette would wear to welcome all of the men vying for her heart.
Valerie Gown, $221, fameandpartners.com
2. First Cocktail Party
This gauzy black gown with a sexy slit is a little more comfy, but no less glamorous. I mean, she's going to be getting pulled outside to sit on that bench by the pool for "one on one time." She better be able to sit in your first cocktail party dress.
Wrap Front Maxi, $100, asos.com
3. First Rose Ceremony
This red dress is completely meta/on-theme for the first rose ceremony of the show. This gown is equal parts luxe and sultry with a high slit, gorgeous draping, and keyhole bodice. I mean, she's gotta remind the boys leaving of what they're missing out on, no?
Cynthia Gown, $246, fameandpartners.com
4. First One-On-One Date
When she pretends to eat dinner on the top of a mountain or whatever with a dude one-on-one for the first time, her dress should be bright, playful, and fun while still holding a little bit back — just like the Bachelorette always seems to be.
Junarose Illusion Dress, $79, heygorgeous.com
5. Riding In Helicopters With Boys
Chic and a little intimidating, this dress is just begging to be paired with some stunning jewels and heels for a helicopter ride over NYC or the beaches of Mexico.
Coorabie Dress, $155, carmakoma.com
6. Dinner Date In A Castle/Cathedral
You know that the Bach is going to "eat" dinner with a dude in some gorgeous and historical place (and nothing says romance like a bunch of Jesus statues), so she might as well look like an ethereal goddess. Also, sleeves. Sleeves are always a must in historical places.
Adrianna Papell Beaded Godet Gown, $350, nordstrom.com
7. Slow Dancing To Some Band
OK, so this season Kaitlyn lucked out and got to slow dance with Justin to The Cranberries; but usually the Bachelorette is just swaying/neck nuzzling to a random singer/songwriter-type. She might as well look romantic while still being able to twirl.
La Pleat En Rose Dress, $160, modcloth.com
8. Opera Date
After a few nights of drinking too much at cocktail parties, the Bachelorette always reminds the viewers that its contestants are refined by taking in some sort of culture. This elegant, demure, floral gown is exactly what our plus size Bachelorette would rock to look through some binoculars.
IGIGI Maxi Dress, $158, igigi.com
9. The Dramatic Rose Ceremony
There's always one ceremony where someone breaks into tears or faints or has an outburst, and those instances need an equally dramatic gown. Chris Harrison will console the Bachelorette as she "questions the process" in this dress.
Plunge Front Maxi, $64, asos.com
10. Horseback Riding
Can you really fall in love with someone without riding horses on a beach with them? Not according to The Bachelorette and logic, duh. This little getup is romantic and bright, while still letting you swing on and off of that horse.
Crimp Cocktail Dress, $160, modcloth.com
11. Las Vegas Dress
You know they need an excuse for all the dudes to yell "Vegas, baby!" and for everyone to strip or hang from aerial silks at Cirque du Soleil or something. There's going to be a show biz or casino date, and our plus size Bach should shimmer.
Maxi Dress With Plunge Front, $173, asos.com
12. Last Rose Ceremony Before Hometowns
When she's telling some guys that, essentially, she doesn't want to meet their families, it's a bit more of a somber occasion. But, hey, she's still the Bachelorette and sparkles remain in order.
City Chic Embellished Maxi, $149, nordstrom.com
13. Hometown Sweetheart
The dress code for hometown dates seems to be non-threateningly feminine and demure to prove she'll be a good, traditional, wholesome wife. Something with sleeves also eases the slut-shamey minds over her making out with everyone. Aw, romance.
Vince Camuto Short Sleeve Dress, $101, bloomingdales.com
14. Island-Hopping
What better way to spend her last days as a woman under pressure from America to get engaged than in a chill, luxurious caftan?
Rachel Pally Printed Caftan, $264, rachelpally.com
15. Final Date #1
This flirty dress is perfect for an island dinner and has "Fantasy Suite" written all over it.
Delicate Queen Dress, $150, fameandpartners.com
16. Final Date #2
Keep things breezy in this knee-length dress even though the conversation is likely to be heavy on that last date before the big decision.
Refresh Your Fancy Dress, $55, modcloth.com
17. The Final Rose
Glamour and drama without looking completely out of place in a tropical island setting. Heck, skip the dude, plus size Bachelorette, and propose to yourself.
Adriana Gown, $238, fameandpartners.com
Images: Giphy; Courtesy Brands