Hanson Takes Us Back To The '90s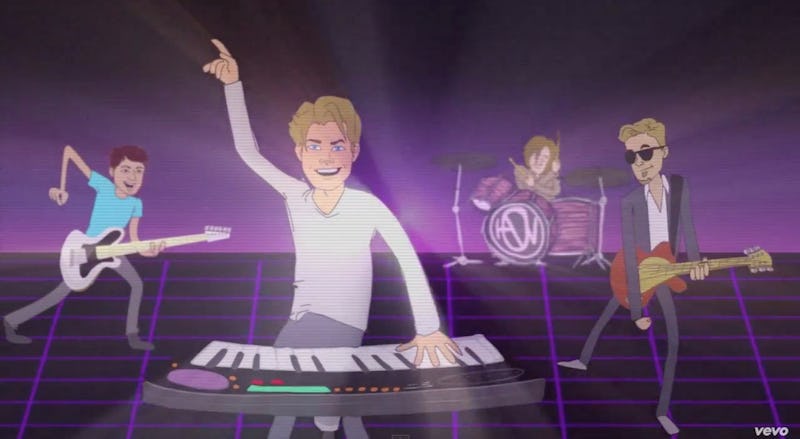 Nothing quite compares to the music of the '90s and Adam Young knows it. For his single, "Unbelievable," the singer behind Owl City teamed up with teen heartthrobs Hanson for this epic new track about all our childhood favorites, including Nintendo and slip and slides. As if that was not enough to give fans some major nostalgia, Monday Owl City released the "Unbelievable" music video and I have to say, it's cleverly stuffed with some totally '90s moments.
Staying true to the decade theme, the whole music video features Owl City and Hanson in animated form. As the guys rock out on their instruments, images of the '90s fade through the screen all while a walking VHS tape strolls down a paved sidewalk whistling the song's infectious tune. It may sound trippy, but let me warn you once you hear it, you won't be able to get it out of your head.
From Owl City's pure pop sound to Hanson's amazing vocals, this song has me hoping this is just the beginning of more '90s revivals. Let's take a look back at some of the totally '90s moments that truly make this one a blast from the past.
But first, here's the new music video in its entirety:
Now, for some singled out '90s moments...
VHS & That TV
Ah, the days before HDTV flat screens and DVR. If you wanted to tape something when you were out you recorded it on a VHS. And when you wanted something else, to worked out that poor little VHS one more time and recorded over the oldies. Ah, simpler times.
This Kitchen Timer
Remember when self timers weren't on our phones? They used to be little dial thingies. We certainly have come a long way.
OMG, Piggy Banks
Piggy banks were all the rage when I was a kid. There was nothing like shattering it with a hammer to pull out your allowance money for a special gift.
AHHHHH, Laser Tag
This is still cool, right? I heard Justin Bieber was pretty into it, or something. Before we could play games on our Wiis and PlayStations at home, people actually had to go to an arcade to have virtual fun.
The No Girls Allowed Sign
Back when boys and girls had cooties it was typical for boys to create a place all to their own. Now I believe that's called a "man cave."
A Super Sweet Treehouse
Even better than a hideout was a treehouse. People knew you meant business if you had one in your backyard.
Gotta Have Nintendo
I'm talking a classic gaming console right here. Sure, it was all 2D and there was never going to be the chance of getting dizzy looking at all the hyper-realistic graphics, but it had its charms.
This Fresh Prince of Bel-Air Reference
Before Will Smith was Jaden and Willow's dad, he was just a teen from West Philadelphia. And this little video tape guy remembers.
Those Fuzzy Dice
Almost everyone had these hanging on their car mirror, it was classic '90s. And suuuuper cool.
Don't Forget About Bean Bag Chairs
They were fun to sit in but so hard to actually get out of. Owl City clearly never forgot this.
All Of These '90s Things
From Game Boys to slap bracelets, this music video gives off pure '90s feelings right to the very end.
And I cannot get enough of it.
Images: Vevo (12)