7 Ways '10 Things I Hate About You' Was On Trend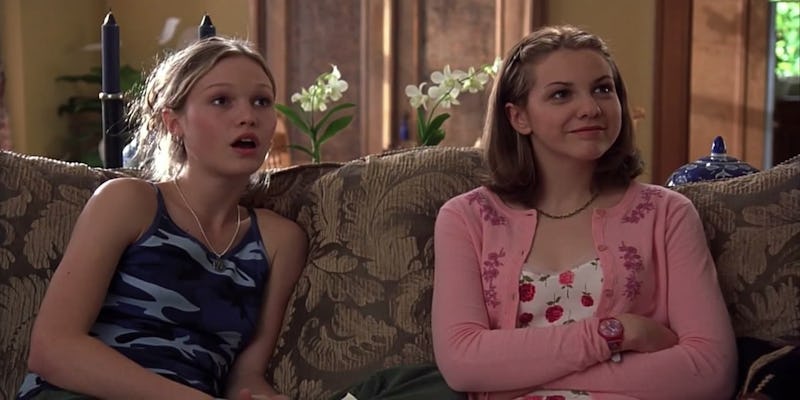 As a Millennial, I am a devout lover of the '90s film 10 Things I Hate About You . Starring Julia Stiles, Heath Ledger, and Joseph Gordon-Levitt, the film taught me a lot about life and love as I was growing into my teenage years. Most importantly, though, 10 Things I Hate About You taught me great fashion lessons.
The fashion items worn throughout the film are the ultimate best of the '90s. From the platform sandals to the designer backpacks, 10 Things I Hate About You had all of the trendy sartorial wonders that myself and hundreds of other '90s kids dreamed of owning someday. I mean, who didn't want a Prada backpack sophomore year? I know I did.
For the last two years, fashion trends from the '90s have become popular yet again. Retailers and designers are coming back out with fab crop tops and camo printed pants that make my heart skip a beat. Nothing is better than wearing things you loved as a child as an adult.
What's more? Sisters Kat and Bianca from 10 Things I Hate About You gave me a lot of styling tips that I still apply when assembling a killer ensemble circa 2015. Even though they had two distinct styles, these two young women were uniquely chic, and left their mark on Millennial kids the world over.
Here are just seven fashion trends from 10 Things I Hate About You that are still on point now, filling '90s kids everywhere with pure, heavenly joy.
1. Cardigans
I will be the first to admit that I was an avid cardigan wearer when I was younger.
Nah. Who am I kidding? I am still effortlessly rocking cardigans in my twenties. Bianca always color-coordinated her cardigans with her tank tops underneath, and I'm still obsessed with the look.
2. Camo Print
Kat was my sassy spirit animal growing up. Besides her spicy personality, her fashion sense always inspired me as well. This camo tank top is a prime example. Camo printed clothing is rather trendy now, most likely a bi-product of the military trend that came into the spotlight in 2014. So Kat, can I borrow your camo tank top?
3. Chiffon Top
This scene from 10 Things I Hate About You is iconic to me and hundreds of other Millennials, no doubt. This beautifully embellished chiffon top that Kat wore while reciting her heart-wrenching poem remains totally memorable. Chiffon tops are still an essential in my wardrobe now, just like they were when I was younger. Kat, your amazing top (and perhaps your poem) has been making me tear up for 16 years.
4. Matching Separates
This past prom season, it seems a lot of teenage girls took a cue from Bianca and decided to rock a matching top and skirt instead of a traditional prom dress. And hundreds of fashion bloggers and celebrities have been dipping into the matching separates look that Bianca wore in the film, too. I mean, I still dream about reliving prom just so I can rock this chic look. You're a trendsetter, B!
5. Crop Tops
Almost every woman in this film donned a crop top. Crop tops were one of the hottest fashion trends of the '90s and are still going strong today. I don't even have to explain how trendy these mini-shirts are. I mean, I'm even wearing a crop top while I type this. Does this make me as cool as Kat and Bianca?!
6. Designer Backpack
OK, let's just give Bianca the "Best Dressed" award already. She definitely had me and other girls lusting over a cute Prada backpack to throw our gel pens and Lisa Frank notebooks in. Today, more designers are creating backpacks that are similar to the trendy ones of the '90s. Even though I cannot afford a designer backpack right now, I can still dream about owning one like Bianca one day (or perhaps order a faux leather backpack from ASOS).
7. Platform Sandals
Platform sandals were the "it shoe" of the '90s. Kat always ended up looking like a cool chick when she wore her platform flip-flops. And I know I am not the only one who bought five pairs of platform flip-flops just because Kat wore them. If I am, I have no shame about it.
But platform sandals are back and hotter than ever — an update to the basic sandal, no doubt. Every time I rock a platform sandal now, I think about my childhood love 10 Things I Hate About You and I smile. Platform sandals are simply nostalgic.
Images: Buena Vista Pictures; Giphy; sjallday5, dinaaaa_xp, dstvzambia/Twitter (3)