Got the Black Friday Blues? 11 Movie Characters Who Make Shopping Look Fun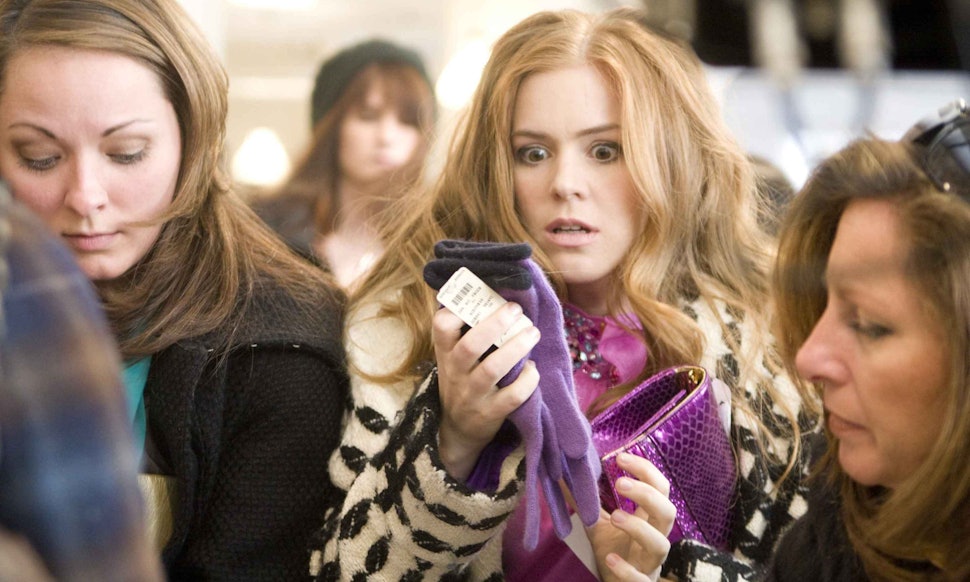 Still debating whether or not to strap on your running shoes and power through that Thanksgiving turkey-hangover and hit the mall tonight for the best deals of the season? Look no further for your inspiration than the 11 film and TV characters on this list. Because they definitely wouldn't need any arm-twisting to get them off the couch for Black Friday.
If you still can't muster up the energy, you can live vicariously through these suggestions rather than put yourself in the middle of the mayhem. It's time to shop, or not shop, til you drop, betches.
Image: Walt Disney
Cher Horowitz
The most iconic shopper. (We're still waiting for her outfit-generator to actually get invented.)
Image: Paramount
Vivian Ward
Best shopping sequence of all time. Watching Julia Roberts tell-off that snobby saleswoman is golden, even after 23 years.
Image: Buena Vista
Rebecca Bloomwood
Shopping addiction is a real thing, guys. Swipe wisely.
Image: Walt Disney
Andy Sachs
If you've ever dreamed of raiding the closet of one of the world's biggest fashion magazines, this one is for you.
Image: Twentieth Century Fox
Troop Beverly Hills
The most fashionable Girl Scout troop you wish you belonged to. Where can I buy all of these outfits?
Image: Paramount
Carrie Bradshaw
The shoe queen herself (pictured here with a Manolo shopping bag) might inspire you to go out and buy new kicks. You know you need them.
Image: HBO
Lizzie McGuire
Because a blow-up, igloo-inspired, hooded gown is what we all need this winter.
Image: Buena Vista
Josh Baskin
Go ahead, splurge on those vending and pinball machines for your apartment. You know you want to.
Image: Twentieth Century Fox
Nick Miller
You may not have free money like New Girl's Nick Miller, but you can pretend if you empty your bank account and tote around a paper bag all night.
Image: FOX
Preston Waters
Blank Check was every child's and still is every adult's dream and the ultimate shopping spree to inspire your most impractical purchases.
Image: Buena Vista
Buddy the Elf
Not exactly a "shopping spree" per se, but Buddy's decorations in Gimbel's are enough to make me want to run out and shop till my feet fall off.
Image: New Line