'Secret In Their Eyes' Trailer Looks Gut-Wrenching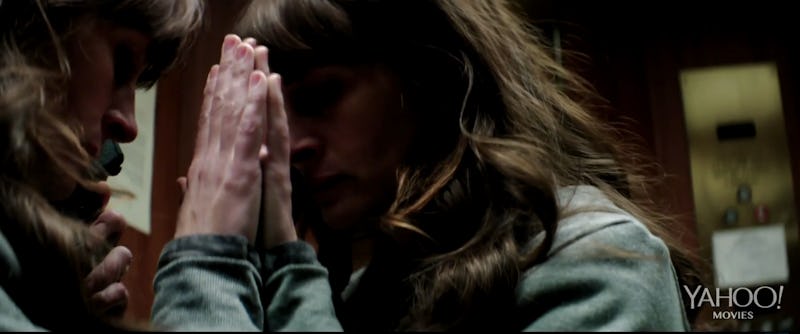 Academy Award winner Julia Roberts only does a few films a year now, but they've all been amazing. However, her new film, Secret in Their Eyes, just may be her best work yet. Roberts has always been a fantastic actress, but I don't ever recall seeing her in a role quite like this one. To play a mother who stumbles onto her child's dead body is beyond any nightmare that anyone should ever have to imagine, and the Secret in Their Eyes trailer makes it clear that the actress is going to knock this performance out of the park.
In the film, Roberts stars alongside Academy Award nominee Chiwetel Ejiofor and Academy Award winner Nicole Kidman. Jess (Roberts), Ray (Ejiofor), and Claire (Kidman) are a close knit FBI unit who are devastated when they discover that Jess' teenage daughter has been brutally murdered. Though they trio work tirelessly to catch the man who is responsible for the murder, they don't have enough evidence to put him away for the horrific crime. Thirteen years later, Ray reconnects with Jess when he discovers a break in the case. What makes the film look so interesting is the fact that it intersects both the past and present. However, as we all know with thrillers and mysteries, we are never given the entire story.
Roberts has long since proven that she is much more than "America's Sweetheart." With Ejiofor and Kidman sharing the screen with her, Secret in Their Eyes looks like a film that should definitely not be missed. The movie will be in theaters on October 23, 2015, but, until then, here are the nine most shocking moments of the trailer.
1. When Ray Realizes Jess' Daughter Has Been Murdered
Ejiofor is an exceptional actor. The look on his face in this moment made my heart stop.
2. When Jess Hears The Horrific News
The look of disbelief, anger and horror that Roberts was able to capture in this very short moment show me that this film is definitely worth the watch.
3. When Jess Breaks Down While Holding Her Daughter
I'm not sure how Roberts got through this scene, because it's unimaginable.
4. When They Chase Down the Suspect in the Ballpark
It's very extreme to chase down a suspect in a crowded baseball park, which lets me know that things may not be going according to FBI protocol.
5. The Smug Look On The Suspect's Face When He Sees Jess
I know that people deserve the right to be treated innocently until they are proven guilty. However, in my opinion, only a guilty man would wear such an arrogant grin upon seeing a grieving mother.
6. The Moment The Film Catches Up To The Present Day
A lot can happen in 13 years, but grief remains.
7. When Ray Finds A Match
Thirteen years is more than enough time for someone to create an entire new life and identity. However, Ray's diligence leads him back to the original suspect.
8. When Ray Tries to Convince Claire To Reopen the Case
Desperate to give his friend closure, Ray tries to convince Claire to reopen the murder case. From the looks of it, she seems unwilling.
9. This Gut-Wrenching Moment
After only watching the trailer, I'm sure that this film will garner several award nominations. It's clear that Secret in Their Eyes is not a film for the faint of heart. It's going to be an heart-stopping ride powered by incredible actors. Watch the whole trailer below.
Images: Yahoo! Movies; STX Entertainment; Zero Media/YouTube (11)