This Bride Is Changing The Way We Define Beauty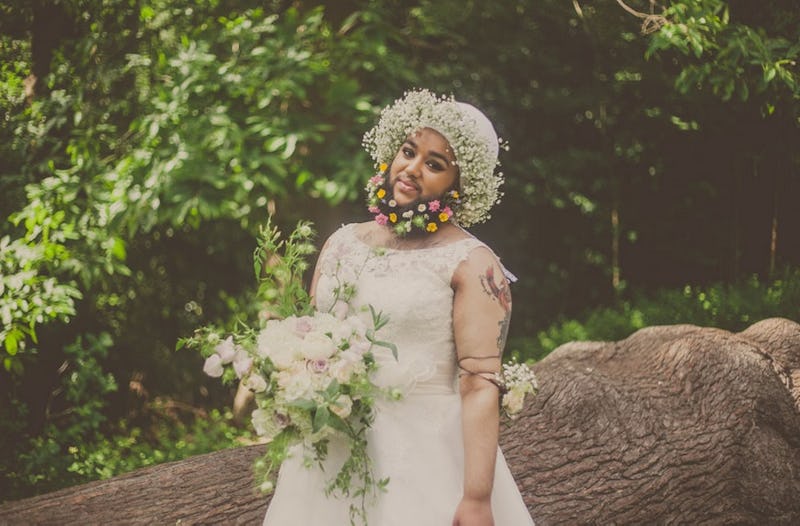 Here comes the bride, all dressed in white... with flowers in her beard. OK, so Harnaam Kaur isn't a bride yet, but she was styled as one in a shoot with Urban Bridesmaid Photography — a set of images for which she proudly showed of her bearded bridal style "lady beard" adorned with flowers. The images, the inspiring story behind them, and the woman featured in them are on the website of alternative wedding magazine Rock n Roll Bride today.
The shoot itself is gorgeous on its own, featuring saturated, bright florals and Kaur is exquisite by any standards in a white fit and flare gown. But Kaur's words about her self-acceptance and road to body confidence are simply the icing on top of the (wedding) cake.
Kaur has polycystic ovarian syndrome (PCOS), a disorder affecting approximately five million women in the United States. PCOS causes hormonal imbalance and has physical side effects that some people with the condition find difficult to live with, causing barriers to body positivity and affecting their everyday lives. Body hair growth is one of the main visible side effects, and for Kaur, it manifests itself in heavy hair growth on her face, resulting in a beard.
After years of painful teasing and vigilant waxing, bleaching, and shaving, Kaur had a revelation at her suicidal low: "I told myself, 'The energy you are putting into ending your life, put all that energy into turning your life around and doing something better,'" she told Rock n Roll Bride. " I decided to keep my beard and step forward against society's expectations of what a woman should look like [..] Today I am happy living as a young beautiful bearded woman. I have realized that this body is mine, I own it, I do not have any other body to live in so I may as well love it unconditionally."
Kaur has become a fierce advocate for body confidence and anti-bullying, calling for more people to embrace their bodies and creating a video about the effects of bullying. She was also featured in a photographic exhibit highlighting beards at Somerset House in the U.K., where Louisa Coulthurst of Urban Bridesmaid Photography saw Kaur for the first time and felt inspired to create a bridal shoot around her look.
"We need to realize that every one of us is different," Kaur added. "I used to keep my beard for religious reasons, but now I keep my hair to show the world a different, confident, diverse, and strong image of a woman. I love my beard, it has become a part of my body and I do not want to remove it. Love yourself, YOU are the only YOU that YOU have."
Kaur's words and her visibility are inspiring — not just for those of us who live and struggle with PCOS — but for everyone with a body. The images in this shoot seem extra-relevant as we find ourselves in the midst of wedding season, during which brides are expected to slim down for their nuptials and spend thousands of dollars on everything from their dress to makeup artist to, in some cases, plastic surgery.
I'm all for women looking the way they want to look on their wedding day and making their own choices about what they want to do to their body to achieve it, but amidst the wedding magazines filled with ads for weight loss pills and the talk of "flattering" wedding dresses, a message of self-acceptance sounds so beautiful.
Images: Urban Bridesmaid Photography/Courtesy Rock n Roll Bride