Misty Copeland: Principal Ballerina, Total Badass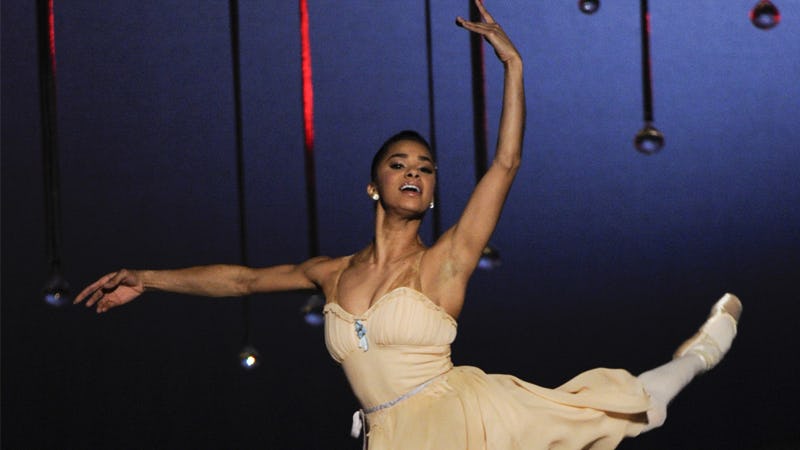 It feels like every little girl wanted to be a ballerina at some point in her young life — it's easy to glamorize the performances and the pirouettes. However, it's not all Tchaikovsky and tutus; it takes a serious badass to fill the role of principal dancer at the American Ballet Theater (ABT) — one of the most prestigious dance companies in the country. Renowned ballerina Misty Copeland can now add principal dancer to her resume, becoming the first African-American woman to do so in the company's 75-year history.
Copeland has been breaking barriers throughout her 14 years with the ABT. Through her conversations about race and her charity work, she has become one of the most famous ballerinas to grace the stage. Copeland wrote in her memoir, "My fears are that it could be another two decades before another black woman is in the position that I hold with an elite ballet company. That if I don't rise to principal, people will feel I have failed them."
A principal ballerina is the highest ranking a dancer can be promoted to within a company. Copeland spent almost eight years as a soloist before transitioning to a principal. The New York Times reports that the only other African-American to become a principal dancer with ABT was Desmond Richardson in 1997.
Copeland starred in the company's production of Swan Lake last week, and received positive reviews and unwavering enthusiasm, according to The New York Times. She has a huge fan base that follows her every arabesque and brisé. To show how she's an icon in tulle, here are nine ways Copeland has proved she's a total badass:
She Forced The Dance Community To Talk About Race
Copeland has spoken out about the few opportunities in the ballet world for black dancers. She says that the excuse is often that black women are too muscular or have flat feet, according to NPR. Copeland works to combat stereotypes and encourage other African-American women.
She Wrote A Children's Book
Along with her memoir, Copeland wrote a children's book called Firebird. The picture book tells the story of a girl without much confidence who dreams of being a dancer.
She Was The First African-American To Star In ABT's Swan Lake
Copeland became the first African-American to play the starring role of Odette with the company at the Met. Swan Lake is a huge deal in the ballet world, so it's awesome that Copeland finally broke down that barrier.
She Got Cheers That Stopped The Show
Copeland repeatedly received cheers from the audience that stopped the show, according to The New York Times. A crowd of fans waited for her outside, and little girls held out copies of her book to sign. The dancer is incredibly popular off the stage as well as on it.
She Starred In An Inspiring Under Armour Ad
The ad focused on overcoming obstacles and fighting body image expectations. It has more than 8.2 million views on YouTube and showcased Copeland's spectacular talents.
She Has Many Other Awesome Endorsements
Usually, when we think of endorsements, we think of NASCARs decked out with brand names. Well, ballerinas get them too. Copeland is a poster child for Bloch Dancewear, Lavazza Coffee, Blackberry, the Boys and Girls Club, Capezio, Payless Shoe Source, Proactiv Solution, and Sansha New York Dance Store, along with Under Armour.
She Didn't Start Dance Classes Until She Was 13
Most professional ballerinas start around the age of seven, according to the Atlanta Ballet Dance Company, but many start at three or four. The training takes eight to 10 years, putting Copeland far behind. By the time the average future professional ballerina is 14, he or she is already taking 10 to 15 classes per week with a strict course load of ballet technique, pointe, jazz, modern, partnering, and more.
She Doesn't Diet
According to USA Today, she said, "If you're a dancer, you're making that sacrifice; your body is your instrument, just like any athlete would. ... I stand for being healthy and not going beyond that. You can exist as a dancer in the ballet world and have muscles and curves, and still be lean and healthy. I don't starve myself. I still look like a woman. ... I don't believe in 'diets' and cheating, it's about a lifestyle."
She's Used To Intense Pain
Evidently, the second act of Swan Lake takes a fierce toll on the body. Copeland told O, The Oprah Magazine, "It's excruciating, it's agony, so you have to go someplace else in your mind. When I was in the corps de ballet, I would listen to my iPod right before going onstage and quietly sing to myself during the performance. The time would fly by because I was singing Justin Timberlake instead of focusing on the pain."
Like any true badass, Copeland can burn through incredible pain, push to the top after getting a late start, and win numerous awards without tearing up her body. Great job, HBIC (Head Ballerina In Charge).
Images: YouTube/CBS News 24 (8); Getty Images