11 +Size Women In Crop Tops Rocking The Tummy Love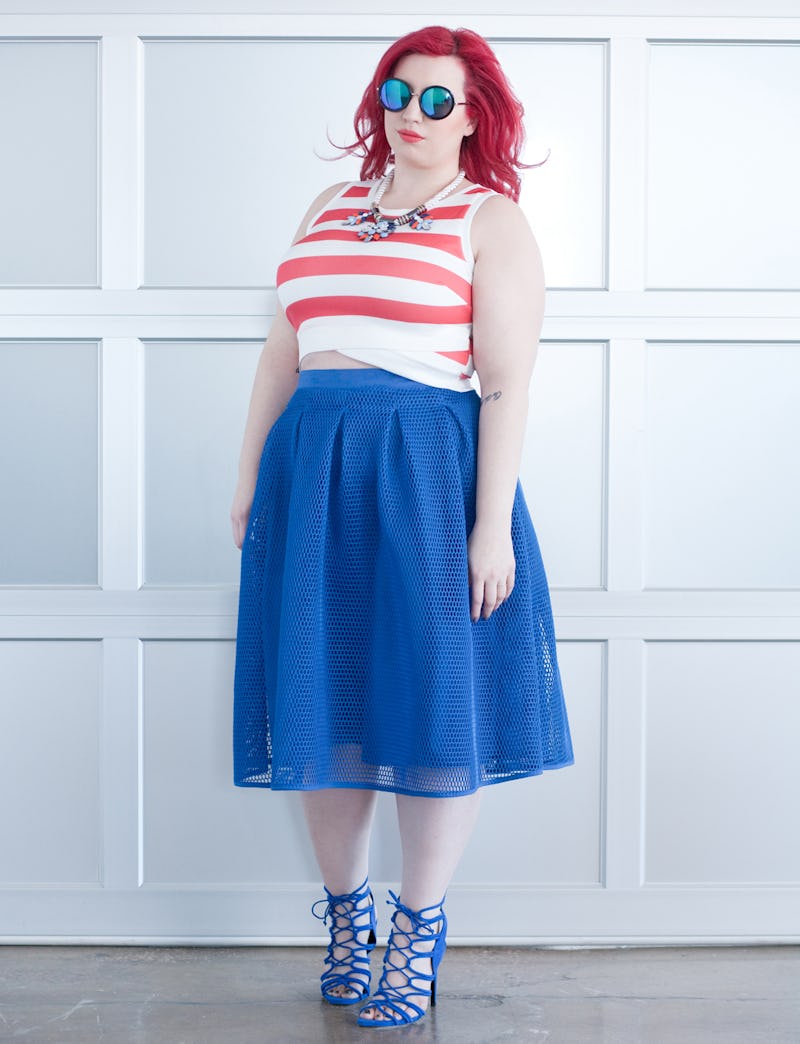 There are few sartorial choices that can cause as much of an uproar as plus size women in crop tops. A polarizing piece, the crop top has evolved from its original Britney Spears-era styling where it would be worn with super-low low-rise jeans to a much more modern look when paired with high-waisted skirts and pants. But, of course, there are still those sartorial sourpusses that protest and proclaim that only those who possess rock-hard abs can "pull off" the belly-baring look.
The first time I slipped on a crop top I felt freer. You wouldn't think any one article of clothing could have magical powers, but every time I've defied a plus fashion "no no" I've felt completely liberated. There are few things more satisfying than breaking antiquated style rules dictated by outdated fashion figureheads! And if you think a flash of flesh isn't enough to challenge body bullies, you'd be wrong, as those Negative Nancys seem to think that full-figured women need to be covered in head-to-toe sacks until we've shrunk to an "acceptable" size.
Whether you're a crop top veteran (don't lie, you're rocking a crop right now, aren't you?) or you're ready to try one for the first time, it never hurts to have some outfit inspo. I've gathered up a garden of skin-sharing stunners who are total proof that soft bodies look just as hot in a crop!
1. Double Trouble
She's twice as nice with a striped crop and sleek leather pencil skirt. (The purple locks don't hurt either!)
2. Sassy Shirt
Riots, not diets!
3. Get Shorty
Who likes short shorts (and short tops)? Margieplus does!
4. Tutu Cute
A little poof, a little punk, a little belly action = perfection.
5. Gone With The Wind Fabulous
Now, twirl.
6. Cotton Candy Cutie
Enough sweetness to cause a toothache.
7. Retro Revival
Eschew skinnies for on-trend flares for a nostalgic twist.
8. Own IT
Strut it out in a plunging crop that shows a bit more skin.
9. Class Act
Layer up with a sheer shirt for a play on texture.
10. Statement Maker
Show your support while you showcase some skin.
11. D.I.Y.
When it doubt, make any top into a crop with a knot and a twist.
Images: Courtesy of Eloquii (1), Willowcurves, Lucialoveslucia, Margieplus, Margotmeanie, Thelizblack, Studiomucci, Kellyaugustineb, Desireejenkins_, Curvenvy, Reztothecity, Ivoryjinelle/Instagram