Use This Weather App To Dress Like Kim Kardashian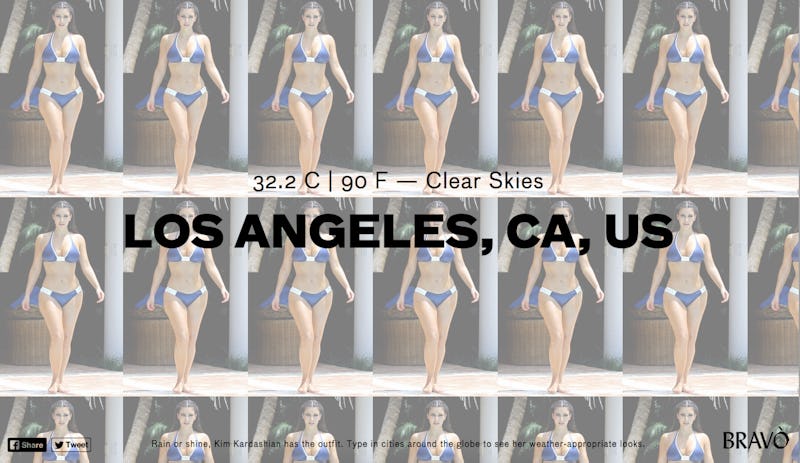 Kim Kardashian, like it or not, is a modern day style icon whose outfits are almost always reported on. From figure-hugging dresses to structural Balmain, the fashionista is unafraid to make a statement. Fans can now use Kim's style for inspiration when they get dressed in the morning using Kim.Guru, a weather website that matches the weather to Kim Kardashian's outfits.
Bullett Media teamed up with creative agency BRAVÒ on the website, which has a database of the thousands of outfits Kim Kardashian has worn over the last several years. Fashion magazine put together a slideshow of 10 cities around the world and the outfits Kim would wear depending on the weather. In Toronto, where it's 66 degrees Fahrenheit and rainy, Kim would pair distressed jeans with a grey jacket, a sleek ponytail and a clutch she holds over her hair to protect it from the rain. In sunny Milan, where it was 90 degrees Fahrenheit, Kim would wear a bright blue bikini.
Although we can't all afford Kim's enviable closet, her combos provide the inspiration to go outside of your comfort zone and wear something Kim K-worthy. She's not always weather appropriate with her outfits (remember that fur bikini Instagram?), but the website's algorithm does a pretty good job of matching the weather to her outfits.
Here's what it suggests for New York City:
And in LA:
And in Paris:
Check out the video below for a tutorial from BRAVÒ.
Images: Kim.Guru