Steven Yeun's Mustache Woes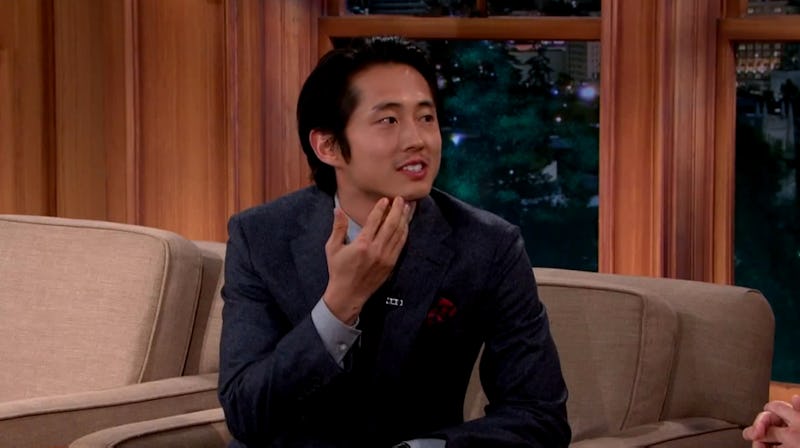 One of the most adorable zombie fighters to ever life, Steven Yeun, appeared on the Late, Late Show With Craig Ferguson recently to talk about this insane season of The Walking Dead — but the conversation quickly ended up turning to facial hair when host Craig Ferguson caught a glimpse of Yeun's hint of a mustache.
When asked if the mustache is a "Movember thing," Yeun sighs a bit and slightly brokenly responds, "This is a long time of work." Apparently, not everyone can be Nick Offerman with his gigantic bushy 'stache. "It's like maybe a week or two."
Most times, men can look downright creepy/like a porn director from the '80s with a mustache, especially if it's borderline peach fuzz like Yeun's is — but Yeun kind of makes it seem adorable. Maybe that's because he is adorable, I'm not sure, but whatever the case, it kind of works. So it's pretty astonishing that producers at The Walking Dead have actually told him not to grow any facial hair, even though his character is supposed to be fighting in a zombie apocalypse and it would be realistic if he didn't have time to shave every single morning. "I tried to grow a mustache on our show, and Denise Huth — our producer — will not let me do it because she says it's disgusting," Yeun explained.
Damnit, Denise! The dude just made it on People 's sexiest men alive list — let him have a mustache if he wants to.
You can check out the clip below. The two also spoke about the probability that his character Glenn may one day die on TWD , but that's too sad for me to even think about, so I'll just leave you with the mustache talk instead.