7 Ways To Style Your Converse High Tops For Summer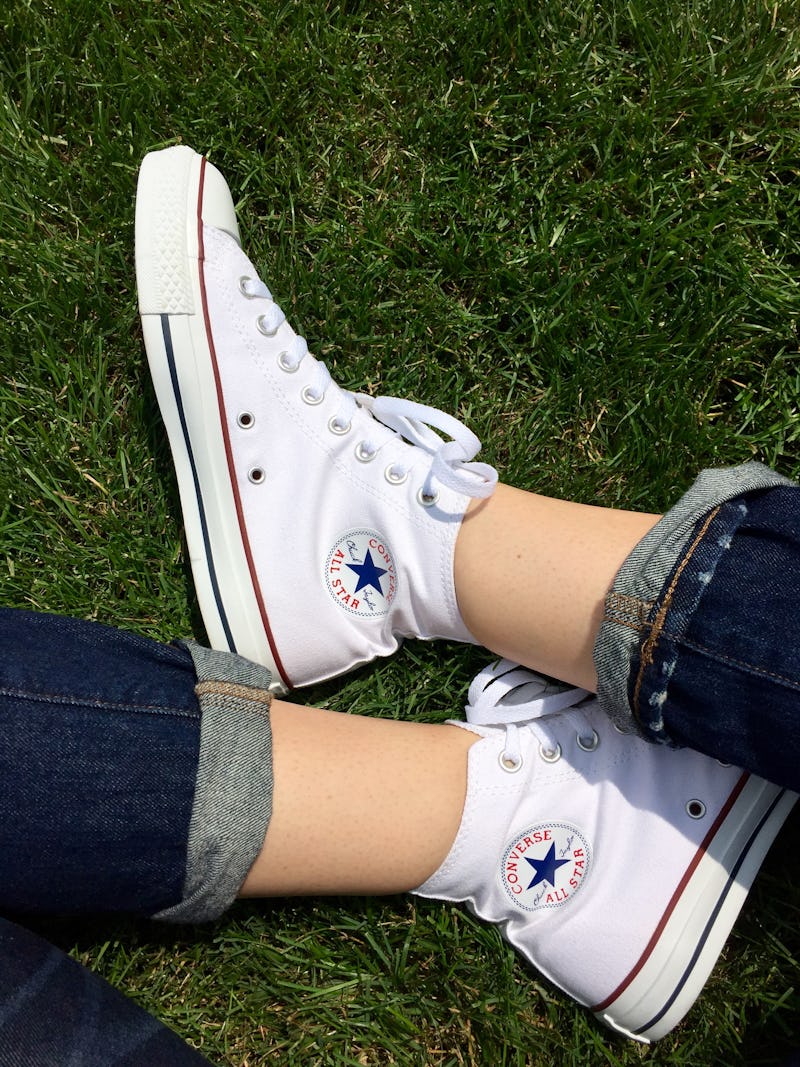 Sneakers have basically become the new stilettos, which means our #summerdaze are now easily defined as they were always meant to be — by the three "F's:" Fun, fashion and function. With the fashion world's continued love for maximizing the high/low mix and an athleisure game that remains strong, there has never been a better time to explore seven ways to style high top Converse — 'tis the season to let those bright white lace ups become the center of outfit attention. This summer, one pair of classic sneakers can totally carry you through the dog days when paired with a diverse range of outfits that will have you looking chic from Monday to Sunday.
Much to the sneaker fan's delight, gone are the days when rubber soles were reserved only for shorts and tees. In an eclectic twist, low tops and high tops alike are now being worn with with everything from shift dresses to skinny jeans and are now deemed appropriate for a full calendar of warm weather social events. From afternoon baseball games to dinner and drinks, trading in your ballet flats and gladiators for high tops and laces makes for an easy summer style that can be uniquely you.
Since there are few things more synonymous with the start of an All-American summer than breaking out a pair of fresh, bright white Converse high tops, these sneaker staples are the perfect way to put a twist on your traditionally seasonal wardrobe. Get ready to lace up every day of the week, ladies, because there are seven easy ways to style your high tops this summer. Rule number one: Never let anyone tell you your high tops don't go with your dress.
Chuck Taylor All Star Classic Colors, $55, Converse
Say hello to your new favorite summer shoe. Ready to easily pair with whatever else you pull out of your closet, these bright white lace ups won't let you down. Rompers, denim, and even dresses — bring it on. These classic Chuck Taylor's are ready.
Skinny Skinny Jeans in Lakeshore Wash, $128, Madewell
Whether slightly cuffed to rest at the top of your shoe or stick straight and tucked in, the ever popular skinny jean is the perfect complement to your high top sneaker. Pair with a flowy white tank and throw in a printed scarf and you are coolly outfitted for any summer event.
Wilfred Free Burnette Tank, $15, Aritzia
Wilfred Couver Blanket Scarf, $38, Aritzia
Curve Kimmi Shrunken Boyfriend Jean in Mid Blue Wash with Rinse, $39, Asos
Skinny jeans and high tops are not in an exclusive relationship — boyfriend jeans are definitely sharing in the love. The loose fit has become a fast favorite as of late and when rolled just above the ankle, it leaves plenty of room for laced up Chucks. Going for a plain white V-neck tee on top and a simple gold necklace makes for a fresh, overall classic look that will last you all day and into those long summer nights.
Slub V-Neck Pocket Tee, $20, Madewell
Initial Bar Pendant, $38, Baublebar
Whistles Stripe Midi Tank Dress, $40, Asos
I repeat: Never let anyone tell you that you can't wear your Converse with a dress. Choosing high top tennis shoes over gladiator sandals with an easy, summer shift or tank dress is the perfect way to infuse a little sport into your girly style. Add on a denim jacket for when the sun goes down and you have a traditional summer outfit with a hipster twist.
AEO Denim Jacket, $50, AEO
Slit Midi Skirt, $10, Forever 21
A dress isn't the only way to fancy up those Chuck's — give your denim a break and switch it up with a stretch jersey midi skirt and a tri-blend messaging tee. The list of events you're ready for in this ensemble is endless and the number of places this outfit isn't considered coolly chic is definitively zero. You'll be the master of upscale, summer relaxation.
Fashionably Late Tee, $46, Ily Couture
ASOS Curve Exclusive Denim Short with High Waist, $12, Asos
Taylor Swift called, but she doesn't want her high-waisted shorts back, she just wants to tell you how adorable you look in them. And she's right — high waisted denim paired with a throwback tee and high tops makes for an effortlessly '80s vibe that is summer weekend-right. All weekend, every weekend.
Summer Daze Ringer Tee, $48, Shop Camp
Park Overalls In Dixon Wash, $148, Madewell
Love overalls but need a sure-fire way to not look like a farmer or a pre-teen? Go for a tank instead of a tee and rock loosely laced-up Chuck Taylor's on your feet. This can easily be your go-to casual look for Saturday adventures or lazy Sunday brunches.
Tank Top In Ecru/Blue, $6, Zara
Buttoned Floral Print Romper, $25, Forever 21
Pull on a romper, lace up your high tops, and head out the door. Two simple trends lead to one easy, breezy, on point summer look. With one-piece shorts being the new dress and sneakers being the new sandal, you can't go wrong when pairing them up.
Time to welcome those high tops into the world of high fashion sneakers. Lace 'em up and live it up this summer!
Images: Katie Patton; Courtesy Brands