'Creed' Trailer Blinds You With MBJ's Biceps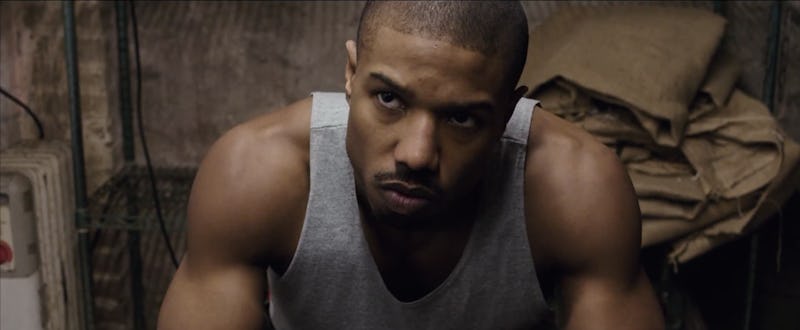 The first Rocky film premiered in 1976, and now, almost 30 years later, the Creed trailer brings us back to a world that is seven films strong. Talk about dedication. However, from watching this trailer alone, I can assure you that I will be in the theater on November 25th with my eyes glued to the screen. Creed is the story of Rocky Balboa's late opponent Apollo Creed's son, Adonis. Sylvester Stallone will be back to reprise his role as Rocky, and Adonis will be played by the beautiful Michael B. Jordan, who I will henceforth be referring to as Michael "Bae" Jordan. For the film, Jordan has teamed back up with director Ryan Coolger, with whom he worked with on the 2013 critically acclaimed film, Fruitvale Station.
Typically, film spin-offs are lackluster at best, but I can already tell from the trailer that Creed is going to be something special. Michael "Bae" Jordan has already shown us that he has the chops to be a leading man in Hollywood, especially after being cast as Johnny Storm in the upcoming Fantastic Four reboot. The fact that Stallone is on board with the film is always a plus, and it looks like Jordan's mother in the film will be played by the iconic Phylicia Rashad. Creed is going to be AMAZING, and I may even go back and take another look at the earlier Rocky films because of it.
Since we have to wait until Thanksgiving to see the film in full, here are the nine best moments from the trailer.
1. Michael "Bae" Jordan's Ripped Back
Forget abs, I'm all about back muscles. The trailer opens with a view of Jordan's back, and, if his back is this ripped, then I'm not prepared to see the front. Clearly he started hitting the gym as soon as was cast in Creed.
2. This Reunion From The Wire
If you are a true film and television lover like me, you know that Jordan got his start on HBO's The Wire as Wallace. Wood Harris also starred in the highly rated series as Avon Barksdale. It's going to be great to see these two amazing actors sharing a screen again.
3. These Cuties
Coogler's filmmaking is all about details. Since Creed is a film about legacy, it was wonderful to see two little kids hanging out in the boxing ring. It's such a lovely set-up for the next generation.
4. These Cool Boxing Posters
Well, OK, the posters are really cool, but "Bae" Jordan is also shirtless on a treadmill... Swoon.
5. Tessa Thompson
If you are Veronica Mars fan, you may remember Tessa Thompson from the show. However, the actress really garnered some major attention from her role in last year's Dear White People, and in Selma. It's fantastic to see her in anther major motion picture.
6. Adonis Johnson's Mother
Rashad will take over Sylvia Meals' role as Mary Anne Creed, Apollo Creed's widow. From the looks of it, Rashad will play a pivotal role in the film. No doubt she will not be pleased with Adonis' desire to take up the very same sport that ultimately led to her husband's death.
7. Rocky Balboa
As a film lover, I've always thought that continuity in movie franchises, sequels, and spin-offs were extremely important. I was thrilled to know that Stallone will have a major presence in Creed. His role will really allow this latest film to stand on its on within the Rocky franchise.
8. Throwback Boxing Shorts
The trailer makes it clear that Adonis Johnson and Apollo Creed never had a relationship. Adonis says "I don't know him, that ain't got nothing to do with me." Apollo Creed was killed in 1985's Rocky IV, which means that he probably died when Adonis was a baby, or even before he was born. Still, the trailer suggests that Adonis will be discovering his father's legacy. Wearing his father's boxing shorts is definitely a nod to the boxing legend.
9. "Bae" Jordan Running
I truly hope the film is full of Jordan exercising. The plot would just be a bonus for me.
Watch the entire trailer below.
Images: Warner Bros.Pictures/YouTube (10)