15 Brilliant Ways To Decorate Your Bedroom With Books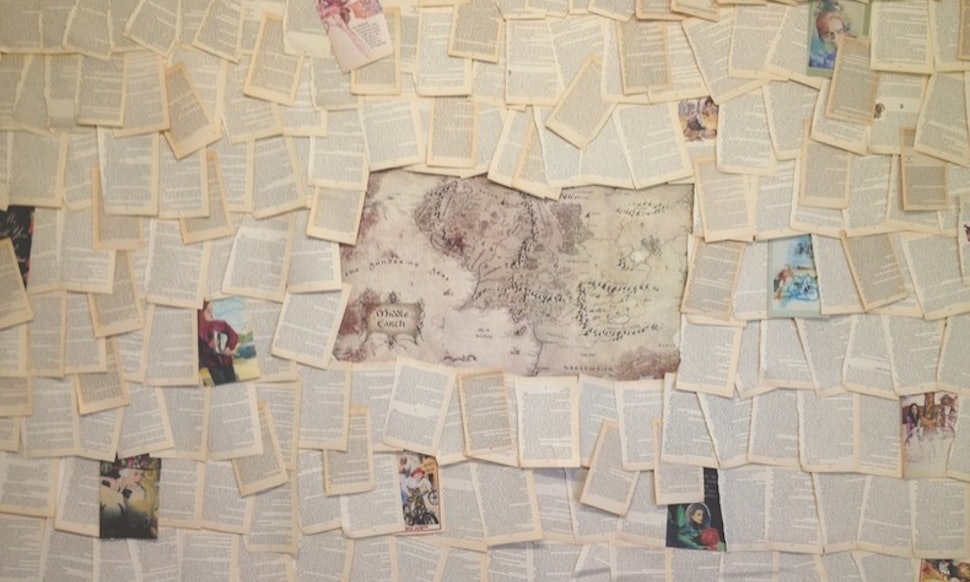 I always feel a little weird doing DIY projects where I have to cut up books. I ask myself, Should I be doing this? as I cut through pages that once told a story. But, on the other hand, I have WAY more books than I can fit on my shelf. Plus, some of them are falling apart, or I have extra copies (or five or six copies, if we're talking Pride and Prejudice), so sometimes it's necessary to sacrifice a book or two to in order to create the perfect craft.
And if you're going to chop up a book for a craft, why not choose one where you can display it somewhere in your bedroom once you're finished? Let's be real: a bookshelf is awesome, but it's just one corner of your room. There are so many opportunities to showcase your love of books, and surround yourself with the words you love. Make it so that you're almost entirely living within the pages of your favorite books with these literary decorating ideas… just make sure your favorite novels are stored safely away from the scissors.
Wrap A Canvas In Pages
Add detail to a wall hanging by wrapping your canvas in book pages and painting over top. You can buy this particular painting on etsy, but it's also worth a DIY try if you've got ideas of your own… for example, what about pages of a cookbook with a fork painted on top for the kitchen? Or pages from Breakfast at Tiffany's with Audrey sketched on top, for the fashionable girl's closet? The possibilities are endless.
Image: buttermybooks/etsy
Paper Your Walls With Pages
Charge Your Phone... On A Book
Books give you energy, right? So, it's only natural that you can find book phone chargers on etsy. These pretty copies of classics make perfect stations for your electronics, and they come in designs from The Wind in the Willows to Dune to the classic Little Women.
Image: RichNeeleyDesigns/etsy
Turn A Book Into A Clutch
Storage is key in an organized bedroom. Sure, you could hollow out an old book and put valuables inside, but why not go even further and turn a book into a purse? Leave it on your desk to hold pencils, or take it out on the town — this clutch is perfect for any occasion. Learn how to make it here.
Image Courtesy of A Beautiful Mess
Frame Photos With A Book
Books can hold memories in more ways than one. This DIY book photo frame is a great way to display pics of friends and family while keeping true to a literary theme. Instructions for how to make it can be found here.
Image Courtesy of The Red Chair Blog
Make Books Into Wall Art
If you don't want to chop up your favorite works of literature (which is understandable), why not use entire books to decorate? You can purchase this book rack here and turn your favorite novels into art, or use it as inspiration for a DIY try.
Image: Old And Cold/etsy
Cover A Chair With Comics
Repurpose Magazines To Make A Nightstand
Personally, I have plenty of stacks of old magazines. And as much as I love remembering what was in style in 2008, I was excited to find another idea on how to repurpose all my copies of Seventeen: this chic DIY nightstand. Turn old fashion pages into the perfect place for a lamp and your reading glasses.
Image Courtesy of Sanna & Sania
Turn Old Books Into A Box
Sometimes, you have more than just books to store in your room. It's just an unfortunate fact of life. However, you can store non-literature related items in this cute and practical box from etsy, or try a DIY version with any old books you're willing to cut up. It will make your whole room look like a library, which is basically the ideal living space.
Image: Roadside Photographs/etsy
Make Books Into Coasters
Who wouldn't want to read while drinking hot tea, coffee, or… Butterbeer? Set your drink on these Harry Potter coasters from etsy, or give it the DIY try with pages from (the extra copy of) your favorite book.
Image: OhGaud/etsy
Use Pages To Cover Your Outlets
You can find plenty of book page-covered outlets for purchase on etsy, or make one yourself with Mod Podge and your favorite chapter. And If you cover a light switch with pages, you can remember book quotes each time you turn it off and on.
Image: nicoleamber/etsy
Store Your Writing Utensils In Your Reading Material
Make A Book Into A Clock
Cover Your Floors With Pages
If you run out of wall space to fill with bookshelves and book-inspired crafts, why not cover your floor with pages? This DIY from Recyclart will have you walking on words.
Image Courtesy of Recyclart
Find Your Favorite Quotes
My go-to book decoration is easy and customizable: find an old book, rip out a page, and write your favorite quote on top. This page is from a copy of Jane Austen's Emma that was falling apart, so I added another Austen quote on top. Hang it with clothespins and string several quotes together for the perfect decoration to line a dorm room, apartment, or any other room in the house.
Image Courtesy of Julia Seales