12 Red, White, And Blue Cupcakes For The Fourth Of July That Are Sweet AND Patriotic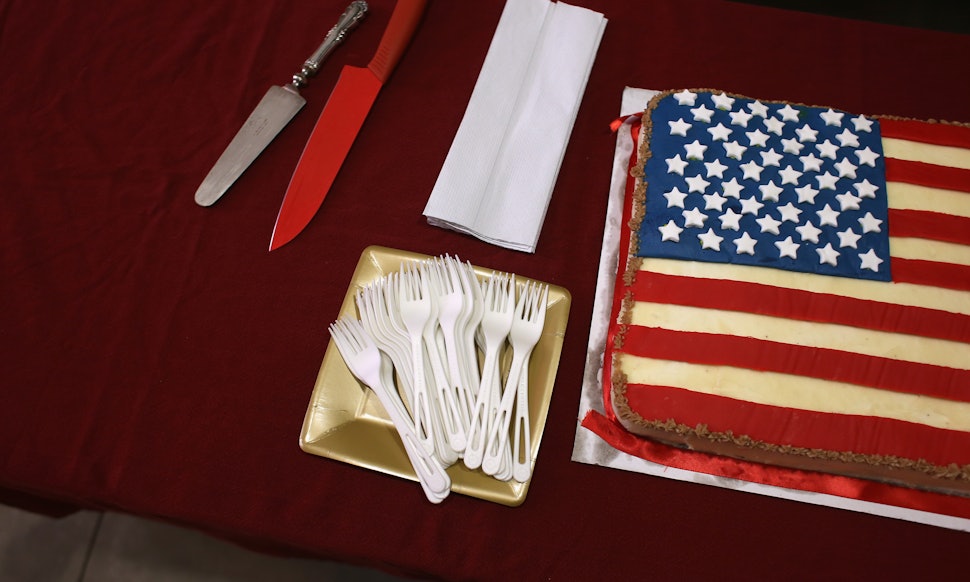 John Moore/Getty Images News/Getty Images
If you're in need of a little baking inspiration for Independence Day, I've got you covered with these red, white, and blue cupcakes for the Fourth of July. From simple to simply fantastic, there is something in this batch for everyone. Whether you want to make a life-size American flag from your baked treats, or stick them on skewers and make dessert kebabs (yeah, that's a thing!), you're sure to find some motivation from looking through these finds. Happy Fourth everyone — now get to work (in the kitchen that is)!
Image: Stephanie Keeney/Flickr
The Flag Toothpick Cupcake
Nothing screams American spirit on a cupcake like a flag toothpick.
The Push Pop Cupcake
Why yes, these are cupcake push pops. Genius, I know.
The Star-Spangled Sprinkles Cupcake
Sprinkles make everything better. Red, white, and blue star sprinkles take it to the next level.
The Tie-Dye Cupcake
How does one go about making this? No idea. How does one go about eating it? Quickly.
The Squiggle Flag Cupcake
They may be squiggles, but I get what's going on here. Everyone, salute.
The Giant Flag Cupcakes
Each cupcake plays an important role… just like every American.
The Ice Cream Cone Cupcake
The only thing better than a cupcake is a cupcake in an ice cream cone.
The American Heart Cupcake
These just look utterly delicious.
The Raspberry Topped Cupcake
Raspberries make the perfect cupcake toppers — both aesthetically and for your taste buds.
The Flag Frosting Cupcake
Now that's some cool whip.
The Cupcake Kebab
And I thought kebabs couldn't get any better…
The Snoopy Cupcake
Even Snoopy celebrates Independence Day.