7 Easy Crafts For A Lazy Summer Day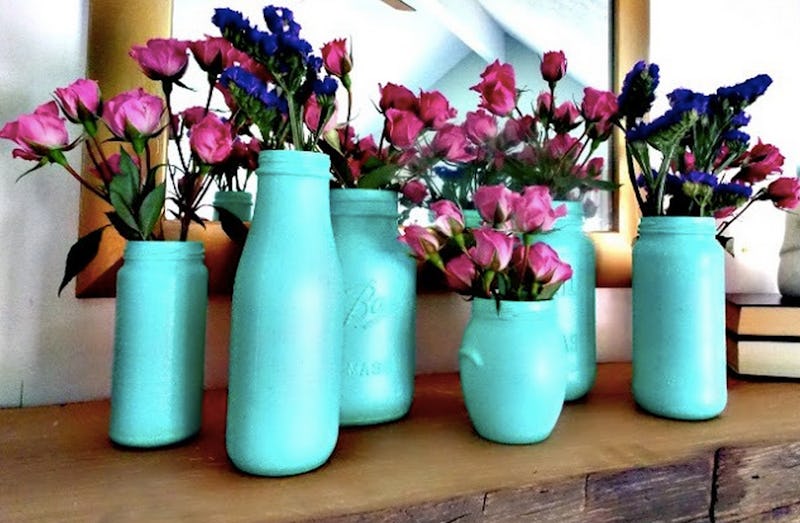 Everyone loves a long, lazy summer day, but there's only so much you can do before you start to feel a little bored. That's where these easy summer craft projects come into play. Our friends at Hometalk have rounded up an all-star selection of DIY ideas that aren't just fun (and simple!) to make, they're also something you can be proud to show off (on Instagram AND in IRL). From pretty wall hangings to handy wristlets, there's something here to meet all your warm weather needs. So grab your materials, pour some margaritas, and get ready to put your creativity to work. These crafts are beyond perfect for summer.
The grass is tickling your feet, a full glass is cooling your hand, your friends are lounging around you, and there is only one way life could be better — if you had a paint brush in your hand and a canvas right in front of you, or maybe some fun rolls of patterned duct tape.
If you're looking for something fun to do with friends on those lazy summer days, these easy crafts from Hometalk bloggers will entertain you as you chat, and give you some beautiful pieces of decor to display in your home afterward.
1. Create an awesome wall hanging
Show everyone just how Pinterest-worthy your home is, with a whimsical wall hanging that looks much tougher to make than it is. Directions here.
Project via Emily @Table+Hearth
2. Redesign a placemat with duct tape
For the true patriot: If you have a set of ugly placemats, or you can swing by the Dollar Store to pick some up, give them a facelift with patterned duct tape. This makeover is great for the rest of the year too — just pick some different colors and patterns, and follow this tutorial.
Project via Charlotte @Ciburbanity
3. Paint glass jars and bottles with beachy hues
Add a splash of color to these bin-bound containers, and arrange them throughout your home with flowers or feathers, or leave them empty! Here's how this DIYer did it.
Project via Nicki @Sweet Parrish Place
4. Turn two plastic bottles into a wristlet
Want to be eco-friendly and fashionable? Turn empty plastic bottles into stylish wristlets, complete with a tiny capsule for gum or change. Instructions here.
Project via Nancy @Our Peaceful Planet
5. Paint art on an embroidery hoop canvas
Instead of splurging on canvases, use an embroidery hoop and a couple pieces of drop cloth, and just let your artistic inhibitions go. You'll love the result (we're sure of it). Here's how to do it.
Project via Gilly @Colour Saturated
6. Transfer a photo onto wood
Instead of displaying your favorite summer shots in boring picture frames, transfer them to wood slices (tutorial here) for an awesome addition to your gallery wall, or even a stand-alone piece on your desk.
Project via Tasha @Designer Trapped in a Lawyer's Body
7. Hack an IKEA cork trivet
Even if you're not a world famous chef, you can pimp out your kitchen in a snap this summer by giving your boring IKEA cork trivets a simple, stylish makeover. Check out how here.
Project via Christine @Where the Smiles Have Been
For more great craft ideas, check out the crafting page on Hometalk!