11 Plus Size Women Showing Off Their Bellies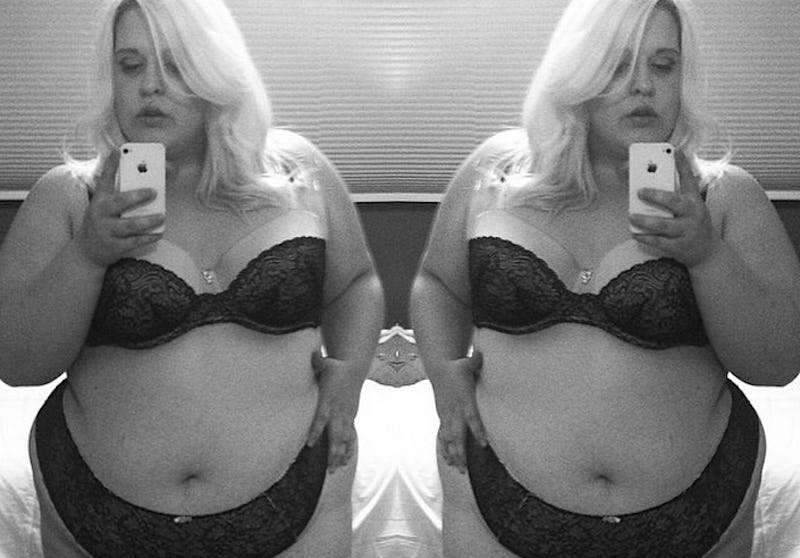 Belly buttons are the best, aren't they? Thanks to the style pioneers of the online plus size community, we've been seeing quite a few more plus size women showing off their bellies of late, and with them, a plethora of pretty belly buttons. Belly love has been peppering blogs and Instagram accounts worldwide this summer, in a beautiful celebration of bravery, self acceptance, and breaking free of outwardly imposed beauty standards.
From babes in bikinis to cool and confident women in crop tops, the ladies of Instagram have proved time and again that the area so many women have deemed a "trouble spot," or an area of great stigma to be hidden from the world, is just as lovely exposed as it is covered up. And when it comes to baring your belly button, size isn't part of the equation.
You don't have to be a size 2 to have a belly button, and you certainly don't have to be a size 2 to show yours off. For too long, women have felt the need to hide their over-size-6 tummies from the light and eyes of the world, which I won't deem a tragedy, but it's certainly caused countless women lifetimes of self doubt, anxiety, and emotional trauma. Seeing the emergence of the belly signals one thing — women are claiming their bodies as their own, and enjoying them no matter what.
If you're not convinced that plus size women have faced oppression over the years in regard to their bodies, then you should take a moment to read "7 Reasons Beach Body Ads Are Grossly Oppressive" by Bustle's own Marie Southard Ospina, who also runs the plus size fashion blog Migg Mag. As Ospina rather eloquently puts it, "The way women are taught to think about their bodies, treat their bodies, and change their bodies falls into the spectrum of oppressive acts," and watching plus size women shed those restrictions in exchange for self love and empowerment is wholly inspiring.
So, in a toast to the women who bare their bellies to teach us that it's not brave, but beautiful and natural, here are 11 plus size women, showing off their bellies and belly buttons.
Bikini Body
Late last year, and early this year, Ospina took to the beach in a variety of extremely stylish bikinis, both to gauge what would happen if she wore a low rise bikini as a plus size woman, and to prove that the best swimsuit for your body type is whatever you want it to be. The results were lovely!
Dare To Exist
Thecurvysoprano put it best in this Instagram post when she said, "I bare my body on the Internet because I dare to exist and take up space in this world. There is nothing wrong with me. I eat healthy, work out, and love myself." Amen, honey.
Eff Your Beauty Standards
Lauren Marie Fleming's unabashed love for all that she is and how much she enjoys her life is downright inspiring. Her beautiful motto as the woman behind the Bawdy Love retreat and community is, "Imagine what you could accomplish if you quit trying to change yourself and instead spent all your precious time, money, and energy on thriving as you are."
Lovely Lingerie
Obviously, sporting your favorite lingerie is a great reason to show off your belly, and these lovely ladies prove that beyond a doubt. It takes courage to appear online in lingerie, whatever you body type, but often, plus size ladies are met with a barrage of shame culture. They are harassed by trolls and "helpful friends" alike, and make the conscious decision to bare their bodies in the name of acceptance nonetheless.
Say what you will, but their contribution to society's acknowledgement that all sizes are worthy of not only love and appreciation, but also existence, is vital.
Beautiful Confidence
When it comes to confidence, Courtney Mina has it in spades. She's sweet, sassy, bold, and beautiful, and her Instagram feed is packed full of fierce fashion. Plus, she's another one of our talented writers, and has shared a few great tips on piercing your plus size belly button.
Body Positive
If you're looking for a fun, body positive gal to follow on Instagram, check out Yourstruelymelly. Her feed is full of cheeky insights like, "Losing weight is not your life's purpose," and, "Thighs as big as my dreams." She frequently lets her belly out, and posts a variety of graphics that support an all inclusive, body positive vibe.
Images: charlotteart, mariesouthardospina, thecurvysoprano, queeriebradshaw, curvygirlsvip, khaleesidelrey, yourstruelymelly/Instagram