6 'Shark Week'-Approved Pieces That Are Scary Cute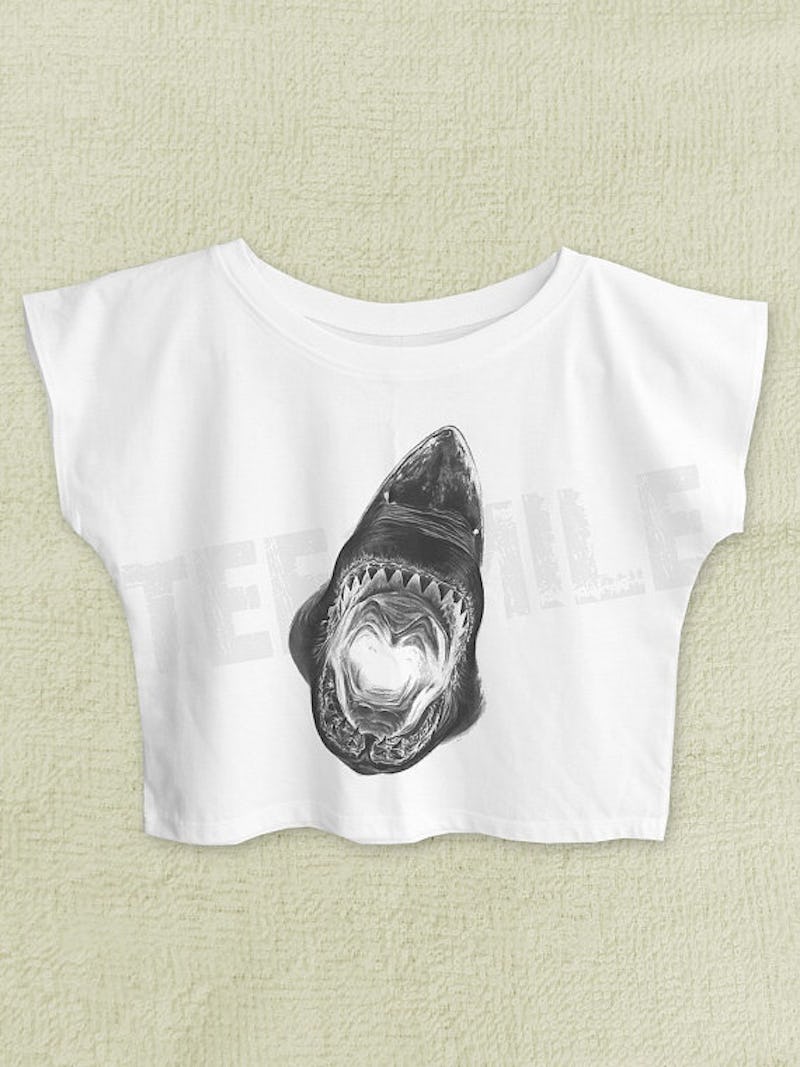 When I was about five years old, my dad made me watch Jaws with him and it was honestly the scariest, most life changing moment I had ever experienced. And today, as a 23-year-old, I'm over here looking for Shark Week-approved pieces to wear, in honor of my favorite time of year. Before now, there was really no real reason I would buy anything with a shark on it because that's not really my style. But for some reason, I'm taking this year's shark week seriously and I plan to invest in some scary pieces.
Since my wardrobe consists of 98 percent black pieces, incorporating some shark stuff won't be that hard. But since I'm a woman, it's harder to find cute things that have sharks on them. Obviously, sharks are deemed more of a "boy thing," but who really wants to follow those gender rules? If you do a little digging (aka, a lot of digging), you will eventually stumble upon some cute shark wear.
But because I've been on a mission to find a shark shirt or a pair of shark-printed shorts for myself, I've done all of the hard work for you. And don't worry, you're welcome. Check out 6 Shark Week-approved pieces that will give your wardrobe a scary cute update.
Shark Crop Top
For an easy way to rep your Shark Week appreciation, go for something like this simple crop top. You can pair it with anything from cutoffs to a pair of high-waisted jeans. And definitely a statement necklace, if you're feeling feisty. (Teesmile Shark Crop Top, $15, etsy.com).
Shark Shorts
I don't know about you, but I just find these to be so adorable. They're cutesy and fun, without being over the top. And they're on sale. Cha-ching! (Emma Shark Print Shorts, $58, stellamccartney.com).
Blue Shark Nail Polish
If wearing a literal shark print isn't for you, try something like a shark-colored polish. Now, I know, if you're a real Shark Week fan, you know that sharks are pretty grey. But when a polish is named "Blue Shark," you just have to go with it. (UO Pastels Collection Nail Polish In Blue Shark, $5, urbanoutfitters.com).
Shark Printed Dress
This dress is everything. It's cute enough to wear almost anywhere, and I'm picturing it with a pair of my favorite sneakers. It's perfect for my next Sunday picnic. (Shark Print Sleeveless Dress, $61, stylenanda.com).
Shark Earrings
I mean, don't these kind of sell themselves? Go get these earrings, today. This will definitely be the first Shark Week-inspired purchase I make. (Taken Earrings Handcraft Polymer Clay Cute Shark Biting Ear Studs in Grey, $6.14, amazon.com).
Shark Infinity Scarf
For a fun (and the least noticeable) shark item, this infinity scarf is a must. It comes in three different colors, but I like this one the best because it's blue like water. Wear it as a statement piece with a white tee and jeans, for a casual, but cute outfit for any time. (I Frogee Infinity Shark Scarf, $8.69, amazon.com).
Images: Teesmile/Etsy(1)