21 Pieces Of Dainty Jewelry That Offer Striking Impact With Zero Effort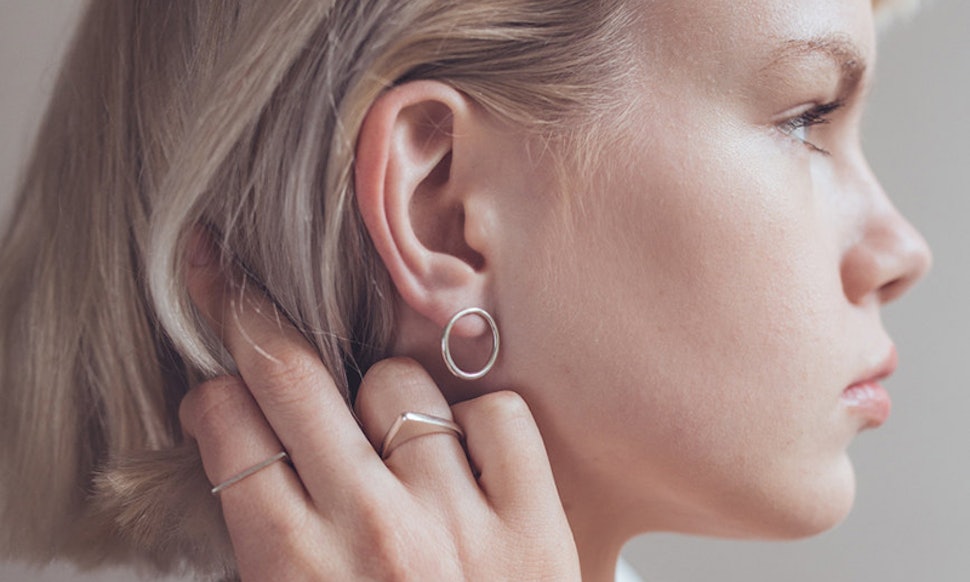 Without a doubt the most popular type of jewelry right now is dainty, delicate jewelry. Loud, gaudy accessories can be fun, but sometimes you want a piece of jewelry that whispers a statement. It's surprising how much a minimal necklace, a delicate bracelet, or a stack of extremely thin rings can elevate a simple outfit. You can even wear all of those items together without having to worry about it looking overwhelming. Not to mention, minimal jewelry instantly makes the wearer appear incredibly chic. Whether you're on a budget and want something simple for under $50 (or even under $10) or you're looking to splurge on something unique and timeless, there is a piece of minimal jewelry here for you.
A Simple Circle
This necklace is so simple and non-fussy; it will go with everything. Get in gold, too.
Necklace with Pendant, $4, H&M
A Touch of Marble
The faux marble stone is just enough detail to make this necklace seem more expensive than it is.
Faux Stone Longline Necklace, $5, Forever 21
An Unexpected Way to Wear Pearls
This gorgeous pearl ring is currently on sale!
Pearl Double Ring, $6, Zara
Simple Bar Studs
Not a fan of dangling earrings but tired of the same circle studs? Try a pair of flat bar studs for a different, minimal look.
Warehouse Bar Stud Earrings, $7, ASOS
An Eye-Catching Ring
The playful intersection of lines make this otherwise simple ring stand out.
Open Cage Ring, $11, ASOS
Minimal Arm Cuffs
Can't decide between silver or gold, triangle or circle? Well, now you can have both (although I suggest wearing them one at a time for a truly minimal look).
Pack of 2 Open Shape Arm Cuffs, $14, ASOS
Clever Moon Studs
The clever idea behind these moon earrings is what allows them to be so minimal in appearance.
Wax-and-Wane Stud Earrings, $18, Madewell
Knotted Bracelet
The knots give some added interest to the simple gold bangle–plus the size is adjustable.
Adjustable Knotshine Bangle, $22, Madewell
A Minimal Ear Cuff
This delicate, graceful ear cuff will draw attention to your neck, jawline, and face without screaming "Look at me!"
Script Ear Climber, $28, Need Supply
You'll Be Hooked
Pardon the pun, but seriously, how addictive are these tiny hook earrings? In fact, I want to buy all the & Other Stories jewelry.
Gemstone Hook Earrings, $29, Stories
Minimal & Colorful
The Perfect Accessory for Low-Cut Tops
Wear this with low-cut dresses, blouses, and even blazers for a delicate accompaniment to your decolletage.
Gold Plated Sterling Silver Triangle Necklace, $33, ASOS
Simple Bar Necklace
If the golden rule is to treat others how you would like to be treated, then you should probably buy this necklace for all of your friends too.
Minimal Magic
This ring looks extremely complicated until it's on your finger, at which point it magically transforms into a stack of minimal gold rings.
Looped Brass Ring, $39, Stories
Silver Circles
These earrings by RebeccaGladstone present a compelling argument for a new way to wear hoops.
A Grownup Name Bracelet
This delicate bracelet by shopLUCA is possibly the most minimal and refined way to wear name jewelry. Engrave it with your own name or the name of someone you love.
Nameplate Bracelet, $59 and up, Etsy
A Minimal Crystal
If you thought crystals were cheesy or gaudy, look at this gorgeous ring and think again.
Crystal Shard Ring, $70, Need Supply
For Nature Lovers
These little twigs will keep the forest near your heart even if you're far away.
Dart Necklace, $86, Another Feather
Initial Ring
Adorn this simple ring with your first and last initials, or the initials of your loved ones, or combine them.
Initial Wraparound Ring, $125, Baublebar
A Handmade Work of Art
The leather part of this American West-inspired necklace is hand-stitched by Californian artist Andria Crescioni.
Crescioni Kiva Collar Necklace, $227, Madewell
A Delicate Diamond
Catbird is a haven for all things minimalistic. This ring is just one example of all their amazing dainty wares.
Satomi Kawakita The Tiniest Ring White Diamond, $255, Catbirdnyc