6 Hacks To Combat Sex Hair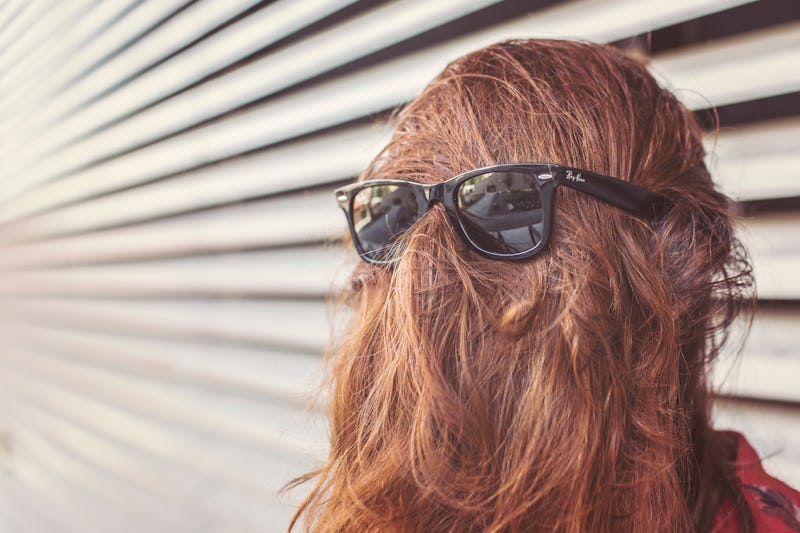 Sex is awesome, right? It's fun AND free — what more could a girl ask for? Unfortunately, one of the most common and tragic side effects of sex can really put a damper on your post-orgasm glow: Sex hair. Those of us blessed (and cursed) with long, flowing manes know the struggle of sex hair is all too real. I don't have the right face shape to pull off a pixie cut, so my long hair has to stay. But how am I supposed to commute home after a sleepover when my hair looks like someone took a leaf blower to it while simultaneously dangling me upside down by my ankles?
Every time I find myself in bed with someone, I close my eyes and say a silent prayer that my hair won't look like too much of a trainwreck afterwards. The bad news is that it seems there's an irrefutable sex hair formula: Better sex = messier hair. What with all the humping and sweating and hair-pulling that is likely to occur during a truly intense sex sesh, your locks are bound to take one for the team. Don't get me wrong though — it's totally worth it. I just wish there was a way to keep my strands looking on fleek without getting a professional blowout before and after sex.
Here are six tips from a fellow long-haired lady to help you combat the tangled mess that happens after a particularly wild romp. May your sex be pleasurable and your hair silky smooth, ladies.
1. Convert To Silk Pillowcases
If you spend a lot of time on your back during sex, that might be a good excuse to invest in some fancy silk or satin pillowcases to combat frizz. Because the material isn't as rough as cotton or polyester or whatever the hell "normal" pillowcases are made of, your hair won't get as messed up while you're busy getting your orgasm on. Plus, they have a ton of other beauty benefits like softer, healthier skin (and just make you feel like a classy princess, IMO).
Remember going into Claire's as a kid and buying those little compact mirror/hairbrush combos? While you're certainly welcome to use one of those if they still sell them, Sephora carries a more adult, chic version of this handy lifesaver. Next time you're planning an adult sleepover but don't want to cram a duffel bag full of beauty products, stash one of these adorable compact brushes in your bag so you can slyly tame the beast after a night of passionate, hair-tangling love-making.
Tangle Teezer Compact Styler, $20, Sephora
3. Put Your Locks In Braids
Sure, you could just throw your hair up into a top knot and call it a day, but even that style runs the risk of coming loose and falling out during sex. For a more feminine touch (if that's what you're into), try putting your long locks into a loose braid — it can be tugged on during rough sex and after you're finished, simply take the braid out for some hopefully-not-tangled beachy waves. Voila!
4. ... Or A Classic Ponytail
If you're too lazy to get your braid on or (like me) are terrible at doing your hair, there's something to be said for getting your hair out of the way with a simple ponytail. While this runs the risk of leaving a dent in your hair post-sex, it's a tried-and-true way to get your hair out of your face with minimal effort. Or, if you want a temporary fix (like while you're performing oral), have your partner hold your hair back into a ponytail while you focus on, umm, other things. No hair tie, no hair dent; problem solved!
If you're worried that your next-day sex hair will be greasy or smell like sweat, pack a small can of dry shampoo (I like this kind from Dry Bar) to add volume (not that you'll need it, probably) as well as freshen up the scent of your strands. You'll most likely still want to give your hair a good lather ASAP, but if you're not able to right after sex, dry shampoo can at least make you feel less like a walking bag of grease on the subway ride home.
Drybar Detox Dry Shampoo, $23, Sephora
6. Pin Back Your Bangs With Butterfly Clips
Just kidding, guys. (But wouldn't that be an amazing #TBT?)
Images: Pexels.com; Giphy (6)