'Where the Wild Things Are' Turns 50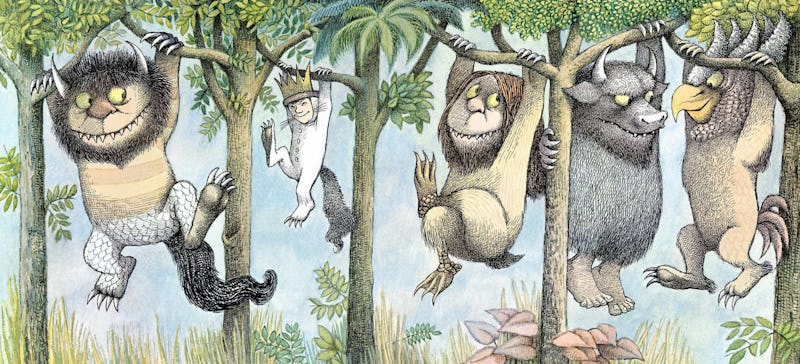 Maurice Sendak's classic children's book Where the Wild Things Are turns 50 this weekend. And oh, what a wild rumpus it will be! Sendak's deeply emotional tale follows our hero Max, a young boy who gets sent to his room without any supper for disobeying his mother. Alone in his bedroom, Max imagines a jungle and beasts — he envisions the Wild Things, adventure, danger, and ultimately, friendship.
The book is a mere 338-words long, but the iconic illustrations and powerful language evoke the delicate innocence of childhood and the journey that everyone makes, no matter the age, to feel connected. Sendak's own childhood was one filled with much grief, he lost many family members to the Holocaust and was bed-ridden for years due to illness, which makes the imagination of Max and the yearning to find love and adventure all the more striking.
Where the Wild Things Are as a book has stood the test of time, despite having been turned into a major motion picture, and remains an absolute must for any child's nighttime reading... or for a Brooklyn coffee table. Sendak's story continues to strike a chord with audiences, and gives us ALL THE FEELS. And considering how much the story centers around the importance of supper and the Wild Thing's appetites, well, it's okay to read the book, have a cry, and eat your feelings. I mean, c'mon, the kid gave up being King because he smelled his supper. Good luck trying not to cry after scrolling through these collection of quotes from the 50-year-old masterpiece:
"...And the walls became the world around..."
Seven words and endless whimsy. No wonder Arcade Fire went for this.
"And he sailed off through night and day. And in and out of weeks. And almost over a year to where the wild things are."
Oh take me back to childhood, oh please, oh please.
"Oh, please don't go — we'll eat you up — we love you so!"
You know when you love someone or something so much you'd actually considering eating them so they could never leave you... and then they leave you. OH GOD.
"And Max, the king of all wild things, was lonely and wanted to be where someone loved him best of all."
Sigh, don't we all.
"Max stepped into his private boat and waved good-bye ."
I hate goodbyes. HATE EM.
"I have nothing now but praise for my life. I'm not unhappy. I cry a lot because I miss people. They die and I can't stop them. They leave me and I love them more. ... What I dread is the isolation. ... There are so many beautiful things in the world which I will have to leave when I die, but I'm ready, I'm ready, I'm ready."
Sendak said the above in an interview with Terry Gross on NPR in 2011, before his passing at the age of 83 in 2013. And now I'm completely ruined for the day.
Where The Wild Things Are by Maurice Sendak, $6, Amazon
Images: Maurice Sendak/Where The Wild Things Are/Harper Collins