Write Where These 8 Successful Authors Do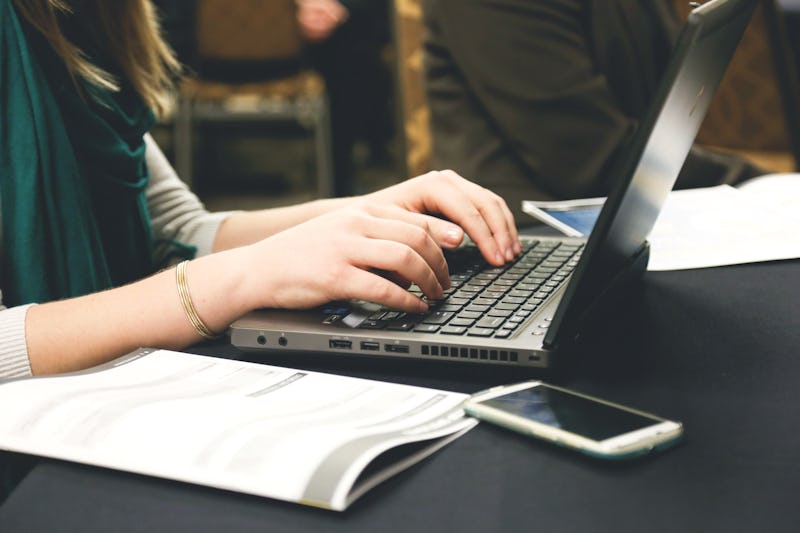 Virginia Woolf had it right when she said that every writer needs a "room of one's own" to be productive. There's nothing quite like finding that one place that simply lets you create and do your thing.
If you're like me, that "special place" isn't simply a corner of your house or a secluded office. I'm a writer that likes to be around people, to have fresh coffee and food readily available, and yes, plenty of people-watching opportunities for the occasional distraction. Plus, it gets you out of the house and out of PJs (win), and can help you find inspiration when your muse has long left. Bars, coffee shops, museums, and even trains are all spaces in which successful writers have been able to get some serious work done. And, if you're a freelancer, you also know the importance of getting out of the house every once and while to feel like a semi-adjusted, social adult.
Ready to give it a try? Pack your bag and read on to find out where these writers work before finding your own awesome spot to call home.
1. Elephant House, Edinburgh
It's a well-known fact that J.K. Rowling started writing the Harry Potter series in a café. The Elephant House in Edinburgh prides itself on housing J.K. Rowling in its early Potter-drafting days, keeping a small shrine of articles and photos from Rowling's early days. "It's no secret that the best place to write is in a café," Rowling says. "You don't have to make your own coffee, and you don't have to feel like you're in solitary confinement." If you find yourself in Edinburgh, there's no better place to feel inspired than "The Birthplace of Harry Potter."
2. Eden Bar, Orlando
Orlando is a city with an emerging writer's scene, and author Vanessa Blakeslee is at the forefront. Hidden well away from the theme parks and tourist traps is a cozy outdoor spot called Eden Bar, where Blakeslee does her best work: "I've sat underneath the majestic oaks or at the bar with my notebook, drafting new fiction, and have edited my last three book manuscripts there. Eden Bar lives up to its name – an oasis of creativity that keeps bearing fruit."
3. Metropolitan Museum of Art, Manhattan
For some authors, the "special spot" is more than a place to get caffeine or booze — it's a place to get a visual buzz. "I went to high school near the Met and since then, I've spent many an afternoon wandering its halls, discovering new things," says author Melissa Grey. "One of my favorite places to mull over a story is in the sculpture gallery. There's a fountain in the center of the room and I've puzzled through a tricky plot more than once while sitting on one of the benches surrounding it."
4. Vesuvio Cafe, San Fransisco
Want to visit the spot where some serious literary heavy hitters wrote? This kitschy beach bar was established in 1948 and soon became the stomping grounds of Jack Kerouac, Allen Ginsberg, and other Beat Generation writers. Across the street is also the renowned City Lights Bookstore, where you can browse books while taking a writing break. This two-story bar and cafe attracts a wide variety of clientele, which should make for an interesting writing sesh if you ever find yourself in the Bay Area.
5. Intelligentsia, Venice Beach
"The more chaos that's happening, the more I can focus," says screenwriter Scott Neustadter, famous for his indie love saga 500 Days of Summer. He's also adapted several of John Green's novels — he claims he wrote his adaptation of The Fault in Our Stars at Intelligentsia in three days. The bustling and popular coffee shop is known for hosting a slew of Hollywood screenwriters, who may find their next blockbuster movie idea just from people watching. A visit to Intelligentsia is a good bet if you're a writer who works well in a busy environment.
6. Mercer Hotel, New York City
Carole Radziwill, who some might know from Real Housewives of New York City, is also an accomplished writer who knows all about using people watching for inspiration. "The best place to spot interesting characters and steal dialogue is the lobby of the Mercer Hotel," Radziwill says. "On a given day you can see supermodels and rock stars and Hollywood directors taking meetings with their stars." If a glamorous hotel isn't in your neighborhood, the hotel bar of the nearest Marriott can also provide a dim atmosphere and enough people watching to fulfill your brooding writer fantasies.
7. Kos Kaffe, Brooklyn
Lindsey Palmer's first novel, Pretty In Ink, is a satirical look at the world of female magazines, which Palmer is well qualified to examine — she's worked at Glamour, Redbook, and Self. Her subject material came just as naturally as finding a spot at the neighborhood coffee shop: "Kos has good, strong coffee, plenty of sunshine, and just enough background chatter to make me feel like I'm out in the world without distracting me from my own work," Palmer says. "As soon as I sit down to one of Kos' small circular tables and breathe in the steam from my coffee, I know it's time to focus and begin writing."
8. Amtrak, Anywhere U.S.A.
Bored by your local shops? Many towns have an Amtrak station stop, where for a reasonable fare, you can take a day trip and treat yourself to a truly mobile office. "Usually it's trains where I get the most writing done," says writer Alexander Chee. "I think anonymity and displacement help me no matter where I am — I need to feel like I've vanished and no one can find me."
Images: Hong Long Kim, kwalk628, brinstar, Mathieu Thouvenin, Kent Kanouse, ibitmylip, Stephen Rees/Flickr; Posthara/Instagram; Ryan B/Foursquare; Pexels