From 'Chrismukkah' to 'The Holiday Armadillo,' Here are TV's 10 Best Christmas Episodes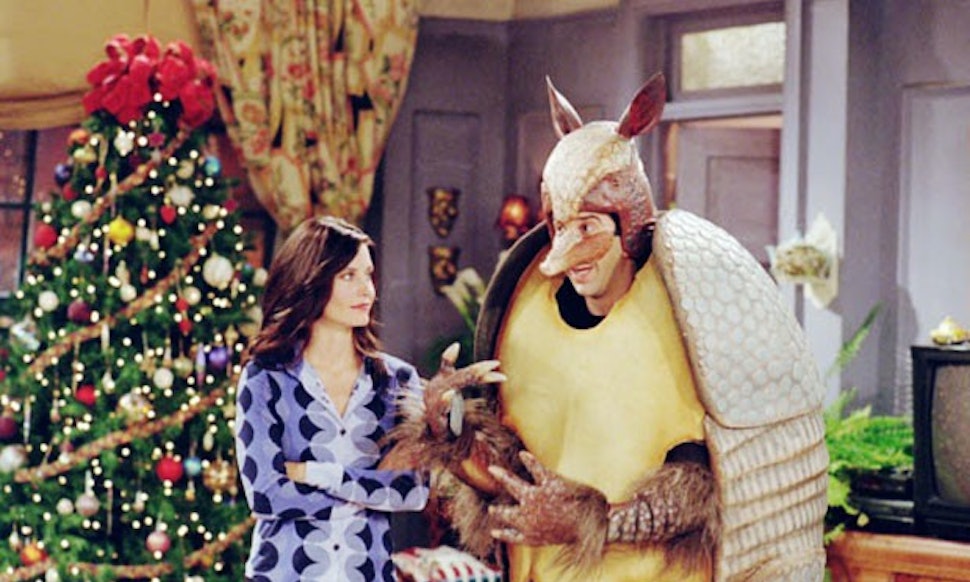 Whether you're Catholic, Jewish, Muslim, an atheist, or anything in between, there's no denying that Christmas episodes of TV are pretty much the best. From serious dramas to lighthearted sitcoms, shows' annual Christmas episodes — thanks to their upbeat tone, common themes, and appearances of characters in Santa costumes — have become some of history's most memorable TV episodes. With the holidays approaching, we rounded up our 10 favorite Christmas episodes of all time.
Image: NBC
"Christmas Party," Season 2 of 'The Office'
In The Office's first Christmas episode, Michael, upset with the present he got in Secret Santa, demands a Yankee Swap — meaning, for the lucky uninitiated, that everyone can choose someone else's gifts to exchange. Of course, it quickly turns into chaos, with a $400 iPod being tossed around, Jim's personal gift to Pam going to Dwight, and the cat poster meant for Angela getting none of the love it deserved. The whole episode's great, but the best moment is at the end, when a very drunk Meredith flashes her breasts to Michael, who, after a moment of shock, takes a photo and walks away.
Image: NBC
"In Excelsis Deo," Season 1 of 'The West Wing'
The West Wing consistently made some of the highest-quality Christmas episodes ever on TV, and "In Excelsis Deo" was by far the show's best. The episode saw Toby arranging the burial for a homeless veteran who was wearing the White House staffer's coat when he died, C.J. getting emotional about hate crime legislation, and Josh giving a Christmas gift to Donna that made her cry. Like all great West Wing episodes, it was a perfect mix of drama and sentimentality, and with the holiday background, it stands out from the pack.
Image: NBC
"The One With the Holiday Armadillo," Season 7 of 'Friends'
There are many great holiday episodes of Friends, but Season 7's "The Holiday Armadillo" is our favorite. After realizing that teaching his son, Ben, about Hanukkah isn't as exciting as he'd hoped, Ross decides to buy a Christmas suit as a surprise — but since it's, you know, Christmas, they're all sold out, and all he can find is a costume for a Holiday Armadillo, "Santa's Tex-Mex friend."
Image: NBC
"Ludachristmas," Season 2 of '30 Rock'
On this amazing Season 2 episode of 30 Rock, Jack's mom, Colleen (Elaine Stitch in an Emmy-nominated guest star role) visits NYC for holidays at the same as the Lemon family. Colleen, critical of Liz's happy, naive relatives (including her Trauma Induced Nivea Aphasia-suffering brother), happily causes drama, and Jack secretly revels in his mother's mean antics. Meanwhile, back at TGS, Kenneth lectures the staff on the true meaning of Christmas, Tracy wears an alcohol-monitoring anklet, and the Rockefeller Center Christmas tree is taken down. Oh, 30 Rock, how we miss you so.
Image: NBC
"Secret Santa," Season 6 of 'The Office'
While nothing can top The Office's Season 2 Christmas episode, 'Secret Santa' came pretty damn close. It's less laugh-out-loud funny than most Office episodes, due to its Dunder-Mufflin-might-get-sold storyline, but it's undoubtedly one of the show's classics. Michael, outraged that Phyllis is Santa instead of him, tries to sabotage the office's holiday party. He comes around, but only after this amazing scene. (Watch for cast members breaking character and laughing in the background.)
Image: NBC
"The Strike," Season 9 of 'Seinfeld'
Better known as the episode that introduced Festivus, "The Strike" is one of Seinfeld's most classic installments. For the uninitiated, Festivus is a secular holiday celebrated on Dec. 23 that's the anti-Christmas, thanks to traditions like an aluminum Festivus pole and "The Airing of Grievances." The episode also saw the introduction of the Seinfeld definition of "two-face" and Kramer finally explaining why he'd never held a job, but "The Strike" will always be remembered best for its creation of Festivus.
Image: NBC
"The Best Chrismukkah Ever," Season 1 of 'The O.C.'
Like Festivus, Chrismukkah is now a hugely popular holiday, thanks to the writers of The O.C. During the show's first season, Seth introduced the gang to his family's yearly combination of Hanukkah and Christmas, in which eight days of presents are followed by one night of many presents. It was so popular on the show that they repeated the holiday each season, and Chrismukkah is still celebrated by Christmas-loving Jews everywhere.
Image: The CW
"Abed's Uncontrollable Christmas," Season 2 of 'Community'
In the most original episode of Community ever to air (and that's saying something), the show produced almost an entire episode in stop-motion animation. Due to Abed's debatable mental health, the group travels to the Christmas-themed Planet Abed, where they encounter everything from pterodactyls to humbugs to the Cave of Frozen Memories. The episode received huge acclaim upon its airing, earning the show its one and only Emmy.
Image: NBC
"Afternoon Delight," Season 2 of 'Arrested Development'
Everything you love about Arrested Development is in this Season 2 episode: the banana stand. Ann-hating. Sexual harassment. Tobias "blue-ing" himself. "Afternoon Delight" is Arrested at its finest, with the added bonus of a Christmas background.
Image: Fox
"Simpsons Roasting an Open Fire," Season 1 of 'The Simpsons'
In the very first full-length episode of The Simpsons ever to air, Homer gets a job as a mall Santa to make some extra money after Marge spends a fortune on Bart's tattoo removal. (Don't ask.) When the part-time job doesn't pay enough, Homer takes Bart to the racetrack and bets everything on a dog who comes in dead last — but ends up becoming the family pet. While far from the best Simpsons episode ever to air, it set the stride for the show, and became the first of the series' many Christmas-centered episodes.
Image: Fox