13 Reality TV Moments That Restored Our Faith in Humanity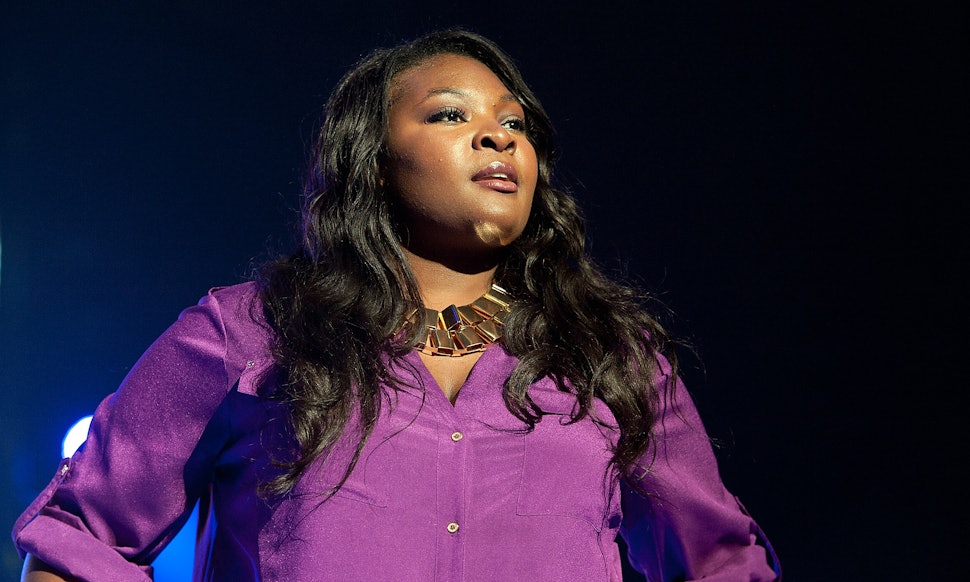 Erika Goldring/Getty Images Entertainment/Getty Images
Sometimes (most of the time) reality TV is where my faith in humanity goes to die. The endless fights, the mean judges, the awful racists that propagate the airwaves — it can be pretty disheartening to watch. However, every once in a while, a beacon of actual human decency will shine through. Good triumphs over evil. The Underdog rises. Gay men make the world a better place. Do not despair, fair readers! Let's take a look back and revel in the moments when reality television brought us to tears for all the right reasons in 2013.
Candice Glover Won 'American Idol'
From seasons 7-11, all, I repeat all, of American Idol's winners were white men. Not only was Candice totally deserving of the title because of her powerful talent, but it was also a nice change of pace from the grim state of race relations all over TV in 2013.
'Catfish' Had a Happy Ending
Love is real, you guys! On Catfish, a show that normally alerts us to people's horrific and untruthful relationships online, Nev and Max finally brought us a story with a happy ending. Lauren Meler and Derek Shullenbarger met each other for the first time in person on the MTV show, and turned out to be exactly who they said they were. The couple is now engaged. I smell a wedding special.
'Queer Eye for the Straight Guy's Reunion Was Touching
Thank you, Bravo. Thank you so much. It's hard to believe it's been 10 years since Queer Eye For the Straight Guy was on television. Andy Cohen reunited the gang for one night only and we learned a lot about their ongoing friendships, careers, and the impact the show had on the people it touched. The Fab Five bantered as if no time had passed and it was delightful to see that kind of real chemistry still exists.
Robert Roldan and Tucker Knox's Amazing Recovery
Grab the tissues, y'all. This past season of the hit series So You Think You Can Dance hit a deeply emotional chord in August. Robert Roldan, a past contestant and fan favorite from Season 7, returned after surviving a nearly fatal accident and being told he would never dance again. Roldan's dance partner Tucker Knox also survived an accident years ago and was told he could never walk again, let alone dance. The results were stunning.
Image: So You Think You Can Dance / Fox
Dom Streater Won 'Project Runway'
YES! For one brief second, viewers clutched their glasses of rosé wine in fear that Alexandria might take home the coveted title. Thankfully, the bright, poppy, and fashion-forward Dom Streater deservingly won. And we all shouted "DANKE!" into the heavens.
'Master Chef Junior' Was Deeeeelightful
Hang on a tic. Was Gordon Ramsay totally likable and most excellent when paired with a group of aspiring kid chefs? You're darn tootin'. It was an unexpected and lovely turn for the oft-shouty celebrity chef. Oh and the contestants? Inspiring, through and through.
'Top Chef' Made a Difference in New Orleans
When a big show like Top Chef rolls into town, it makes a big impact on the city at large. Film crews are employed, hotels fill up, restaurants get lots of buzz — it generates quite a lot of income. Not only were we super happy to have that kind of business for New Orleans, we were touched by the episode dubbed "Rebuilding New Orleans." The cheftestants made gourmet lunches for groups of volunteers from Habitat for Humanity and, in the process, heard incredible stories of resilience and the power of community.
Snooki Looked Happy and Healthy on 'Dancing With the Stars'
I think everyone was taken aback when we saw Snooki step on stage for her first performance in Dancing With the Stars. She, well, nailed it. For someone whose celebrity status was first built on boozing and getting arrested on television, it felt like a big step forward to see her looking fit and fierce. And props to J Woww for always being Snooki's front row center cheerleader. Friendship!
Cory Hindorff Was a Breath of Fresh Air on 'ANTM'
To celebrate America's Next Top Model's 20th cycle (go ahead, take a deep breath, yes, 20), Ty-Ty and co. decided to shake things up and bring in male models. Our favorite finalist was Cory Hindorff, a Philadelphia model/actor/drag queen who stole our hearts and worked that runway better than anyone else. He may have been runner-up, but he was by far the most memorable contestant.
Image: WiggleGif
'What Not to Wear' Took a Final Bow
Stacy London and Clinton Kelly have seen a lot of ugly outfits... and changed a lot of lives over the years. What Not to Wear wasn't just a makeover show. It was a self-esteem boosting, find-your-best-you kind of show. Stacy and Clinton had a way of finding out why so many women were hiding behind frumpy or ridiculously over-the-top garb. For their final makeover, they headed to Las Vegas and went out in style while re-visiting some of their past show-stealers. It was a fun and heartwarming farewell.
Bravo Unveils Three New Women-Centered Shows
Next year, 2014, will usher in three new reality series for the Housewives/Real Estate/Fashion-centric network. We're excited to see that all of the new series star successful, funny, and wholly entertaining women. Get ready for Toned Up, Blood, Sweat & Heels, and 100 Days of Summer coming your way.
Image: Blood Sweat and Heels/ Bravo
David Tutera's Baby Shower
David Tutera has made a living throwing extravagent parties for celebs and socialites all around the world. His eye for detail and attention to his clients' personalities are what make him the event planner. Despite going through a difficult divorce, Tutera spent the majority of David Tutera: Unveiled preparing for the arrival of his daughter Cielo. Tears-a-plenty at the baby shower and first peeks at the little one. AWWWWW.
The First Gay Bachelor Sort of Happened
Though this one was imagined up by the folks at Funny or Die, the clip for the First Gay Bachelor was perfect in so many ways. Jesse Tyler Ferguson! Lance Bass! George Takei! Some day... some day.