Is There Really a Black Marriage Crisis?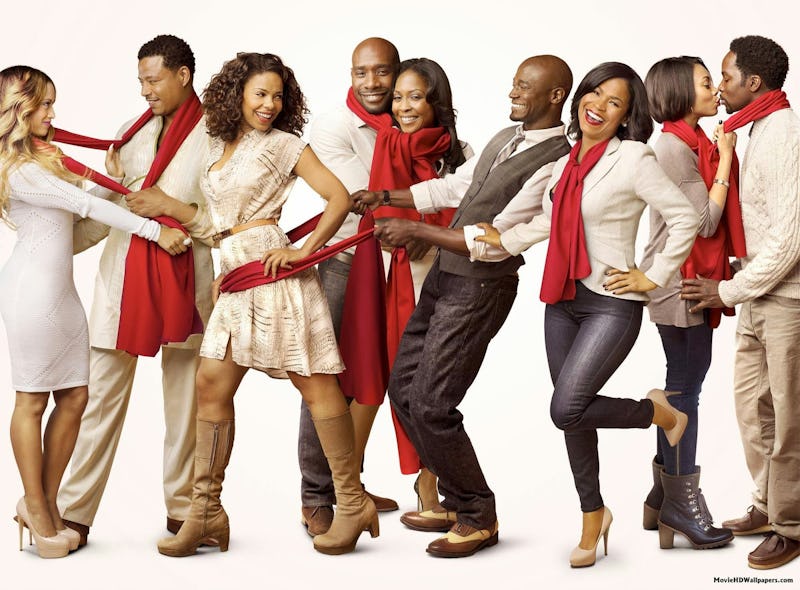 Black love is fashionable again, thanks in part to the box office success of The Best Man Holiday . Almost 15 years after the original film, viewers are transported to a Christmas reunion with nine of our favorite characters. We get to see several successful relationships unfold between heterosexual, middle to upper-middle class Black American and interracial couples, and I love it. The media often gives us one-dimensional views of Black American life, so it's refreshing to have a nuanced, but fun-loving film.
The Best Man Holiday has also reawakened an annoying question: Is there a Black marriage crisis? We've all heard the same statistics time and time again.
There are 1.8 million more African-American women than men.
Black women have more advanced degrees than Black men.
More than 70 percent of Black women between the ages of 25 and 29 have never been married.
These statistics are supposed to send Black women into a tailspin, seeking any partner that will have us. Instead, they've fostered a rising market of "experts" intent on telling Black women what's wrong with us and helping us find remedies for our single woes.
Maria Brinson-Sampson, an attorney and author of I Am the Marrying Kind: A Guide to Getting Married, Staying Married and Being Happily Married (Outskirts Press), is the latest in a long line of relationship experts attempting to pathologize Black women's dating and relationship choices. In her book, Brinson-Sampson claims that single mothers are the issue with the family unit and in order for single women to find a husband, we must learn to C-H-E-A-T: Communicate, Hesitate, Exhortate, Appreciate, and Tolerate.
Her advice is no different than that of Steve Harvey, Chey B and a number of different "experts" that always direct their attention at Black women instead of Black men. The assumption is Black men aren't going to change, so Black women have to change to meet the needs of the Black man.
This conversation exhausts me. It has more holes than a block of Swiss cheese — seriously. Relationship experts are forever trolling Black women in an effort to paint our choices as the problem. We're too educated. We're too picky. Our standards are too high. We spend too much time in the office and not enough time in the kitchen.
In addition to these claims being blatantly false, they're also harmful because they give the false idea that marriage is an impossible accomplishment for Black women.
In The Best Man Holiday, we see Sweet Mia and football star Lance; bestselling author Harper and his pregnant wife Robyn; former stripper-turned-philanthropist Candace and intellectual Julian; and MSNBC producer Jordan and her handsome beau Brian. These couples are fictional, but their real-life counterparts do exist. Just look at the Obamas.
These portrayals, both fictional and real, give hope that Black women can find love, and we don't need the help of a relationship fauxpert to get there.