The 5 Most Common Bachelorette Party Mistakes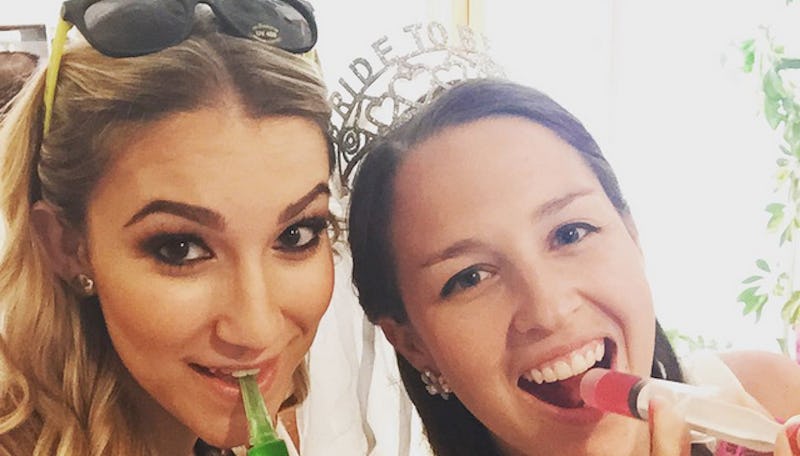 So you've been tasked with planning the bachelorette party. Before you get carried away with it all and completely panic at the thought of planning a crazy (but not too crazy) party for your friends and all of her other friends, let's try to focus on the positives, shall we? Congratulations: You're either the maid of honor or the "fun friend;" things could be worse. Whether you're planning the bachelorette party of the century, a girls' getaway in Vegas, a spa weekend, or co-ed bash, there are some tried and true mistakes you can learn from.
In many bridal parties today, it's common to have friends from all over the country flying in for the big day and the bachelorette party. You may not know every bridesmaid, and it can be hard to organize a large group full of many different personalities. How many family members should be invited? Do you really want the bride's mom there if you're planning on doing shots? There are more questions than you may think to ask yourself before you start planning. And once you DO start planning, things can get even more overwhelming from there. There are plenty of land mines to navigate, and luckily I'm here to help you through it.
1. Assuming That Everyone Wants To Rage
I've made that assumption before, and let me assure you that not everyone wants to do body shots and get a platter of 30 cherry bombs. Make sure that your idea of fun jives with everyone else's, and remember that the bachelorette party exists to make sure the bride has a fun night out before the wedding. This is a time to let off steam in whatever way she wants, not a time to push your idea of a good time onto everyone.
2. Not Thinking Outside The Box
Sure, you can do the tried and true penis cake and penis straws and scavenger hunt out on the town, but first of all, not every woman is marrying a man and second of all, there are always other options if you do a little research. What about something a little more unique? Try a cooking class, mixology class, zip line tour, or trampoline party!
3. Procrastinating
Waiting to plan the bash isn't just a bad idea, it's also rude. When guests are trying to make travel plans and people need to request time off of work well in advance. (For the record, don't hold the party during the same week as the wedding just to help those traveling from out of town. It's not a good idea. Just avoid it.)
4. Not Double-Checking The Guest List
Just because you hate the bride's friend from college doesn't mean you can't invite her. Be sure to go over the final guest list with the bride to make sure you aren't forgetting anyone. Likewise, it's not fun for anyone to pair off with your friends at the party and make others feel neglected or left out. The more, the merrier, right? When everyone is having a good time, you'll have a happy bride-to-be on your hands.
5. Planning Too Much (Or Not Enough)
Strike a balance between over-planning and flying by the seat of your pants. You definitely want to have a basic timeline of events (for example, going to dinner at 7 p.m. and planning a dance class at 8:30 p.m.), but leave plenty of time to let everyone cut loose, catch up, and relax. There's no need to be bound to a crazy itinerary. However, don't go too far in the other direction and let people get bored. Remember, it's still a party, after all.
Images: aerial_m/Flickr; Giphy (5)