This 'ESPN' Body Issue Cover Is So Body Positive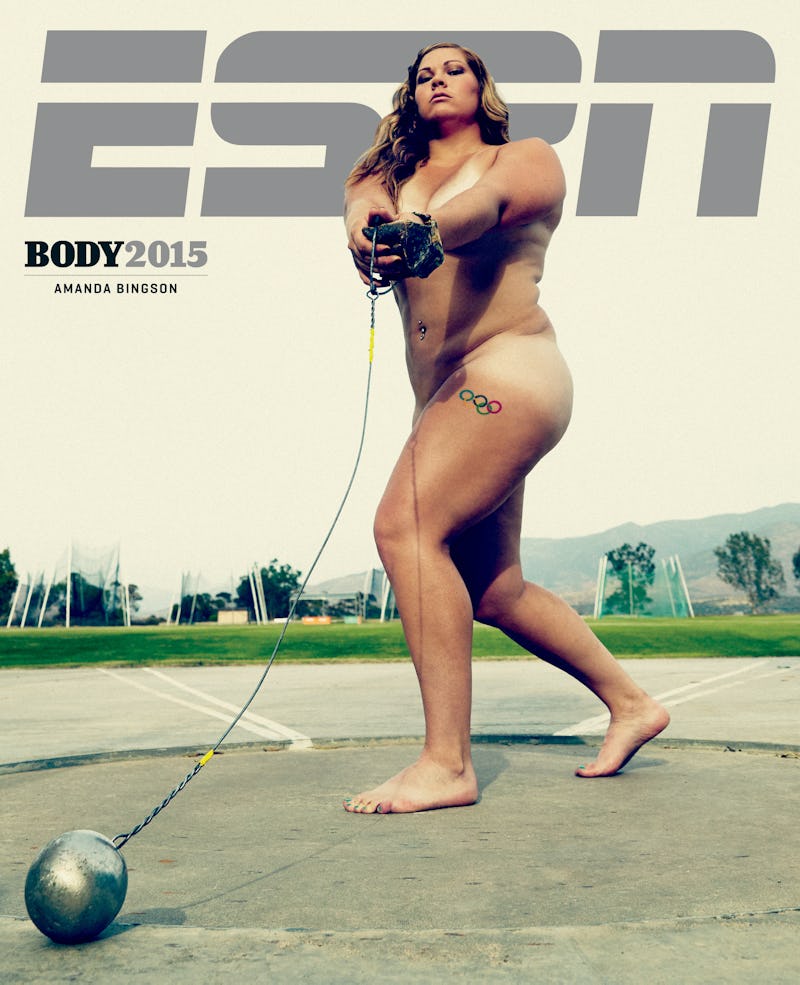 It's one of my favorite times of the summer. While everyone's freaking out about Shark Week, I'm so ready for ESPN Magazine's Body Issue. This year, I'm even more stoked than usual, because the incredibly badass, 210-pound, record-breaking Olympic hammer thrower Amanda Bingson is one of their cover athletes. Oh yeah — and all the covers are nude.
The cover features a stunning shot of Bingson in action, wearing only a glove and adorned simply by her tattoo and tan lines while throwing a hammer. To see a body of this size glorified for its achievements, shot so beautifully, and showcased at all is almost heart-stopping for this fat babe. The accompanying images inside the magazine are nothing less than breathtaking, and Bingson's quotes are hilarious, honest, poignant, and surprisingly relatable.
Bingson is unapologetically body positive, saying that she loves everything about her body — something that came naturally after moving from showgirl-flooded and image-obsessed Las Vegas to Texas. She notes that people in the Longhorn State are more open about their bodies, and that this empowered her: "I'd see these big girls in these tiny little bathing suits and I'm looking at them like, 'Man, these girls are so confident!'" It wasn't always that way for her, though. Growing up, Bingson had the word "fat" hurled at her as an insult, and was cut from the volleyball team (despite being good) after her coach asked her to lose 30 pounds.
Bingson talks about how she factually describes her body, and why appearing on the cover was important to her: "Dense would be the right word for me. Generally when you look at athletes, you see their muscles and all that stuff; I don't have any of that [...] I'm just dense. I think it's important to show that athletes come in all shapes and sizes." And she jokes that even though her core does most of the work in hammer throwing, she doesn't have a six pack, but does have "like, two rolls in the back."
Are you also literally screaming out loud about how much you love this woman yet? Because I sure am. Like, can I please hang out with her and share some spinach protein dip ASAP?
But let us not forget that my make-believe boyfriend Prince Fielder covered ESPN Magazine last year, and faced a ton of really gross fat shaming as a result — which makes zero sense whatsoever. Concern trolls only "care about our health," yet when someone's bodily strength and health are literally part of their job, the trolls miraculously still find fault with their lifestyles. Can fat people just be allowed to live in peace, already?
For now, all I'm seeing is so much love for Bingson, though. And I hope we've collectively learned enough in the past year to help things stay this way.
Images: Peter Hapak for ESPN The Magazine; AmandaBingson/Twitter