9 Wide Leg Trousers Way Comfier Than Jeans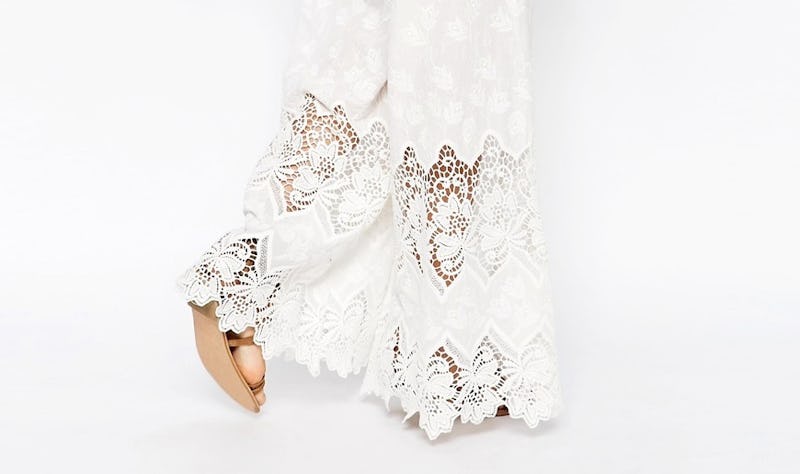 OK, I will proudly admit that I am one of those women who strongly despises wearing pants. That being said, as much as I avoid wearing bottoms, wide leg pants are the trousers I reach for when pants are absolutely required. Lucky for me, wide leg pants are the new it-pants of the moment. This means move aside, skinny jeans!
The thing is, wide leg pants are perfect for the warmer months. Your legs are able to breathe and you will not be sweating while strolling the streets of your city (can you imagine not sweating while waiting for a train in the subway? Heavenly). If, like me, you are a human who dislikes butt sweat, wide leg pants are an even grander option, and infinitely airier than everyday dresses.
What's more? Wide leg pants can be dressed up or down, which gives you even more variety. From palazzo pants to culottes, there is a wide leg pant for every occasion you attend. I mean, I love dresses, but sadly you cannot wear them to all occasions. Plus, so many fashion brands are on board with this fabulous trend and have created a variety of wide leg pants in different prints and sizes.
Here are just nine wide leg trousers that are so comfy they will make you reconsider hating pants.
Crop Trousers, $40, Zara
These paisley print pants are too good to be true. Relaxed fit, high waisted, and cropped at the ankle, these bottoms are great for the people out there who like to embrace the '70s.
Printed Woven Palazzo Pants, $20, T arget
These pants are another retro style bottom that will flash you back to the '70s. The print of these palazzo pants is fun, yet they can be paired with almost everything in your closet due to their basic color palette.
White Sand Seychelles Cotton Palazzo Trousers With Lace Detail, $70, A sos
Want to add a fab pair of pants to your suitcase for your beach vacation? If so, these are the bottoms that will do the job. The lace detailing at the bottom of these wide leg pants is gorgeous. Rock them to feel like a true princess while on the beach (or perhaps the streets of your town).
ASOS Curve Skinny Ankle Grazer in '70s Print, $36, A sos
Contrary to popular belief, florals are not just for spring. These pants are the true definition of flower power. Black floral detailing with a high waistline, these pants are stunners. Wear them to the office or even to happy hour for a new look this summer.
Pink Clove Mesh Stripe Palazzo Pants, $5, A sos
When most of us think of pinstripes, we instantly think of business trousers (or baseball). Who knew that you could rock pinstripes while simply strolling the street? These pants are perfect for those laid back days when you have to run errands. I mean, why not look kind of cute while grabbing household products at Target?
Raga Tie-Dyed Flared Pants, $75, F orever 21
Did you ever make your own custom tie dye shirt when you were younger? If not, no worries because these pants will make up for all of the missed tie dye moments of your childhood. These bottoms are great for fun daytime events and will carry you through the summer.
Palazzo Pants In Black/Cream Floral — Ava & Viv, $30, T arget
If you're looking for the most comfortable pants to wear to work, these are for you. These black and cream printed pants are perfection because of their gorgeous print, and are casual enough that you can dress them down with sandals and wear them to a lunch date. No matter where you wear them, you will be über chic!
Blue Palazzo Pants, $22, Z ulily
I don't know about you but no color is more beautiful to me than ocean blue. This is why these beautiful pants made my heart skip a beat when I first laid eyes on them. Besides the luscious ocean blue color, these pants are beyond flowy. Wearing them is like wearing pajamas in public. I guess I need to buy a pair in every color.
Easy Wear Palazzo Pants, $45, C hristopher And Banks
Classic black wide leg pants are always a go. From the office straight to date night, these simple pants are acceptable for every occasion. What makes them a true winner, though, is the fact that they can be paired with anything in your closet.
So have fun with wide leg pants this season! Your sweat glands will thank you.
Images: Courtesy Brands