I Transformed My Wardrobe By Using A Color Scheme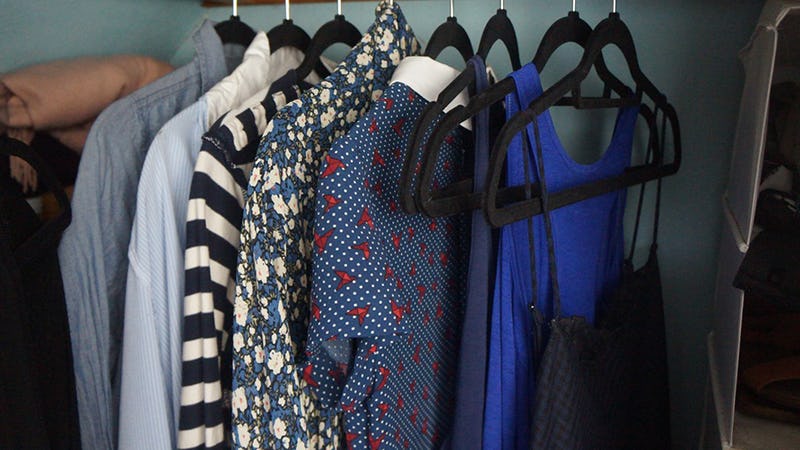 For a while now — months, maybe even a year — I've been employing an easy technique that has completely changed my wardrobe for the better and organized my closet at the same time. I have a tiny closet with only 50 hangers in it, and yet I have plenty of room for my clothes now. Putting outfits together is easier, getting dressed in the morning is faster, and my closet is much more organized (without me even having to do anything to it).
So what's my secret? It's very simple: I just picked a color scheme and stuck to it. I chose six main colors — three neutrals and three pops of color — and almost never buy anything that isn't one of those colors. It really helps me to zero in on what I want and what I will actually wear when I'm shopping for clothes, making impulsive purchases that don't work in my wardrobe a thing of the past. Now I know that I'm not going to wear a dress that is highlighter orange no matter how cute it is, so I'm not even tempted. It also makes putting outfits together a piece of cake because everything goes with everything else. Having fewer colors in your wardrobe means that you can just throw items together without worrying about looking mismatched, especially when you've chosen a color scheme that makes sense.
Intrigued? Below I'll show you how to choose a wardrobe color scheme that works for you.
First you want to take everything out of your closet and divide the contents by color. I still do this from time to time to make sure I'm not veering too far astray.
Here is my closet before I started:
Like I said, my closet is tiny. This means it doesn't take much for it to look overcrowded and messy.
I took everything out of my closet (leaving them on their hangers) and separated them by color.
(A note: I keep items like jeans, pajamas, and workout clothes in drawers. I don't include them in this because I personally don't have a lot of crazy-colored jeans, nor do I include outerwear or accessories like shoes. It's totally up to you how much of your wardrobe you want to include in the color scheme!)
Then I counted how many items were in each color category.
I counted 15 white items...
11 black items...
Eight blue items...
Five grey items...
Four green items...
Two red items...
And one, lonely yellow item.
At this point you should evaluate your results and decide on a reasonable color scheme. I had already chosen my color scheme a while ago and I was pleased to see that I had managed to stick with it, more or less. I had chosen black, white, and grey as my three neutral colors and navy blue, olive green, and dark red as my three pops of color. I'm not going to beat myself up about a random yellow item showing up in my closet, and you shouldn't either.
When choosing your colors, decide first how many neutrals you want and how many pops of color you want. The number you choose is up to you, although I wouldn't encourage more than six total. The ratio of neutrals vs. colors is also up to you; you can have four neutrals and only one bright color, if you want.
Let the current state of your closet guide you. If you have a lot of black and only one brown item, it makes sense to include black in your color scheme and exclude brown. If you have a hodgepodge of every color in the rainbow, it will probably take more careful thought to decide which colors you want to focus on going forward. Try to be honest about the ones that you wear most frequently.
Here's my closet after neatly organizing my neutrals:
I went from black, to grey, to white because it is visually pleasing to me.
Then I added my three colors at the end of the row (blue, then green, then red, and finally yes, one pop of yellow because I love that dress):
There's no hard and fast rules here. You can choose how many colors you want in your color scheme (although again, six or fewer is best for keeping things streamlined). You can choose how you want to organize your closet, either by color like I did or by type (which some find easier) or even by color within type (such as black shirts, white shirts and then black dresses, white dresses and so on). You can include your entire wardrobe in the color scheme or opt to give more freedom to items like shoes and bags.
The end goal is to minimize your wardrobe (at least somewhat) and organize your closet in a way that works for you. By keeping your color scheme in mind when shopping, you'll find that you don't have to do much else to keep your wardrobe cohesive and streamlined.
Every once in a while you might want to go through your closet to reevaluate what's in it and organize it, like I just did. Here's my before and after:
My closet looks so much more organized, even though all I had to do was take five minutes to rearrange the items. That's the beauty of the color scheme.
A final tip: If you're hesitant to jump right in (which is understandable if you have a lot of clothes that don't fit into a minimal color scheme and that you don't want to part with), try taking a couple of baby steps. First: choose a color scheme and reorganize your closet, but don't get rid of anything outside of the color scheme yet. Just keep your color scheme in mind while shopping and stick to it; soon you'll find your wardrobe is less cluttered and more cohesive.
Secondly: the next time you travel, only pack items in your color scheme. You might find that you love the space you saved and the time you saved getting dressed, and it will make it that much easier to stick to it when you're back home. Best of luck with your wardrobe reduction!
Images: Kelly Dougher