Watch This Powerful Domestic Violence Video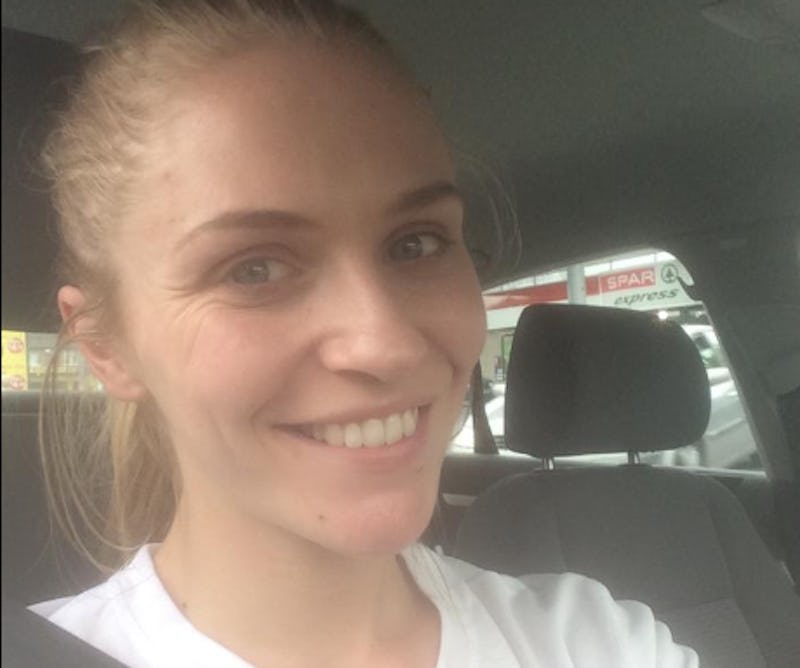 Until Monday, Emma Murphy's 31,000 social media followers thought she had the perfect life: a fitness blog, two children, and a relationship with a man she called the "love of her life." Earlier this week, however, that illusion was shattered when Emma Murphy opened up about domestic violence in a powerful and heartbreaking video.
According to Cosmopolitan, Murphy discovered in June that her significant other cheated on her with a client, who called Murphy in November to let her know that she was pregnant. Murphy was also pregnant, and the shock of the revelation forced to into labor early. She decided to try to forgive him, she said in the video, but last week she found out that he had cheated again. When she confronted him, he denied it and punched her in the face."It wasn't the first time," she said in her video. "Last year, he split my head open... Prior to that, he punched me as well." In addition to the physical abuse, Murphy endured emotional abuse from her then-partner, who called her "paranoid," "psycho," and "nuts," and presumably all sorts of other insults. "Even up until now he tells me that my insecurity is going to kill me," she said.
After the most recent attack, however, she chose to leave. She now lives with her two children at her mother's house, where she recorded the video describing her abuse.
Murphy opened the video by discussing how reluctant she was to post it, but in the end, she decided to do so for herself, for her children, and to "raise awareness [for] other women out there." According to the Irish Independent, also revealed in a radio interview that opening up about her abuse would serve as the "final nail in the coffin" for the relationship, so she would never go back. "No man has any right to put his hand on a woman... Even once is unacceptable, but to be made to feel it is acceptable is even worse," she declared.
The video struck a chord among viewers; at the time of this article, it had been watched more than 4 million times and received more than 130,000 likes. In the comments, many share their own experiences with domestic violence. "Emma you are so so so brave," reads one. Another woman writes that she "went through exactly the same thing... every day for over two years." And let's also remember that men can be victims of domestic violence, too — it's never right for anyone to act with violence towards a partner. Ever.
For women and men trapped in similar relationships, Murphy has some advice. "Go to your friends and family, people who love you... and talk to them," she says.
Watch the video below:
You can find the National Domestic Abuse Hotline here, the National Resource Center on Domestic Violence here, and a list of domestic violence resources by state here.
Image: Emma Murphy/YouTube, Emma Murphy Official Facebook Page