Who Will Play Han Solo In The 'Star Wars' Prequel?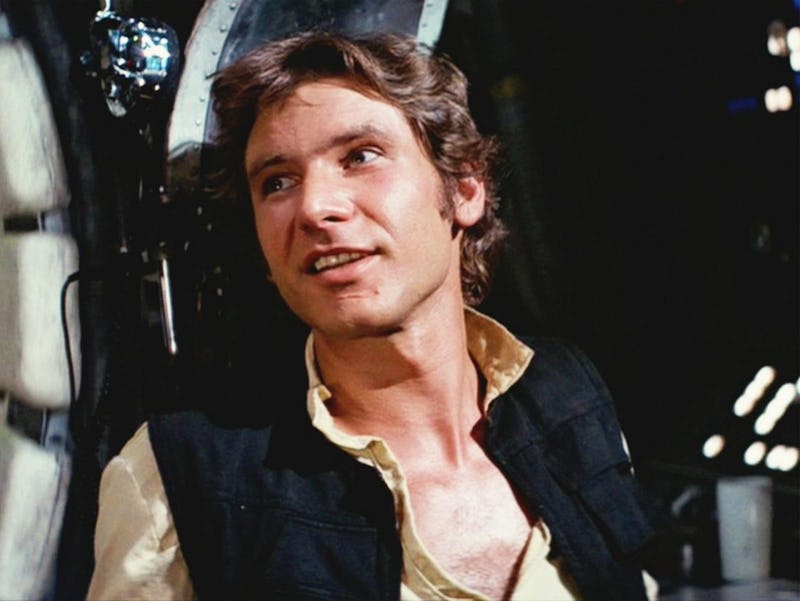 Star Wars fans have yet another reason to get excited! Just months before Star Wars: The Force Awakens hits theaters, the official Star Wars site announced through a press release that there's a Han Solo spinoff/prequel in the works. Although the new movie isn't slated for release until May 25, 2018, I'm already trying to picture this untold story of the iconic character.
Christopher Miller and Phil Lord (the directors of The Lego Movie) will direct the film, which is set to focus "on how young Han Solo became the smuggler, thief, and scoundrel whom Luke Skywalker and Obi-Wan Kenobi first encountered in the cantina at Mos Eisley." In other words, we'll get to know an entirely different side of the character. Yay for origin stories!
In a statement, the directors said:
This is the first film we've worked on that seems like a good idea to begin with. We promise to take risks, to give the audience a fresh experience, and we pledge ourselves to be faithful stewards of these characters who mean so much to us. This is a dream come true for us. And not the kind of dream where you're late for work and all your clothes are made of pudding, but the kind of dream where you get to make a film with some of the greatest characters ever, in a film franchise you've loved since before you can remember having dreams at all.
Of course, that leaves one huge question: Who has the acting chops and the right look to play a young Han Solo? Harrison Ford crafted the character into an iconic force in pop culture, so it's going to take a real talent to pull it off. Considering what we know about the movie, there's a good chance it will feature the character in his younger years — and, if that means early-to-mid-20s, there are a ton of great options in Hollywood. Here's seven actors in that age range that I think would be perfect for the role.
Anthony Ingruber
Not only does this actor look like Ford, he can perfectly imitate him — he played the younger version of Ford in Age Of Adaline. Sold!
Scott Eastwood
It doesn't hurt that he's the son of a movie legend (Clint Eastwood, that is!), but Eastwood could totally hold his own in the role of Han Solo.
Dane DeHaan
From HBO's In Treatment to Kill Your Darlings, DeHaan keeps proving his on-screen magnetism, which is a mandatory quality for this character.
Jack O'Connell
O'Connell graduated from the UK series Skins to star in the Angelina-Jolie-directed Unbroken. This Star Wars prequel would be a piece of cake for him.
Jeremy Irvine
Irvine sprung into the spotlight following 2011's War Horse, but playing Han Solo could be a career-defining move for him.
Garrett Hedlund
From Tron to On the Road, this actor constantly proves he has the skills for the big screen, and I think he has the charm to pull off playing Han Solo as well.
Theo James
Known best for his role in Divergent, James captured the hearts of many fans. He's no doubt capable of grabbing a few more as the charismatic Han Solo.
To those listed above: Of course, if one of you ends up getting cast, you can thank me later. Preferably with a big fat check in the mail.
Images: Lucasfilm; Disney Getty Images (7)