Applying Foundation In Zero Gravity Is Epic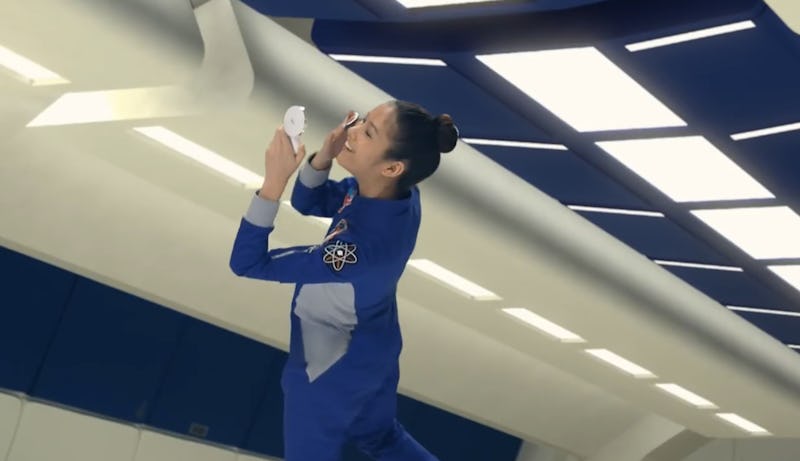 If you think putting makeup on is too much work, a Korean beauty commercial for IOPE's Air Cushion compact shows that applying foundation just got way easier. I know foundation isn't really that difficult to apply, but it certainly does take up time and it can even get messy when you're in a rush. IOPE's Air Cushion compact has a foundation-soaked sponge that you dab your applicator for super easily application. The commercial showed that it's so easy, that you can use the Air Cushion in zero gravity, while you're floating in the atmosphere. Yup, that's what goes on in this super cool commercial.
The ad was impressively epic as the product was taken into an airplane with a test subject who was required to apply the foundation while suspended in zero gravity. Once the airplane reached its peak, it dramatically dropped its altitude and for 30 seconds, the test subject was flung into zero gravity.
She was flipping, turning and spinning all around while still seemingly having absolutely no trouble with applying the foundation. At the end, the test subject's face was smooth, dewy and her skin tone was brightened and evened out. Check out the advertisement below:
The Air Cushion contains Vitamin B5, Vitamin E, Vitamin P, and mineral water to make sure your skin doesn't dry out. When it's on your skin, it looks very natural as it totally smoothes out all unevenness:
And if you're a foundation pro, there are a variety of different Air Cushion compacts that you can cop as well.
Here's the original.
Here are the blush air cushions. I love the peach sherbet shade.
And here's the shimmery foundation for those special GNOs ;)
Images: IOPE/YouTube, chellepie, riendiii, _miss.kana_, bubblesproper/Instagram