11 Literary Classics To Catch Up On This Summer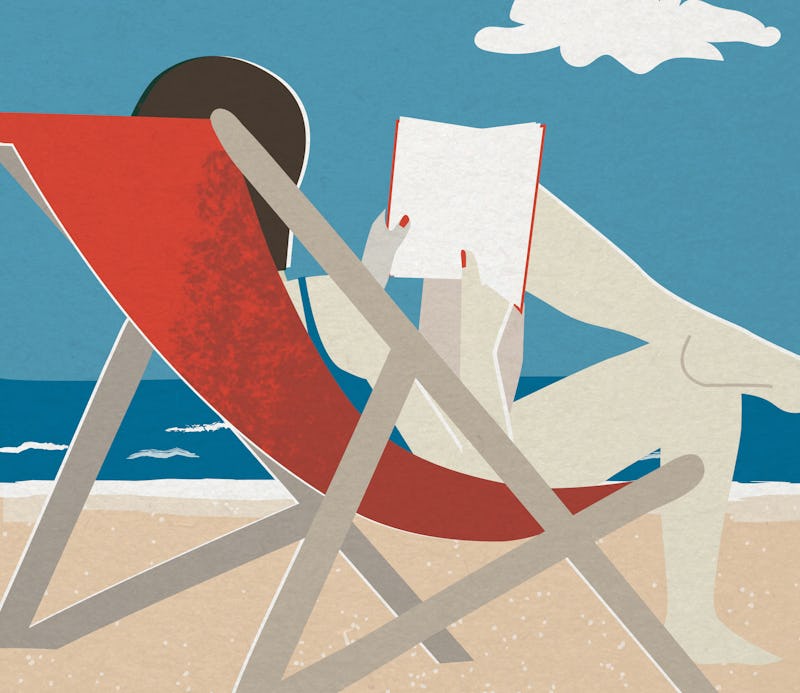 When school lets out for the summer and the ice cream trucks reclaim the streets from the snowplows, you don't have to read for class or research any longer, and the lure of the beach book takes hold. Although it would certainly be a shame to miss out on the perfect opportunity to indulge in a little guilty pleasure lit, summer also presents a unique opportunity for catching up on the classics you never quite got around to reading.
Before your reject the idea totally, consider this — they're not called "classics" for nothing. The mainstays of the literary canon secured their spots with some serious storytelling chops and prose as timeless as a rocket pop. So, before you stock your shelves with the latest vampire romance or true crime thriller, consider something a little more cultural this season. After all, if you're willing to forgo a summer fling for a beloved literary classic, you can impress your friends, challenge your colleagues, and expand your mind all while enjoying the lure of the beach and the pleasures of a frosty beverage.
These 11 works of genius are a perfect place to start:
With the wind rustling gently through the leaves and long skirts back in style, there's never been a better time to enjoy Jane Austen's romantic classic Pride and Prejudice. Whether or not you believe (as I do) that Pride and Prejudice is actually the romantic comedy upon which all modern romantic comedies are based, this timeless tale of looking for love in all the wrong places has all the ingredients of a summer beach book in a 19th century package that will knock off your literary socks.
Moby-Dick by Herman Melville
Moby Dick is one of those literary all-stars that is frequently referenced and rarely read. Chances are you could make it through high school, college, and maybe even graduate school without ever setting eyes on the great white whale, but you would be doing yourself a grave disservice. Thick with allegory and brimming with rich detail, Moby Dick is as transporting a novel as ever there was, and you'll return from the journey through Melville's world with so much more than just a sunburn.
Sheer heft alone probably works against your desire to tackle Tostoy's romantic drama of life and love in imperial Russia, but rest that assured the cons don't outweigh the pros. Before the epidemic of trilogies and quadrilogies, Tolstoy mastered the art of the epic narrative and the sweeping style that both builds, defines, and destroys lives and worlds before the curtain falls. For a breathtaking foray into a foreign land, you simply can't do better than Anna Karenina.
Don Quixote by Miguel De Cervantes
For many of us, summer is a time of dreaming and scheming, of making plans and taking chances — the perfect time for a story of tilting at windmills. Although Cervantes' Don Quixote is so often alluded to that actually reading the text may feel like an afterthought, the story is so uniquely positioned between tragedy and comedy, aspiration and insanity, that a full and careful reading utterly transforms the idea of doing right in the world, a transformation easy to take to heart during a time when so many of us are forging a path forward.
Mary Shelley's Frankenstein is one of those unusual classics that feels so thoroughly of-the-now that it's almost hard to believe it didn't spring to life fully formed as an HBO miniseries. Rife with power-hungry doctors and tragic monsters, mired in questions of science, religion, love, and faith, Frankenstein is not only a challenge to our contemporary way of life, but it's also a literary thrill ride from start to finish.
As an undisputed master of the English language and the author of a Christmas classic, Dickens has disappeared from the high school syllabus, and it's always been something of a mystery to me. Most of us a can quote Dickens, but how many have ever bothered with the full text? If you're one of the many who have never gotten further than "It was the best of times, it was the worst of times," you owe it to yourself to read on. A Tale of Two Cities is not only a novel of staggering majesty from a linguistic standpoint, it is also remarkably relevant to the contemporary moment and the hard choices we face as individuals and as a society at large.
There is absolutely nothing more delicious than a good satire, except perhaps a bowl of mint chocolate chip ice cream. But hey, it's summer... why not have both? Jonathan Swift's rousing tale of adventure and mystery, foreign lands, and far-flung journeys is just as sure to delight audiences today as it was when first published in 1726. Add in the mint chocolate chip, and you've got something truly magical.
There has never been an American novel that affected more lives than Harriet Beecher Stowe's Uncle Tom's Cabin. At a time when American race relations have once again commanded our attention as a people, demanding that we question our history and take control of our future in the name of equality, dignity, and freedom for all, what could possibly make a better summer book than Uncle Tom's Cabin?
If you live for the wit, wisdom, and witheringly astute social commentary of David Foster Wallace, Michael Chabon, and Jonathan Lethem, you are going to love Mark Twain. With humor, clarity, and sleek, modern prose, Twain probes the world around him in all the brutal honesty of the contemporary style. The Adventures of Huckleberry Finn is not only a novel of supreme significance, it is also perfectly told story that will keep you on the edge of your seat from start to finish.
Ulysses by James Joyce
Admittedly, James Joyce Ulysses is an ambitious choice for a summer read (or a Ph.D. thesis), but like one of those paper dinosaurs that expands when you put it in water, if you're willing to exert a little extra effort, something truly incredible awaits. So, if you're up for a challenge and ready to make a commitment, give yourself over to Ulysses and let the magic of modernism lead you on a quest both penetrating and profound.
Modern life can be something of a mystery, and although he died nearly a century ago, no one understood the strange, cunning vagaries of a mobile phone bill or re-registering for classes quite like Franz Kafka. Settle in with the absurd, allegorical novel The Trial and prepare to be astounded at the depth, breadth, and contemporary applications of this bizarre, quixotic, and utterly engrossing story.
Image: Cora Foxx/Bustle